---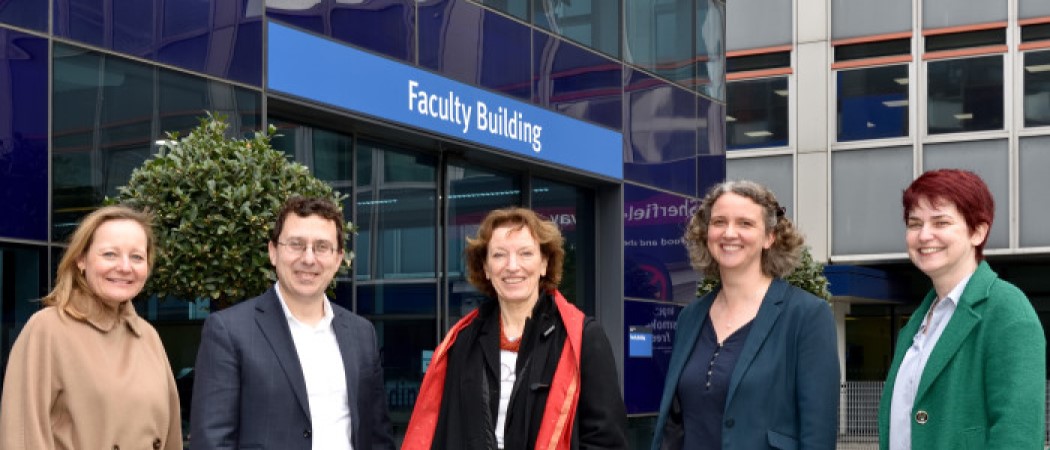 Photo: Imperial College London website.
The President of the ERC, Professor Maria Leptin, visited Imperial this week to meet some of the College's previous ERC grant award winners and discover the impact of the European funded research. The visit came as Imperial won three further ERC Consolidator Grants worth €6million - the College's latest success from Horizon Europe, the EU's key funding programme for research and innovation.
Consolidator Grants are awarded to researchers with a 'a scientific track record showing great promise and an excellent research proposal' and provide funding up to €2million for a period of 5 years. 
ERC President sees impact of European-funded research
Professor Leptin, who took office last year, was hosted by Imperial's Vice Provost (Research & Enterprise) Professor Mary Ryan, who reiterated Imperial's clear support for UK association to Horizon Europe and the ERC. They were joined by ERC grantees Professor Aimee Morgans, from the Department of Mechanical Engineering, who won an ERC Starting Grant in 2013 and Consolidator Grant in 2018 and Professor Dario Farina, from the Department of Bioengineering, who won an ERC Advanced grant in 2011, a Proof of Concept grant in 2016, Synergy grant in 2018 and a Proof of Concept grant in 2022, to discuss the importance of ERC funding to UK and European science. 
Professor Leptin also saw some ERC-funded research on campus, visiting the laboratory of Dr Teresa Thurston, from the Department of Infectious Diseases and one of our most recent grantees, who won a Starting Grant in January 2022 - the first ones under Horizon Europe. Professor Leptin heard from Dr Thurston about her work in kinase-based therapeutics. Professor Leptin also visited Professor Cristina Lo Celso's lab and learnt about her ERC-funded work in stem cell biology.
ERC Consolidator Grant winners
Two academics from the Faculty of Engineering, and one from the Faculty of Natural Sciences were successful Consolidator Grant winners this year. 
Professor Mirko Kovac, Aeronautics - Meta-morphic Drones
The project, ProteusDrone, will establish a new field of soft drones that can change their body shape, similar to the Greek shape-shifting sea god Proteus. It could allow drones to be used in challenging environments such as the arctic, to study climate change.
Professor Kovac, Director of the Aerial Robotics Laboratory at Imperial and Head of Materials and Technology Center of Robotics at Empa explains: "Aerial robots can readily observe the environment through the air but they cannot move underwater or on the water surface to collect valuable environmental data." 
 
Professor Kovac says that while some bi-modal aerial/aquatic vehicles exist, none have demonstrated a complete mission cycle with energy efficient locomotion in air, in water and on the water surface. 
The project aims to provide fundamental scientific advances in mobile robotics and deliver the technological basis for substantial impact with robotic sensing tools for hard-to-reach aquatic environments. 
Professor Kovac, who will work with international experts in computer vision and evolutionary biology, added: "This grant is a wonderful support that will leverage previous work in robot metamorphosis and allow my team to develop a technological step change.

"The application field for this work is sustainability robotics where multi-modal robots can collect data in vulnerable environments such as in the arctic to study climate change."
Dr Artem Bakulin, Chemistry - Action spectroscopy
Dr Bakulin is aiming to work out new methods for material characterisation using pulsed lasers. 
Dr Bakulin said: "The development of new cheap and efficient materials for next generation solar cells, displays, and microchips requires clear understanding of how material structure changes with time and how it affects materials electric and optical properties.

"New methods, which we call 'action spectroscopy' will be able to provide this understanding by observing how micro- and nanoscale events affect materials' performance."

Dr Bakulin explained that the funding will be used to build a new laser lab and fund postdocs and PhD students to work on the project.
The five-year project, ActionSpec, will help accelerate progress in the field of ulatrafast laser spectroscopy. Dr Bakulin said: "This is certainly a big honour but also a great responsibility. This is an opportunity to build a new lab and start a new direction of research.

"Ultrafast Laser spectroscopy is not a huge field – getting an ERC grant for the development of specific new technique shows experts have faith in my team and in applying spectroscopic methods for material development. We will do our best to prove action spectroscopy can resolve problems currently unsolvable by conventional techniques."
The project will involve European collaborators from TU Dresden and Linkoping University as well as colleagues at Imperial.
Professor Deniz Gunduz, Department of Electrical and Electronic Engineering - Smart Communications 
Professor Gunduz's project, AI-R, aims to enable more efficient communications between intelligent agents – programs or devices that use artificial intelligence (AI) to make decisions autonomously. 
 
Examples of intelligent agents can be found in autonomous vehicles or AI assistants such as Amazon's Alexa, where sensors react to their environment and make decisions.  
Professor Gunduz, who previously won an ERC Starting Grant, said: "The project's main goal is to enable efficient communications among intelligent agents by bringing together our decades-long expertise in communication engineering and information theory, which gave us the 5G networks we have today, with the recent advances in machine learning and artificial intelligence (AI) technologies." 
The funding, worth close to €2million over five years, will enable Professor Gunduz to expand his team and access hardware for the testbed that will be built to show some of the results of the project.  
 
Professor Gunduz said that this recognition by the ERC confirms the plausibility and the ambition of this exciting research area. 
 
Professor Gunduz added: "Communications allows scaling the intelligence in time and space. The next big revolution in AI is likely to arrive thanks to the efficient orchestration and collaboration among intelligent devices, which lies at the core of my project."
Imperial and the ERC
Imperial researchers have won 165 ERC grant awards since the funding body was founded in 2007. Imperial is one of the highest recipients of Horizon 2020 funding in Europe.
Commenting on the latest ERC grant winners, President of the ERC Professor Maria Leptin said: "Even in times of crisis and conflict and suffering, it is our duty to keep science on track and give our brightest minds free reign to explore their ideas.
"We do not know today how their work might revolutionise tomorrow - we do know that they will open up new horizons, satisfy our curiosity and most likely help us prepare for unpredictable future challenges.
"So, I am thrilled to see a new group of ERC grant winners funded for their scientific journey. I wish them the best of luck on their way to push the frontiers of our knowledge."
This article was first published on 17 March by Imperial College London.