---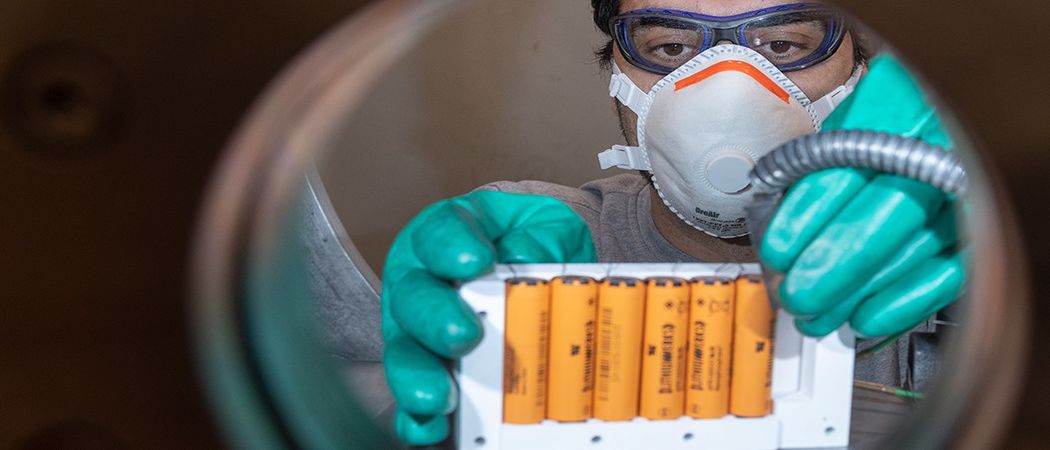 BAM's battery test centre. Photo: BAM website. 
Electrical energy storage systems, which today are mainly based on lithium-ion technology, are a key to e-mobility and the energy transition. The Bundesanstalt für Materialforschung und -prüfung (BAM) is now opening a new battery test centre at its headquarters in Berlin to push innovation in the field focussing on safety tests and sustainable battery materials.
Electrical energy storage systems have already become an integral part of everyday life: They power battery electric vehicles (BEVs), electric bicycles and smartphones. They also play a central role in the transformation to a climate-neutral society, which Germany and the EU are striving for: in the future, large stationary battery storage systems will temporarily store the surplus energy from solar and wind power plants and make it available at any time.
At BAM, research into electrical energy storage systems is a core theme. The focus here is on the aspect of safety, especially the so-called thermal runaway, a chain reaction that can lead to extremely high temperatures and even fires. BAM's investigations in this area are incorporated into regulations and standardisation at national and international levels.
Now BAM is opening a battery test centre at its headquarters in Berlin to drive innovation in the field and further expand expertise in electrical energy storage systems. It provides BAM and cooperating science and industry institutions with expanded state-of-the-art testing facilities.
"In the implemented battery test centre, we will primarily conduct research on the State of Safety, the safety condition of batteries and cells," says the head Dr Anita Schmidt. "We expose individual cells, entire batteries or battery-operated devices to mechanical, thermal or electrical stress. We derive conclusions for safety assessment and the State of Safety from the data collected using multisensory and imaging techniques."
The test facilities allow, for example, to cycle batteries using large charging currents, simulating accelerated ageing. The experimental results are among others important for second-life applications: In the near future, more and more used batteries from BEVs will be reused, for example as storage for photovoltaic systems in private households or as stationary large-scale storage units that can stabilise the power grids. Such second-life applications are an important contribution to the eco-balance of battery technologies.
The aspect of sustainability is also the focus of the new BAM special laboratory for energy materials which is one of the three components of the new battery test centre: "Here we work on innovative and resource-saving materials for individual battery components. For example, sodium-ion batteries do not rely on the raw material lithium and costly components such as copper or cobalt," explains Dr. Tim Fellinger.
The facilities are complemented by a large-scale battery test stand at BAM's Technical Safety Test Site in Brandenburg. Here, BAM currently investigates the safety of stationary storage systems on a real scale in a project supported by the Federal Ministry of Education and Research.
"All in all, BAM covers a unique spectrum in the field of batteries in Germany, which ranges from research into the State of Safety of electrical energy storage systems from the material over the cell to the battery level, and also includes sovereign tasks and participation in laws and regulations. In this way, we want to contribute to the social and political acceptance of battery technologies central to the energy transition, and at the same time promote research into future generations of electrical storage systems," says BAM's President Prof Dr Ulrich Panne.
Find out more about the focus area Electrical Energy Storage (EES) at BAM here.
This article was first published on July 12 by BAM.