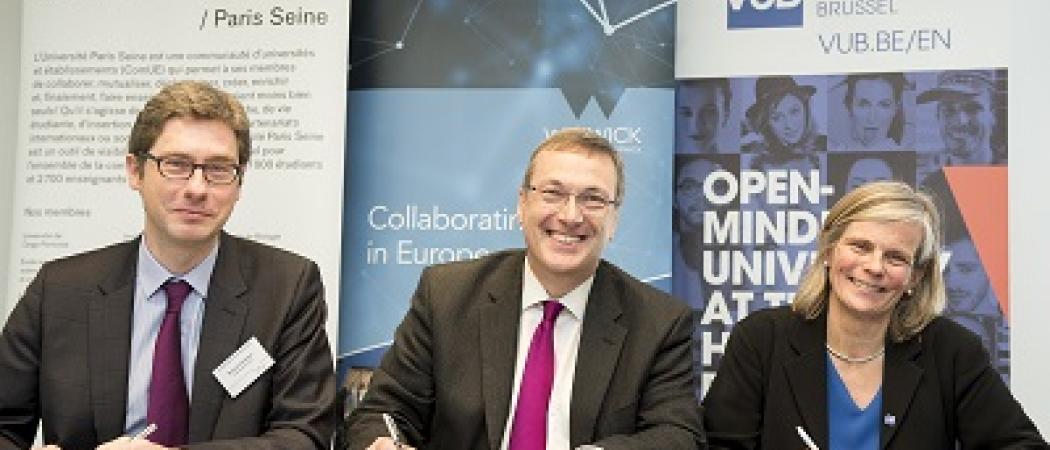 The University of Warwick has today signed and launched two major teaching and research collaborations with partner universities and colleges in Paris and Brussels. The initiative, launched today in the University of Warwick's base in London's Shard building, commits Warwick to a close and active research and teaching alliance with French and Belgian partners despite the political and economic cleavages that Brexit could bring to future UK relations with continental Europe.
The University of Warwick's Vice-Chancellor, Professor Stuart Croft said:
"Europe-wide research and teaching collaboration has helped transform the lives not just of our students and researchers, it has underpinned jobs, and spurred innovation and advances in health, manufacturing, culture and so much more. Politicians in and out of office in every country in Europe are still deliberating how the UK can still be part of that in future but we can't afford simply to wait for that to be fully resolved. We chose to act now not just to show our commitment to work together in future but to begin work on a range of activities that delivers on such a commitment.
"I am delighted to be able to begin that work today as we join in partnership with colleagues from L'Université Paris Seine, and Vrije Universiteit Brussel (VUB). Warwick will be seeking opportunities to form further such partnerships with higher education institutions in other European countries that we hope will become a network of actively engaged students, teachers and researchers."
Professor Seán Hand, Deputy Pro-Vice-Chancellor (Europe) at the University of Warwick, said:
"These institutional collaborations with Paris Seine and the Vrije Universiteit Brussel also initiate for Warwick a long-term strategy of extensive and ambitious European engagement. We shall seek to strike complementary and innovative partnerships with our European counterparts that will collectively form a dynamic network centred on truly collaborative research, teaching, and enterprise activities. One especially exciting feature of this is the opportunity to develop multilateral arrangements that involve several nations, systems and disciplines. Warwick is a highly internationalist university, with an established presence in key European cities. At a time of significant national and international changes affecting our sector, we naturally wish to be in the vanguard of educational innovation in Europe."
The initiative is launching today at the University of Warwick's base in London's Shard building with the signing of agreements to commence work immediately on a detailed work programme of research and teaching partnerships that will be established in the next 48 months.
With L'Université Paris Seine the University of Warwick will:
Develop a Joint Masters in Mathematical modelling aiming to be ready to take its first students in the academic year 2019/20
Establish a collaborative Mathematics appointment — L'Université Paris-Seine will appoint a lecturer in Mathematics by the Autumn of 2018. The post holder will spend up to 3 months a year at Warwick to interact with researchers in Warwick.
Create 4 Rutherford Fellowships for Early Career Researchers with L'Université Paris Seine
Establish 5 reciprocal joint PhD studentships
Create a series of student exchanges including a possible exchange between ESSEC (part of L'Université Paris Seine) and Warwick Business School for students on Masters in Finance programmes.
Mount two large academic conferences with L'Université Paris Seine (on Global Complexity in 2018 and Arts and Heritage in 2019).
Explore opportunities for a range of further research or teaching collaborations (or both) in a range of disciplines including: Business, cultural and media policy, applied linguistics, mathematics, statistics, computer science, education, and range of other arts and humanities areas.
With Vrije Universiteit Brussel (VUB) Warwick will:
Establish a double Master of arts Degree (MA) degree linking Warwick's Politics and International Studies programmes with VUB's Institute of European Studies Advanced Masters in European Integration aiming to be in place by 2019/2020
Explore a bilateral exchange of students between Warwick's Faculty of Social Sciences and VUB's Bachelor of Social Sciences programme
Fund 2 Early Career Researchers fellowships with VUB
Begin to explore the establishment of 5 reciprocal joint PhD studentships
Holding a series of impact events with Warwick's Department of Politics and International Studies at VUB engaging European policymakers
Explore research partnerships at VUB with Warwick researchers in subjects including Politics and International Studies, Law, Employment, and Applied Linguistics among others
Explore a partnership between Warwick Medical School and VUB's Faculty of Medicine and Pharmacy around areas such as reproductive health
The agreements to form these partnerships with Warwick were signed today by Warwick's Vice-Chancellor Professor Stuart Croft , Professor François Germinet, Président of Université Paris Seine and Professor Caroline Pauwels, Rector of Vrije Universiteit Brussel.
Professor François Germinet, Président of Université Paris Seine said:
"This is a real opportunity for us to create new partnerships in forerunning areas of research, as well as set up new teaching programmes based on a combination of strong academic skills and soft skills. This alliance p is also important in the pursuit of academic excellence and will provide optimal benefit for the partners through academic and research development and support programmes."
Vincenzo Esposito Vinzi, Dean and President of ESSEC Business School, member of the University of Paris Seine, said:
"It is important today for our institutions to work together to produce cutting-edge knowledge and to train influential and responsible leaders who are attentive to new trends. With the call for expression of interest and this partnership, we will construct a strong alliance with European Universities and Business Schools in order to be a major player on the international higher education stage and propose our students truly innovative and disruptive learning experiences."
Caroline Pauwels, rector of Vrije Universiteit Brussel said:
"This agreement is an opportunity for both our universities. Politicians in Europe may choose to go their own way, but we as academics choose to move in the other direction. We don't build walls between our universities and societies. We break them down."
This release was first published 28 March 2018 by the University of Warwick.