It is crucial to incorporate patient perspectives on healthcare innovation and decision making to increase the sustainability of Europe's healthcare systems. A panel held at the Science|Business annual conference looked at the role Horizon Europe can play in achieving this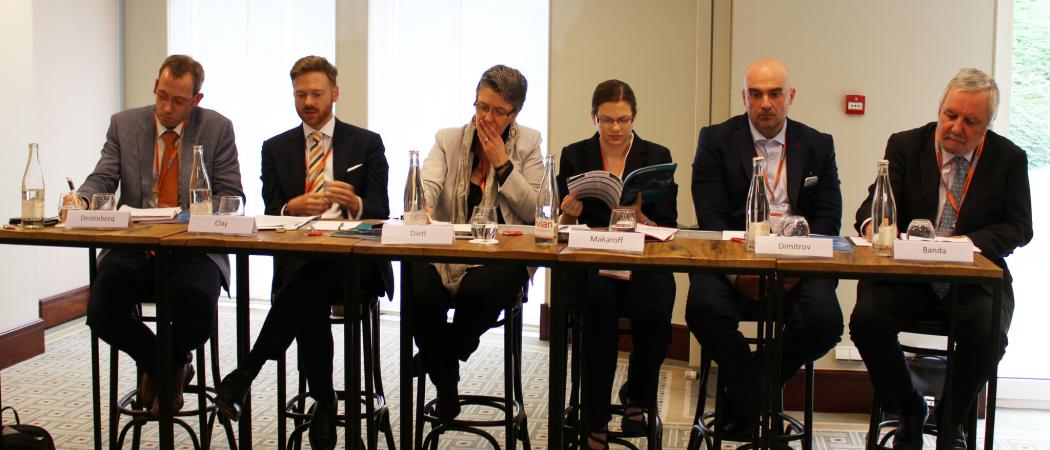 A panel discussion held as part of the 2018 Science|Business annual conference explored what actions and approaches are needed to underpin a comprehensive health innovation policy and programme for Europe, with particular focus on what the next research programme, Horizon Europe can contribute.
The main conclusion is that it is time for a shift in perspective, from viewing healthcare as an expensive drain on resources to recognising health spending as an investment.
Convincing decision-makers of this will require evidence of success, and to extract the full benefits of new technologies it is essential that healthcare systems stop setting up pilots and prepare the ground for adoption at scale. Both national and EU-level support is required to building the underlying infrastructure needed to achieve this and enable technologies to demonstrate their value.
These new approaches should put the patient centre-stage in innovation and policy conversations around healthcare and patients should be protected and championed, rather than being seen as a drain on money and time.
That requires a move away from the current paternalistic approach, to give patients greater status within the healthcare system. At the moment the relationship is very unequal. With their health at stake, patients' interactions with healthcare systems are most often transactional in nature, because their health is at stake. Not only that, but the experience patients have as users of healthcare systems and in managing their own conditions, is undervalued as a source of knowledge.
A series of issues need to be addressed by the Commission and other decision makers to support these changes:
Empowerment of individuals is necessary to enable better data collection and use. Conversations about the patient voice often cite the need for a holistic approach, but it is important to remember holistic does not just mean from research to patient, but also to people at every stage of life, before and after they are patients. This will help with what the panel referred to as 'humanising data collection', that is, making sure collection systems are easy and pleasant to use, not just a burden and reminder of illness. It is also paramount people retain control over their data and that health companies and researchers view themselves as the custodians of patient and participant data, rather than owners.
There are many

technical, legal, sociological, historical and cultural barriers faced by individuals and healthcare workers when they consider data collection and usage. Removing these barriers to improve data management and sharing needs to be a priority across Europe, to raise the impact of the patient voice in the system. These improvements need to be clearly communicated to the public. Healthcare systems are not set up in ways that make it easy to use data for research. Data collection is only one piece of the jigsaw, it also needs to be curated and stored in systems that are compatible with each other. This calls not only for better IT infrastructure, but also skilled data scientists. Patient data has much potential for analysis with big data tools, but until it is compatible this potential cannot be unleashed. An 'internet of care' providing a dedicate infrastructure for healthcare could provide greater compatibility and better sharing if installed across Europe or globally.
To enable any improvements to take place there needs to be better structure and support for collaboration across Europe. European leverage could be used to drive national level support for healthcare systems, promoting greater flexibility to take-up new technologies, treatments and approaches. Intellectual property frameworks need to be re-thought, enabling coherent approaches across all areas of healthcare, pharmaceuticals and technologies. Incentives, and clear signalling from the European Commission, are key to resolving these issues. Existing knowledge of how to work collaboratively, in particular the experience acquired in the EU's Innovative Medicines Initiative, should be harnessed. There is also a need for the Commission to bring the health in all policies approach to life, bringing directorate generals together to reduce the burden on industry, research and healthcare systems. Any complementarity should also reach beyond the DGs to civil society, ensuring processes are fit for purpose when engaging health stakeholders. The role of DG Sante should not be overlooked, the panel said. A clear priority for healthcare within the Commission is needed, and DG Sante should act as standard bearer for the cause.
Finally, and by no means least, funding for healthcare research and innovation is essential and must recognise the importance of basic research. Technological advances are invaluable for the advancement of healthcare, but we must not forget the importance of biological and medical research.
Panel members:
Lydia Makaroff

, Director, European Cancer Patients Coalition

Vincent Clay

, Senior Manager, EU Government Affairs, Pfizer

Boris Dimitrov

, CEO and Founder, Checkpoint Cardio

Enric Banda

, Senior Adviser, Barcelona Supercomputing Center

Frédéric Destrebecq

, Executive Director, European Brain Council
Moderator:
Monica Dietl

, Senior Advisor, Science|Business
For more information on these and related issues:
https://sciencebusiness.net/health
https://sciencebusiness.net/report/connecting-dots-towards-coherent-comprehensive-strategy-health-sector-innovation-europe
https://sciencebusiness.net/report/health-inequalities-how-better-use-health-data-can-improve-outcomes-all-patients