---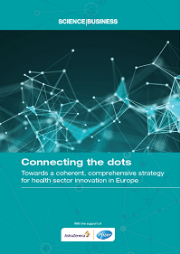 On 8 November 2017, the Science|Business Network of 61 universities, companies and public-sector organisations met to discuss a vital question for Europe's future: How to maintain a strong, productive pipeline of healthcare innovations across Europe in the years ahead, despite mounting pressures of budget, politics and demographics?
This report draws upon the expertise offered at that meeting. Science|Business intends to organise similar strategic discussions during 2018 about the prospects for innovation in energy, ICT and other sectors.
Rapporteur: Charlotte Thorley
Acknowledgements: Science|Business would like to thank AstraZeneca and Pfizer for their support of this event and report, and the Science|Business Network members for their input.
/system/files/reports/CONNECTING_DOTS-WEB.pdf