There's huge variation around Europe in healthcare. Experts convened by Science|Business over the past two years offer explanations – and solutions
---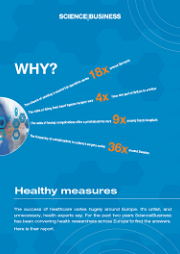 Demand for health services is rising, as the population ages and chronic diseases multiply. But the outcome of those services – in patient management, symptom alleviation or outright cure - varies hugely around Europe. Why?
Within one country, Germany, the odds that someone needing a hip operation might have to go in for a re-do varies hugely from one part of the country to another – by a margin of 18-fold, according to one health non-profit, the International Consortium for Health Outcomes Management. In Britain, the chance of dying from heart bypass surgery varies four-fold from one part of the UK to another. Of course, lots of factors are involved: varied socioeconomic conditions, education, health resources and more. But even after adjustment for these, experts say, it's clear there are other factors at work also – the specific medical procedures used, the skill of the doctors and nurses, the efficiency of the health system, and the idiosyncrasies of each patient.
As health budgets cannot keep pace, academics and policymakers have spent the past decade intensively exploring new ways to reduce these variations and make old health systems more effective. At the heart of the proffered solutions is a simple idea: use the mounting tide of health-system data to find out what works, and then do more of it. If a certain kind of management, technology, medicine or doctoring cures more people than another, do more of that system, treatment or style. Focus on the outcomes – what works. By measuring and acting on outcomes, we have an opportunity to raise standards for patients everywhere. More than that, knowing which interventions offer the best value can open the door to more informed spending decisions. Some operations, medications, devices and tests are wasteful; others save lives and money.
In a special publication, "Healthy measures", Science|Business reports on two years of research and conferences it organised across the European Union, chronicling the breadth and pace of this reform movement.
We visit a Hamburg clinic that, through wise use of data and staff planning, has drastically cut the number of post-operative complications from prostate surgery.
A group of Dutch diabetes clinics have slashed the frequency of hospitalisations among its long-term patients, while several Dutch children's hospitals have cut costs and improved care for asthmatic children.
In Spain, a pilot project for post-operative care cut the average length of hospital stays for colorectal surgery to 8.8 days from 11.9 – and the programme is now being rolled out nationally.
Many experiments are underway right now across Europe in how to measure outcomes, how to analyse the data, and how to reorganise payment systems to benefit from all this. Taken together, these are the seeds of a revolution in European healthcare. It has not gone unnoticed by the European Commission, which has, with support from the Organisation for Economic Cooperation and Development, stepped up its efforts to help member states compare their health-system performance.
But further action is needed. Here, we compile a list of suggestions for change – suggestions offered by the nearly 1,000 experts who have attended our meetings around Europe over the past two years. They range from better training health workers for life in the Big Data world, to reforming the way governments assess and buy technology, to building and connecting stronger networks of expertise in outcomes measures.
This 40-page report is the first-ever systematic look at health-outcomes theory and practice across much of the EU. It's reported by professional health journalists, based on hundreds of interviews and presentations by experts in health policy, data management, patient rights, pharmaceuticals, medical equipment and health insurance.
Would you like to join us for one of our expert roundtables, as we continue our research? Our next event will be 19 September 2018 in Barcelona. For more information, contact [email protected].
Table of contents
Introduction: Why do health outcomes matter?
To improve performance, healthcare systems need to measure not just what goes in, but also what comes out
Chapter 1: A short history of healthcare reform
From value-based healthcare to patient-reported outcomes measurement, the administration of health services is changing fast
Chapter 2: Case studies: making 'outcomes' work for patients
An outcomes-focused approach has helped to improve patient care in areas as diverse as obstetric surgery and diabetes management. Here, a selection of examples from around Europe.
Chapter 3: Asking the patient: Experiments in measurement
A commitment to deliver 'outcomes that matter to patients' means finding out what patients actually want. Around Europe, health authorities and providers are experimenting with how to figure that out
Chapter 4: Paying for value: rewarding outcomes, not activity
Many agree that healthcare systems need to shift from paying for procedures to paying for outcomes, but this is a difficult change to make
Chapter 5: Getting to the right outcome
If outcomes-based healthcare is so great, why isn't everybody doing it? Because there are several things that need to be accomplished
/system/files/reports/SB-HELTH%20REPORT1605-FINAL.pdf