David Sassoli, European Parliament president, laments cuts to Horizon Europe, as MEPs reinforce commitment to route more money to 'future-oriented' programmes, in final battle over long-term EU budget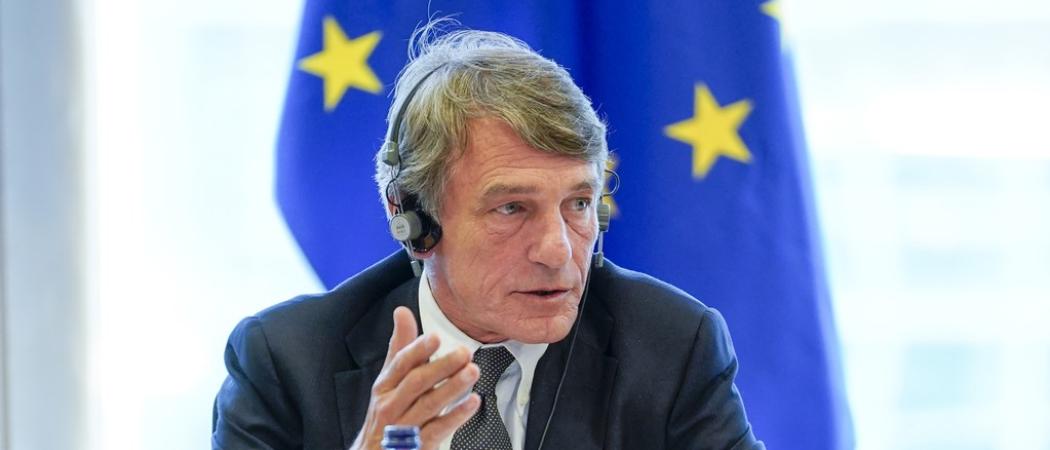 A flurry of MEPs across all parties came out to defend Horizon Europe in the first plenary meeting after EU heads of state agreed to cut the budget for the research programme to €80.9 billion, vowing to work together on finding more money for future-oriented R&D.
The president of the European Parliament David Sassoli said that in the final stages of the budget tussle, MEPs should "correct errors" made by EU leaders during their summit last weekend. "We cannot cut budget resources from research and Erasmus," said Sassoli.
In a proposal put forward by the European Commission in May, Horizon Europe was slated to get a total €94.4 billion (in 2018 prices) over the next seven years, of which €80.9 billion was from the EU's long-term budget and €13.5 billion from the new pandemic recovery fund.
After negotiations among member states which concluded on Tuesday morning, Horizon Europe saw significant cuts, as leaders agreed to give it only €75.9 billion from the core budget and €5 billion from the recovery fund.   
According to Sassoli, the budget deal is a departure from ambitious plans for supporting EU policies that would ensure the continent is more resilient to future economic and healthcare crises. "If there is less research, will we be more resilient? No," he said.
'Regrettable and painful' cuts
Speaking to MEPs on Thursday, EU commission president Ursula von Der Leyen lamented the cuts to Horizon Europe, but did not say whether she would back the parliament's demands for a bigger budget for research and innovation.
Von der Leyen praised the "historic" decision by EU leaders to let the commission borrow €750 billion to finance the pandemic recovery fund. But the concessions made during the summit are "regrettable and painful," she said. "With light also comes shadow. In this case, the shadow is in the form of a very lean long-term EU budget."
The commission would have liked higher budgets for programmes with "crucial European added value", such as Horizon Europe, Erasmus+, InvestEU and the new health programme, von der Leyen told MEPs. "Yes, all these have been increased, but certainly not as much as we would have liked," she said.
The European Parliament has the last word on budget negotiations and MEPs are planning to use that power to boost budgets for programmes which were cut during the summit. "We will strive to secure improvements, including higher amounts, on future-oriented multi-annual framework programmes like Horizon, InvestEU, LIFE, Erasmus+," the parliament's negotiating team said in a statement.
An absolute majority is needed for an agreement in the parliament. If reached, MEPs will pass an updated budget back to EU leaders, who must then give their unanimous approval by the end of the year. 
Last fight on the Horizon
In the plenary debate on Thursday, most MEPs echoed Sassoli's view, with Manfred Weber, leader of the European People's Party group saying the long-term budget proposed by EU leaders lacks the ambition needed in times of crisis. Weber decried "dramatic cuts" to EU4Health programme and Horizon Europe. "We are not ready to swallow that bitter pill," he said.
Weber also said funds that are to be disbursed directly to member states from the recovery package should be routed to industrial innovation projects on batteries, hydrogen and 5G wireless communications. He asked von der Leyen and EU Council Charles Michel to come up with "a list of five or six or seven industrial innovation projects that each and every member state would commit to finance through the recovery fund."
Dacian Cioloș, the leader of the Renew group said the parliament won't approve the budget unless there are "sufficient means to finance future-oriented programmes". Parliament will not "sacrifice" investments in digital, research and the Erasmus academic mobility programme, Cioloș said.
For Socialist MEP Simona Bonafé, the long-term budget is not "adequate" in its current form and she will not accept Horizon Europe, Invest EU and the new health programme being "so drastically cut".
Chair of the parliament's budget committee Johan Van Overtveldt, said research and development "is something we absolutely require in order to make our economies stronger and more flexible."
Since Tuesday, research and industry lobbies have been voicing dismay at the figures announced for the research programmes and have called on MEPs to help reverse some of the cuts.
Reduced sums for research means a smaller economic return, said Marta Agostinho, coordinator of EU-Life, an alliance of 14 life science research institutes. "Each euro invested in the past in European R&I programmes generated an estimated €13 return to the economy. This is what we will be losing, return from an investment, beyond all obvious social, health and environmental impacts."
Agostinho expects a response from the parliament, which she says has always been a "champion of research and innovation."
The parliament's negotiating team will draft a list of MEPs' demands ahead of a vote on the budget. The negotiators will then enter talks with the German presidency of the Council of the EU to finalise the budget before the end of the year.
EU budget commissioner Johannes Hahn told MEPs he shares their concerns but urged them to take a decision as soon as possible so that talks can conclude in due time. "I hope we can make some improvements during the negotiations," Hahn said.
What next for Horizon Europe?
A budget agreement in the council is step forward towards the timely launch of Horizon Europe. But, with little more than five months left, the commission, the council and the parliament have to complete negotiations on how the €80.9 billion budget will be distributed across different parts of the programme, how it could be used in sync with other EU funding sources, and which countries outside the EU will be allowed to participate.
It is unclear whether the budget agreed by EU leaders on Tuesday will affect in any way the structure of Horizon Europe, as agreed by research ministers in April 2019. Member states are currently looking into the implications of the council agreement and how the new figures could influence the research programme.
Inside the commission, officials do not expect significant changes will be made to Horizon Europe. 
While the budget currently on the table is not satisfactory, it's something the council can use to carry on its work on the final details of Horizon Europe and make sure the programme starts in January 2021. "We have to make the best of what we have," said Anja Karliczek, German minister for education and research.
Germany is in charge steering negotiations on the final details of Horizon Europe and its budget, which will take place at a meeting of EU research ministers in September.