With negotiations over the EU's long term 2021 – 2027 financial plan at an impasse, Mariya Gabriel will be plunged into an immediate battle to preserve research and innovation funding when she takes up the reins at DG Research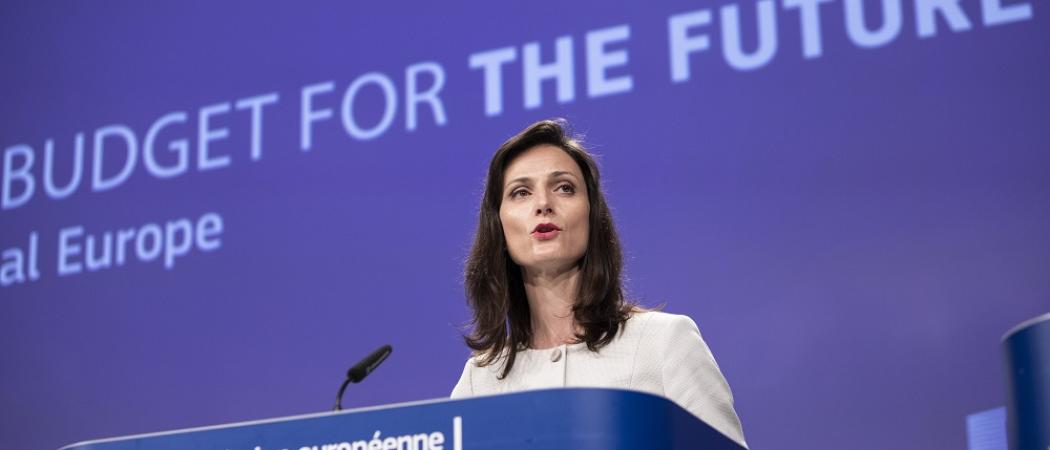 Incoming research commissioner, Mariya Gabriel, faces an early test of her mettle, as the €94.1 billion Horizon Europe budget proposed by the commission comes under serious pressure due to an impasse between national governments over the EU's long-term financial plan for 2021-2027.
While nobody at the table is openly calling for cuts to Horizon Europe, the programme is being squeezed by the competing priorities of European governments, which must agree unanimously for the budget to pass.
Wealthy net contributors to EU finances want to cut overall spending, but net recipients are defending those parts of the budget that most benefit their countries – which don't include research. With few other programmes large enough to make up the difference without a provoking a veto, Horizon Europe looks likely to be cut.
Gabriel, who will take over the research brief in December, has promised to "vigorously defend an ambitious budget for Horizon Europe."
The European Parliament wants to increase the programme's budget to €120 billion, and during her confirmation hearing on 30 September, Gabriel told MEPs she is "clearly on the side of parliament" when it comes to Horizon Europe's budget.
She did not quite go as far as promising MEPs she will push for the full €120 billion, which is a long shot, given that the commission's proposal of €94.1 billion is threatened by the current state of negotiations among EU countries.
Gabriel's credibility 'at stake'
"The credibility of the commission, and also the commissioner, Gabriel, is at stake here," said Robert-Jan Smits, president of the Eindhoven University of Technology and former head of the European Commission's research department. "You can have all kinds of nice policy initiatives," he said, "but at the end of the day, your credibility depends on the money you're able to secure. Full stop."
 Gabriel's remarks at least suggest that "two out of three" of the EU's law-making institutions remain "supportive of reinforcing research and innovation," said Marja Makarow, vice president of the Finnish Research Council. "So I would be hopeful that Horizon Europe would not suffer," she said.
But ultimately, member states control the EU's purse strings and will decide how much money goes to Horizon Europe. EU finances will take a hit when the UK leaves, and five other net contributors — Germany, the Netherlands, Austria, Sweden, and Denmark — want a much smaller budget for 2021-2027 than the one proposed by the commission.
Smits believes a strong alliance between Gabriel and key figures in parliament, particularly Horizon Europe rapporteur Christian Ehler, could make a difference. "If Mrs Gabriel is able to get the unconditional support of Ehler and a couple of those other very strong players in the European Parliament, I think she can perhaps even maintain a large part of the budget," said Smits.
"It requires an investment in the European Parliament, an investment in the people there," he said. "That's the big advantage of Mrs Gabriel, because she comes from the European Parliament, that is her world." Gabriel, a Bulgarian conservative, served as an MEP from 2009 until 2017, when she became the digital economy commissioner.
One per cent cap
Those pushing for a smaller budget want to cap total EU spending after Brexit at one per cent of the EU27's combined gross national income. That number hasn't come out of thin air. In 2013, when Brexit was but a twinkle in many an eye, EU countries agreed to a one per cent cap for 2014-2020.
For 2021-2027, one per cent would represent a substantial cut from the 1.11 per cent proposed by the European Commission – a difference of almost €127 billion. That is big enough to raise the prospect that Horizon Europe may end up with less money than the current €77 billion research programme, Horizon 2020.
The commission says its budget proposal takes Brexit into account, since it would consume a smaller percentage of combined gross national income than the current 2014-2020 budget would if the UK weren't still a paying member. But since the UK does pay into the current budget, that comparison doesn't really work. The commission is asking the remaining members for more money after Brexit, and parliament is asking for even more again.
What the one per cent club of member states do not say, is where the axe should fall. The commission's proposal to increase the research budget from €77 billion in 2014-2020, to €94.1 billion for 2021-2027, requires cuts to agricultural subsidies and cohesion funds for poorer member states.
German officials told Science|Business that Germany wants to see a "smart balance" between agricultural subsidies, cohesion funds for poorer regions, and other priorities like research. But they gave no details on where that balance may lie.
Similarly, a spokesman for the Dutch foreign ministry said that one per cent "allows for an appropriate level of financing" for "traditional policies," like agriculture and cohesion, as well as "new priorities" like research, migration, security and climate change, which should be "reflected adequately" in the new budget.
Nobody's happy
But net recipients of the EU budget aren't happy either. Research grants tend to go to well-funded institutions in western Europe, while cohesion funds target poorer regions, so east European governments don't want to see cohesion funds cut to boost research.
The commission appears to be losing patience with the deadlock, and is urging member states to make a decision soon so programmes like Horizon Europe can begin on time. "The whole debate about the budget is about who is paying how much, and who is getting how much. This is very annoying," said one commission official.
The commission also harbours an ambition of creating alternative sources of revenue that are separate from member state contributions. But even if it succeeds in doing so, there will not be more money to spend on Horizon Europe, because the current budget negotiations will fix expenditure in advance. Any additional revenue will be deducted from member state contributions later on, it will not be added to the existing budget.
Since all EU countries have a veto, the only way to get the budget through may be to cut elements that are less sensitive than cohesion funds. That puts Horizon Europe in line for at least some cuts – possibly deep ones – because most other budget items are either too small to make much difference by themselves, or too likely to trigger a veto if they're cut too deeply.
Rich countries willing to cut research
Robert-Jan Smits is well-placed to comment on the predicament: as head of the commission's Directorate General for Research and Innovation from 2010 to 2018, he helped negotiate the budget for Horizon 2020.  The result was a programme one and a half times the size its predecessor, Framework Programme 7. That was negotiated in the thick of the Eurozone crisis. Smits also led the drafting of Horizon Europe.
Smits said those pushing for a one per cent budget may be willing to cut Horizon Europe to get that, even though they benefit more from the research programme. "For the Dutch government the only goal is to have a smaller EU budget, even if this means cutting the research budget disproportionally," said Smits, who is Dutch.
"There's always been a kind of cynical situation where the ones who benefit most from the EU research programme at the same time want a smaller EU budget, and therefore I would never consider them as the 'real' friends of science and research," he said.
Cutting cohesion 'not even up for discussion'
Other budget priorities, however, may be much harder to cut than research. Smits said cutting more from cohesion to protect research is "not even up for discussion" by the Visegrad countries of Poland, the Czech Republic, Slovakia, and Hungary.
Agriculture may be untouchable too, since the current proposal for Horizon Europe already includes €10 billion for agricultural research that was moved from the Common Agricultural Policy (CAP). Smits said moving even more money from the CAP to research would be "extremely difficult."
He added that "the situation would shift dramatically" if France changes its stance on agriculture. France has a long track record of vigorously defending the EU's large agricultural subsidies, and unlike other net contributors to EU funds, is not currently calling for budget cuts.
A French diplomat told Science|Business that while France wanted more money for direct payments to farmers, "We don't have a position on the volume of the budget, because what counts first is to define what we want to do with it," he said. "We don't want to put the cart before the horse." But when it comes to cohesion, the EU's poorer regions "must not be the victims of the cuts."
If agriculture and cohesion are ring fenced, the next largest chunk of the proposed budget is €123 billion for foreign policy. The chances that money will be taken from this line of the budget are, "close to zero," said Smits, given priorities in the Balkans, Ukraine and elsewhere.
All roads lead to Berlin
According to Smits, "The solution to save the EU budget for science very much lies in Berlin." Germany is the EU's largest economy and makes the biggest contribution to the budget. Despite its strong advocacy of a smaller budget, "Germany has always played a role as a kind of conciliator at the end, wanting to keep the family together," said Smits.
The big question is whether Angela Merkel will be willing to change course as she prepares to leave office by 2021. "Will she again be willing to play that role and pick up the bill?" Smits said.
There is still hope, said Smits. "I don't want to create a self-fulfilling prophecy by saying it's impossible. It's extremely complex." Looking back to when Horizon 2020 was being negotiated, "we were even more up the creek," in the aftermath of the 2008 crash and Eurozone bailouts, he said. "Still, we were able to increase the [research] budget from €50 billion to €80 billion."
Gabriel is due to become commissioner for "Innovation and Youth" on 1 December. She and the rest of the new commission were supposed to take office on 1 November, but their confirmation was delayed by the parliament's rejection of the French, Hungarian and Romanian nominees.