Mariya Gabriel tells European Parliament she supports new policies to tackle systemic issues, such as pay gaps and brain drain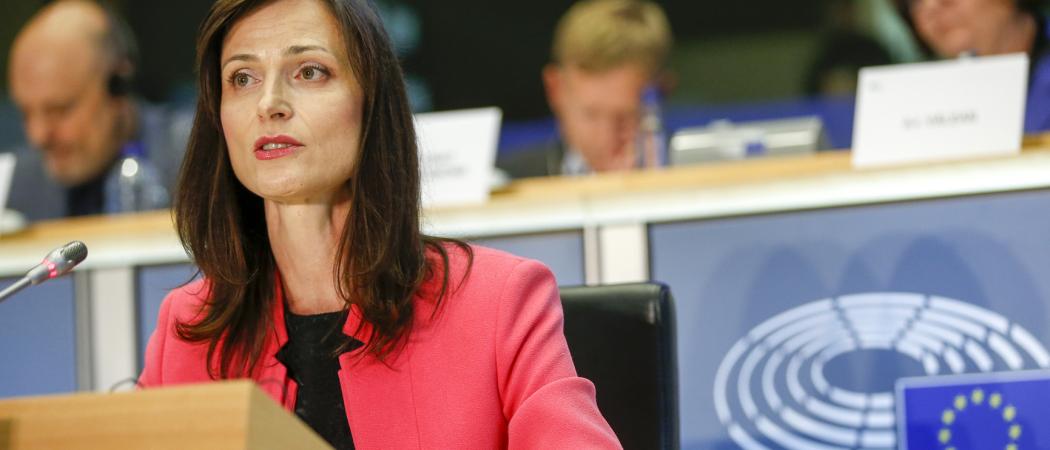 The EU's incoming research and innovation chief has promised action to tackle the gaping disparity in research performance between rich and poor countries across the European Union.
At her European Parliament confirmation hearing to become EU innovation and youth commissioner on Monday, Mariya Gabriel said she would review EU measures to stop the "vicious cycle of brain drain, low wages and low local investment" in central and eastern European countries.  
Members of the European Parliament peppered Gabriel, a 40-year-old Bulgarian politician, with questions about how she would manage the diverse challenges she would inherit by taking up the position on November 1. Her performance, one of 26 marathon hearings for Commission nominees scheduled over the next two weeks, appeared calculated not to upset any of those national capitals, sticking to agreed policy.
In response to several questions on bridging the gap in science and innovation performance across the bloc, Gabriel gave little away apart from to say she "would support new instruments." She also backed existing plans for the Commission to start reporting regularly on researcher salary gaps between east and west – arguing that "transparency" of this sort would encourage member states to do more about the problem in their own academic pay scales.
The issue of east v. west has risen rapidly on the political agenda in Brussels, with the threat of eastern opposition to any Horizon budget rise unless something is done about it. Collectively, the 13 mostly eastern countries that joined the EU since 2004 get just 4.8 per cent of total funding under the EU's flagship R&D programme, Horizon 2020 – yet they represent 17 per cent of the EU population. They also get paid less than western counterparts when participating in a Horizon project; the Commission says that's due to normal, national pay disparities rather than any particular fault of Horizon.
"We can't talk about common competitiveness if we have such huge divergence. I will remain true to my approach: making no distinction between big and small, no one should be left behind," she said.
Praise for 'practical' approach
The Bulgarian steered clear of any new policy pronouncements, however, vowing to review existing policies, while admitting a powerlessness in Brussels to fully close the gap. "Member states are the ones that must solve these issues — we can only help," she said.
For three hours, Gabriel deftly moved between speaking in French and Bulgarian, highlighting her eagerness to be accepted into the Brussels research fold. The performance is likely to be enough to convince MEPs to stamp "approved" on her candidature.
After the hearing, German MEP Christian Ehler, one of the main drafters of the next R&D programme, said "[Gabriel] wasn't pretending to deliver something she couldn't possibly deliver on her own. She gave a strong statement that she's willing to fight [for the budget]." Ehler also praised her "practical" approach to searching for new co-funding opportunities within other existing EU budgets.
A former MEP herself, Gabriel was returning to friendly territory. She swept through a similar Parliamentary hearing unscathed in 2017, when she was given a mandate to complete the digital single market, one of the most wide-reaching policy arenas in Brussels. She has been commissioner for digital affairs for a little over two years.
Gabriel appeared calm, deferential and prepared. Before the hearing, she chatted with many of her inquisitors, along with research Director-General Jean-Eric Paquet, who appeared to be crossing his fingers for her.
Introducing Gabrielism
Gabriel was generally on top of the dossier and she sounded many of the right notes: the European Research Council will remain the EU's key basic science funder; MEPs will get monthly updates on the performance of the new European Innovation Council; and when it comes to gender imbalances in research no talent should go to waste.
Describing her vision for the next five years, the Bulgarian said she would back a new EU science information campaign in the member states. "We need EU science in the regions and schools," Gabriel said.
Money for the various programmes that fall under her wide brief was a dominant line of questioning by MEPs. In addition to Horizon Europe, the next EU research programme starting in 2021, Gabriel's sprawling portfolio will absorb education duties currently performed by the current research commissioner, Carlos Moedas, and the current education commissioner, Tibor Navracsics.
A central task for Gabriel will be to deliver an increase in research spending, from €77-odd billion today up to €94.1 billion from 2021.
Asked by Romanian MEP Dan Nica, the second main drafter or rapporteur of the Horizon Europe legislation for the Parliament, whether she would be on the side of the Parliament or governments in negotiations over the 2021-2027 budget, she replied directly: "I'm clearly on the side of Parliament on the budget".
Commission officials have been encouraging national governments to redirect money from EU regional funds to research and innovation projects. Gabriel says the main problem with these "synergies" is they are confusing for anyone to understand and use.  In addition, the EU cannot easily track their performance. "We need to say how synergies can be used in concrete situations," she said. "We need to give [member states] examples of how they can use this funding better."
According to Gabriel, in the text of Horizon Europe, synergies are identified with no less than 20 policies of the EU, but the Commission has yet to come up with "a clear definition" of what they are, and a clear way to measure them.
East-west divide
Zeroing in on the dominant theme of the hearing, Bulgarian MEP Ivo Hristov complained of "difficult application procedures" in the current R&D programme which "result in a lack of equal footing" for member states. He urged EU action to reduce salary gaps between the original western EU countries and the EU-13 countries. "There are more Bulgarian students that study abroad than in Bulgaria," he noted.
Gabriel promised to go further on simplifying EU research programmes but admitted Brussels had "no opportunity for direct intervention" on salaries for scientists.
The Horizon Europe legislation provides that the Commission will set up a system of monitoring researcher salary levels in the member states. "After the study we will identify where the big salary gaps are," Gabriel added.
During the lengthy hearing, the Bulgarian was also asked about cancelling all EU support for fossil fuels and assistance funding for regions to transition away from coal. Without directly answering the question, Gabriel suggested that the EU had a duty to provide support for transitional skills. "Political ambition should not be delivered at the cost of social justice," she said.
Other Commission nominees will face similar grillings through the next two weeks, with several performances expected to be politically sensitive. The Parliament will vote at the end of October on whether to accept the new team, led by incoming Commission president Ursula von der Leyen.
At the end of her three-hour audition, the impression was positive. In her closing remarks, Gabriel cited a 127-year Bulgarian text that read, "Science is sunshine and knowledge is power."
She left the chamber to warm applause.