Mailis Reps on why more investment in research and innovation will prepare Europe for the future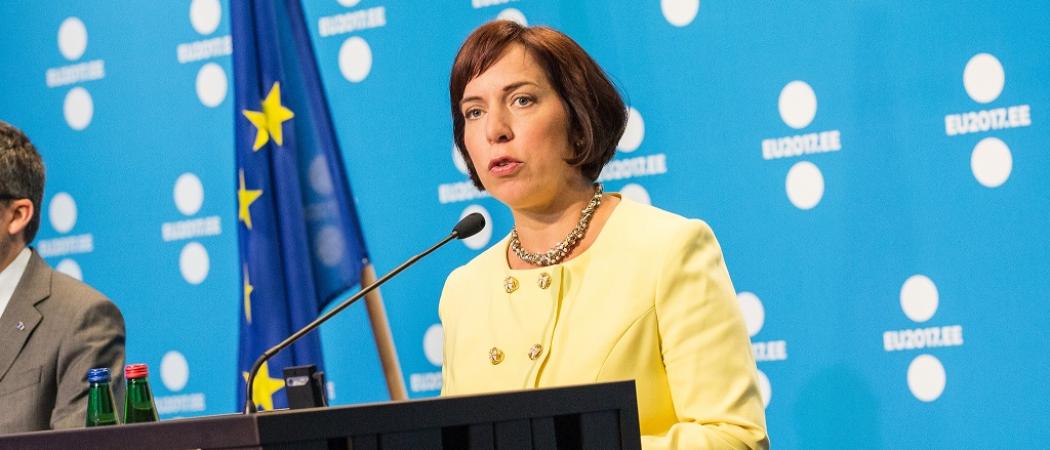 On October 16th, the Estonian Presidency of the EU Council published a 'Call for Action' urging its fellow EU member-states to spend more on research and innovation. Mailis Reps, Estonian minister for education and research, is a strong advocate for increased funding – and in fact, her government recently confirmed an 11 per cent rise for 2018. Here, in written answers to ScienceǀBusiness, she lays out the case.
Q. Why is your government calling for more research and innovation funding, both at national and EU level?
Investing in research and innovation is indispensable for achieving the EU's competitiveness and growth goals.  Though acknowledged as a priority in Europe, it is often overshadowed by other urgent political issues. As early as 2000, as part of the EU's Lisbon Strategy, European policymakers established research and innovation investment as a clear priority; but the EU remains far from its goal of spending three per cent of gross domestic product on R&D. If we want to make truly breakthrough advances, we need to increase investment in research and innovation significantly, and take more risks. Our international competitors are greatly increasing funding; and so Europe must increase its investment to maintain its current position globally. Also, the impact and benefits of research and innovation take a long time to become visible, and thus need stable, long-term investment.
This is something that we need to think about seriously when discussing the next EU budget. Considering that EU spending comprises only a small share of the overall R&I expenditure in Europe, Member States need to step up their efforts as well. In this regard, Estonia holds the Presidency of the EU Council at a very important point in time, as we discuss the post-2020 budget and the next research Framework Programme. Existential questions about the future of Europe are in the air.
Q. What is the impact of research and innovation spending?
Evaluations of the current and previous Framework Programmes demonstrate that the impact has been very high and broad, as it expands to social and economic spheres. There are numerous studies also at national level showing that the rate of return of public investment in research and innovation is high. It makes a remarkable contribution to boosting European economies, as every euro invested under Horizon 2020 is estimated to result in a GDP increase of between €6 to €8.5, and is projected to benefit Europe by up to €600 billion by 2030.
So, there is plenty of evidence of impact, but we have not been successful in translating this knowledge into convincing arguments for the public or for those who negotiate the budget. We need a new narrative on the wide benefits of research and innovation to citizens, and to achieving many policy goals. Also, winning the trust of citizens can no longer rely on one-way communication, but needs to be a dialogue where citizens can participate in the agenda-setting. Increased public trust, acceptance of scientific knowledge and engagement in shaping our collective future will all help lay a foundation for greater research impact.
But, again, investment is inadequate. One problem that is very much impeding the potential impact of the current Framework Programme is oversubscription: too many ideas chasing too little money. This means that researchers are spending a great deal of time writing excellent proposals that do not get funded, and thus their potential remains unrealised.
Q. Won't it be difficult to convince poorer member states to spend more?
Many now-successful EU countries (e.g. Estonia's good neighbour, Finland) have consistently invested in education and research over a long period of time. This has helped them to become European innovation leaders. We are also following this example in Estonia; and we acknowledge that the road there is long, hard and risky. But if we do not invest, we can be sure that we will not have positive impact. Every country needs to do its homework. I am very content that we have wisely used EU Structural Funds to develop our own research and innovation capacity.
Q. Why should research get more money when everything else in the EU budget will likely be cut after the UK leaves the bloc?
The interim evaluation of Horizon 2020 has shown that research and innovation investments have clear added value. The EU has the chance to create a better future for its citizens and shape the world through its research and innovation. Global challenges need to be addressed through broad collaboration across borders. Research goes to the heart of public life and European values. It builds trust and tolerance. It deepens understanding of our changing societies. The White Paper on the Future of Europe presented by the Commission President Jean-Claude Juncker this year sees research and innovation as key elements for future policy cooperation. If the UK leaves the EU, the remaining members need to make an even greater effort to stay competitive and actively seek to attract and collaborate with the most talented researchers and innovators from all over the world.
Q. How does Estonia fare in terms of R&I spending? Are there plans to spend more?
Public and private Estonian R&I expenditure was 1.5 per cent of GDP in 2015. Public sector R&D investments have been above the EU average for some time now. I consider this very important as public investment in R&D is crucial for creating a favourable environment and incentives to improve private R&D investments.
I am proud to say that Estonian Government has decided to increase budget allocations for research and development in 2018 by 11 per cent. This means that public funding for R&D is estimated to reach 0.8 per cent of Estonian GDP in 2018 – above the EU average. The main priorities for extra funding are performance-based funding of research institutions and ICT research. This is a clear commitment from our government and we invite other Member States of the EU to join us.
Q. The Call for Action mentions the need to strengthen the role of research in policymaking. What do you mean?
It takes two to tango, as you know. It is very important to us to strengthen the links between policy-making and research, so that research-based knowledge will be applied in finding solutions to societal challenges. On the one hand, it requires that the scientific community be more engaged in public debates and active in explaining the impact of its work. On the other hand, policymakers need to take on board scientific advice.
Equally important is capacity-building in public administration, which is a prerequisite for transforming research-based outcomes into sound policymaking. In Estonia, the Ministry of Education and Research co-finances the posts of scientific councillors in other Ministries to develop their capacity to select topics of applied research necessary in their policy making and based on their sectoral needs. We also fund strategic R&I activities aiming to tackle through applied research major interdisciplinary social problems  and which are within the jurisdiction of several Ministries. We see positive developments all around Europe in using scientific advice in policy making – but more effort is needed.