Pierre Larrouturou wants member states to agree new financial transaction tax that he says would raise €50B per annum to boost EU budgets for health, research and climate programmes that are essential to pandemic recovery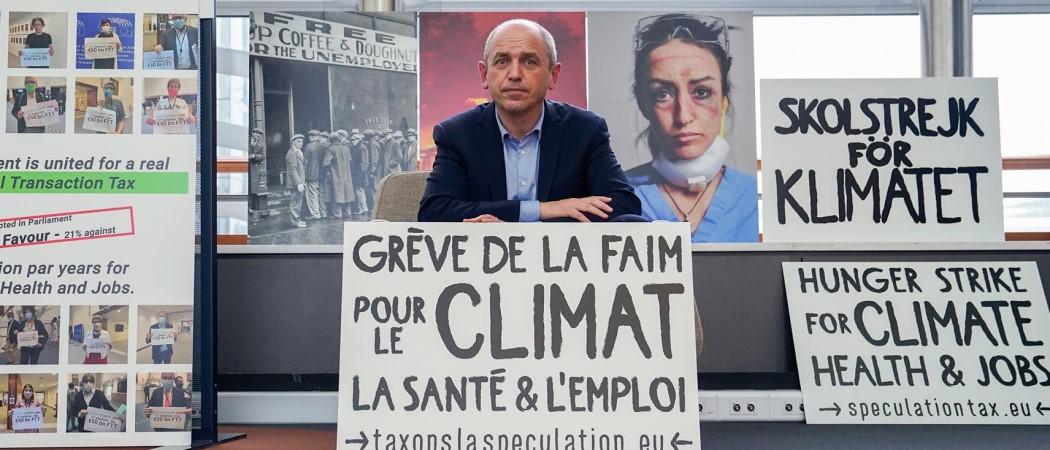 The EU budget rapporteur Pierre Larrouturou entered his seventh day of hunger strike today, demanding member states approve and implement an EU tax on financial transactions to help boost the budget for Horizon Europe and 14 other flagship programmes.
"I think it is scandalous that we do not invest money for health, for research, for climate," Larrouturou said. He is protesting, "so that a majority of citizens know that we are facing a catastrophe if we don't put [up] the money, he told Science|Business.
As to how long he will carry on with his protest, Larrouturou said he is in good health and he is not going to die, but hopes his gesture will help avoid millions of other deaths.
Without the appropriate investment in health, research and climate, "We will have millions of deaths over the next ten to twenty years," he said.
As he went into hunger strike, Larrouturou launched a website www.speculationtax.eu, which also redirects to www.climateandjobs.eu, where he makes his case for the urgency of establishing a 0.1 per cent tax on buying and selling stock and a 0.01 per cent tax on all other financial transactions. 
"We are certain this tax could raise €50 billion every year," Larrouturou said. "And if you have €50 billion every year without asking normal citizens for one euro, I think we can help the health system, we can help research and climate."
The French MEP took the decision to go on hunger strike last Wednesday, just before MEPs in the European Parliament's budget negotiating team entered a new round of talks with the European Commission and the German presidency of the Council of the EU. The talks failed, with member states refusing to put more money into the EU budget.
The parliament is to meet the council and commission again on 9 November. If a deal is reached, final negotiations on Horizon Europe could resume, allowing the research programme to be launched on time.
In September, research ministers enacted cuts agreed by EU leaders to the next seven-year budget. The €94.4 billion proposed for Horizon Europe over the next seven years by the European Commission was reduced to €80.9 billion (at 2018 prices).
The parliament warned it would reject the multiannual budget if top-ups are not made for Horizon and 14 other programmes. With member states refusing to send more money to Brussels, Larrouturou is insisting the EU should raise its own taxes to fund programmes he views as essential to recovery from the pandemic crisis in health, research and climate.
"The more I think about it, the more I am aware that we won't be able to reclaim the cuts on the 15 flagship programmes, if we are not able to unblock the matter of own resources," Larrouturou told a parliament meeting in September.
A new tax on plastics has been approved by EU institutions but is awaiting ratification by all member states. Another income source would be the financial transaction tax originally proposed by the commission during the mandate of president Jose Manuel Barroso, nine years ago.
MEPs fast-tracked and voted on a plan to establish new own resources for the EU budget during the September plenary session. But, before entering into force in January 2021, it needs to be ratified by the parliaments of all member states. Progress has been slow, with the council yet to send the parliament a legally binding calendar to introduce the new levies.
Larrouturou went into hunger strike to fight for this new levy, but he says the idea of an EU financial transaction is not part of a radical far left agenda. "The tax on speculation was proposed by Barroso in 2011. He's not the far left, he went to work for Goldman Sachs," said Larrouturou. In 2016, Barroso was criticised for going through the revolving door, after he accepted an appointment as non-executive chairman at Goldman Sachs International, the investment bank.
With haggling over the budget still going on, Larrouturou sees an opening to finally implement this tax, and together with the new levy on plastics to raise money needed to repay loans the commission is taking on to finance its €750 billion pandemic recovery fund, and to top up existing programmes with the remainder of the money.
The case for investing in research
Despite being mainly preoccupied with the new levy on financial transactions, Larrouturou also made his case for a higher budget for research. He said the touchscreen and the world wide web are technologies discovered and developed by researchers working on particle physics at CERN, the European Organisation for Nuclear Research, which was built through a long term financial commitment to breakthrough science.
As in the 1970s and 1980s, Larrouturou argues Europe should give researchers the resources they need to invent the next generation technologies.
"All of us have touchscreens and it's because of those who were looking for the Higgs boson," said Larrouturou of the unexpected long term benefits of investments in research.
Larrouturou also gave the example of US president John F Kennedy who promised to send a man to the moon in an inspiring speech in 1962. Eight years later, the world watched on TV as astronaut Neil Armstrong stepped on the lunar surface. "[Kennedy] had no idea how to do it, but the budget of NASA was multiplied by 15," said Larrouturou. "It was not only blah-blah."