Framework Programme 9 will rely on digital technologies to help solve Europe's challenges, from health to transportation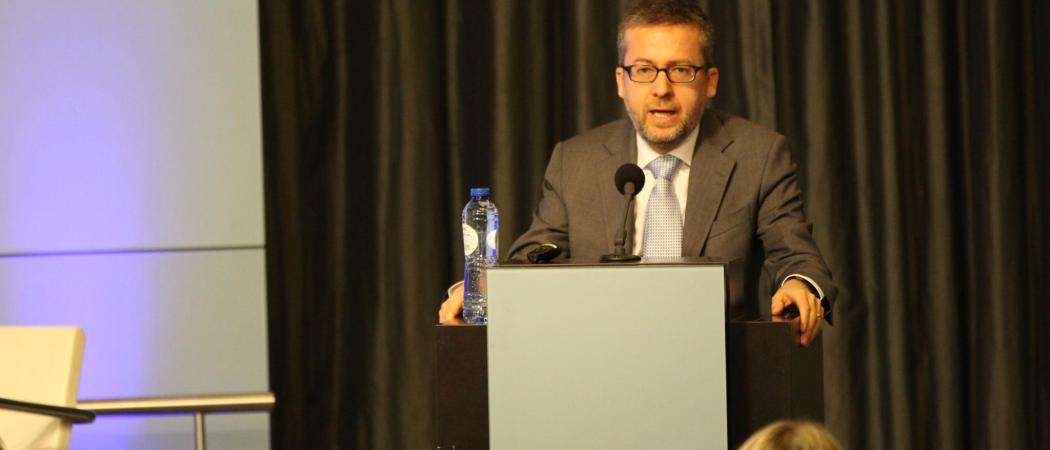 BRUSSELS - The European Commission expects digital technologies to play a central role in its plans to fund high-profile research 'missions'  over the next decade, EU officials said.
Europe has big challenges to face, in healthcare, transportation, energy and other domains, said EU Research Commissioner Carlos Moedas –  "but we just have one tool to tackle them: the digital revolution."  He was speaking at a conference on digital technologies organised by the Estonian Presidency of the EU Council.
In the preparation for its next big research and innovation initiative, Framework Programme 9, the EU Council on Dec. 1 confirmed that it will organise some of the budget around a series of missions that aim to solve problems that can interest the public at large. The notion, modelled on the US Apollo space mission, was pushed this summer by an expert group led by former World Trade Organisation head Pascal Lamy. And earlier this month the Commission recruited economist Mariana Mazzucato, director of the Institute for Innovation and Public Purpose at University College London, to help identify specific topics for the missions.
According to Moedas, digital technologies should underpin all the innovations that help achieve these missions. "I do not see one thing there that should not be digital," he said. "All missions need digital."
Mailis Reps, Estonian minister for education and research, also supports the idea. As the Estonian Presidency winds up Dec. 31, her government is confident that innovations in the Internet of Things, artificial intelligence, deep learning and communications technologies will help solve Europe's challenges. "We need a determined effort to support and stimulate the digital revolution," said Reps, in a videotaped statement to the conference.
Estonia's rapid implementation of digital government in the 1990s enabled the country to switch earlier than most to electronic banking, a digital tax system and related digital services, which in turn helped boost other innovations - in fields like connected health and cybersecurity. According to Kristjan Vassil, vice rector for research at the University of Tartu, Estonia is now providing its citizens with some 1,800 digital services from 1,000 public and private institutions,  using data from 200 repositories. The potential for further digital applications is great: Jaak Vilo, a Tartu professor of bioinformatics, said that in healthcare there could be multi-billion savings: "We should dream of the situation where computers can help doctors." 
Now, the country is eager to share its experience with the rest of Europe, and to find "the most efficient way to include digital solutions in solving societal challenges," said Reps.
Back to basics
Moedas bemoaned the fact that Europe fell behind in digital technologies as US and Asian companies rose. However, he said, Europe could get back in the driver's seat because the digital technologies that will underpin our future, such as AI, blockchain and deep learning, rely on fundamental science, an area where Europe has always excelled. "We have the basics to be at the top of the wave again," he said.
The challenge will be to raise enough funding from investors who don't look for the nearest exit, but from those who understand the value of long term investments. "You need capital that is patient," Moedas said. He noted that the EU will create a venture capital fund of funds to "attract private funding and patient capital to stimulate innovation."
The Commission will also make "a genuine effort to mainstream digital into all areas," said Pearse O'Donohue, acting director for Future Networks at the Commission. The push is already being coordinated with the current research programme, Horizon 2020; and projects "will be rolled out next year," said O'Donohue.
One of the EU's biggest digital feats before the launch of FP9 will be the establishment of the European Open Science Cloud, an open digital infrastructure for sharing scientific data and research results. But along with that effort, said O'Donohue, member states must also invest in high performance computing and align their computational power. "We have to have the security in order to be open and to share that data," he said.
Building trust
More effort should also be channelled towards solving a basic dilemma of the digital age: can large digital systems be open and secure at the same time?
The answer is yes, if the systems are designed and managed properly, according to Liisa Past, cyber chief research officer at the Estonian IT System Authority. For example, in the ransomware cyber-attack that affected computers across the world this year and disrupted the UK healthcare system, Estonia had "zero victims." This is because "in our systems, security has to be one of the planning considerations," she said. "Security should be a state of mind, not a planning afterthought."
The economic impact of cyber-crime is growing and this year it has reached "a magnitude that was unimaginable," said Paolo Grassia, head of regulatory affairs at the European Telecommunications Network Operators' Association. He said cyber-attacks cost the EU €750 billion a year, about 5 per cent of annual GDP.
But worries about security should not be allowed to slow down the broad adoption of digital innovations, speakers at the conference said. The problem is "not about how to secure data from not being used, but how to use data securely," said Ain Aaviksoo, deputy secretary general at the Estonian Ministry of Social Affairs.
Eurobarometer surveys show that 70 per cent of Europeans do not trust companies with their personal data, but they are willing to share it for health purposes. "Trust building takes time and only happens if it happens across sectors," said Aaviksoo.
The skills gap
Another concern is that people may not have the right skills to make an informed decision about whether to adopt these technologies, said Mariagrazia Squicciarini, senior economist at the OECD. Overall, according to Eurobarometer data, 44 per cent of Europeans do not have "basic digital skills", meaning almost half the EU's population doesn't know how to send an email or open an Excel sheet. "Populations are aging, and older people are relatively less agile in digital skills than younger people," she said. 
But Estonia is a different story. For example, 12 per cent of Estonian 15-year-olds say they want to work in IT and many are taking advanced IT courses in school.  "Our aim is to teach robotics as early as kindergarten," said Reps.