---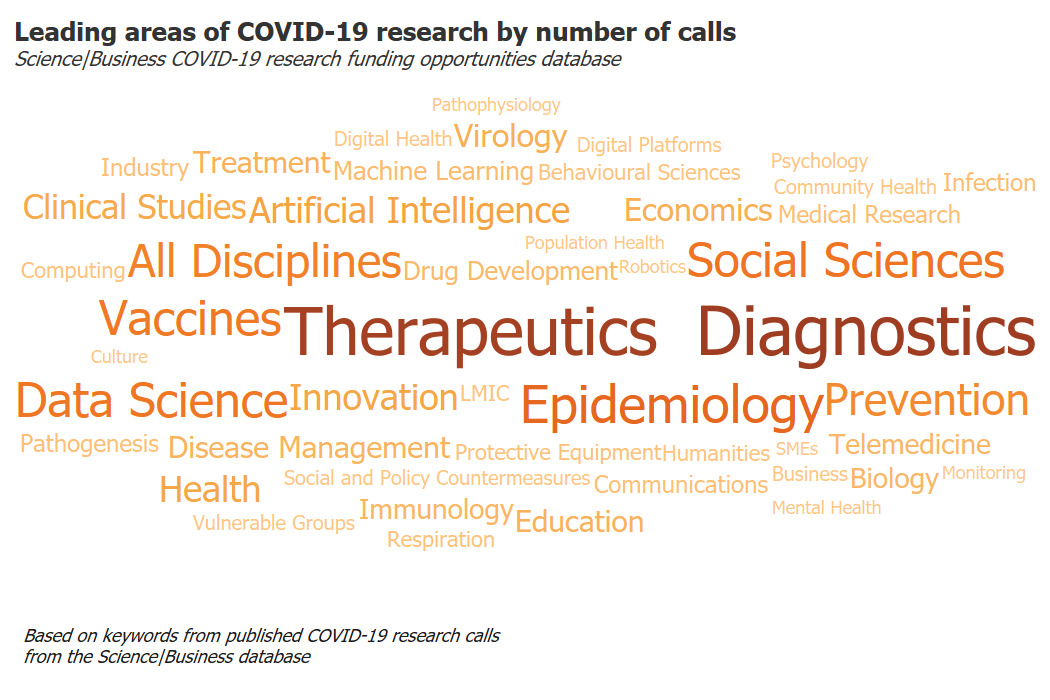 Diagnostics and therapeutics have been the most sought-after study areas in public calls for COVID-19 research applications so far, with both separately featuring in around 30 per cent of funding opportunities.
According to the Science|Business international coronavirus research opportunities database, an overwhelming 31 per cent of published calls for funding applications are tagged under the keyword Diagnostics, while another 29 per cent are tagged under Therapeutics, calling for studies looking for ways to treat the disease.
Studies from both research areas can directly help stop the spread and the progression of the disease. And for this reason, both topics were especially common when the coronavirus first broke out and countries scrambled to find ways to diagnose and treat it.
The Science|Business data provide a rare, quantitative overview of the biggest concerns of public research funders around the world in the opening months of the COVID-19 crisis. As of 9 June, the Science|Business coronavirus research opportunities database listed more than 280 funding calls from 44 countries.
Epidemiology and social sciences
In the calls, the third most sought-after area is epidemiological research, which is tagged under 18 per cent of all calls in the Science|Business database. Many epidemiological research calls come from national funding opportunities, asking scientists to analyse the spread of the disease in a specific country. On a European level, for instance, a Horizon 2020 funding opportunity is currently open calling for pan-European cohort studies.
Social sciences, tagged in 16 per cent of published opportunities, play a key role in the research response to the novel coronavirus pandemic. Researchers in the area are asked to study and recommend social and policy countermeasures, analyse human behaviour during the crisis, and design recovery plans.
Data science, the fifth most sought-after research area, plays a supplementary role in many areas of COVID-19 research, with 15 per cent of calls asking for contributions from data scientists, including processing medical data, using predictive analytics to forecast the future of the pandemic, and collective data on various aspects of the outbreak.
Vaccines development, which similarly to therapeutics and diagnostics directly contributes to stopping the virus, is currently the sixth most popular research area in public calls. However, this is not representative of the overall investment in vaccine development: up to 28% of all COVID-19 research funding was granted to promising vaccine producers through organisations such as the vaccine alliance CEPI, showed a University of Southampton study.
There were also 37 broadly scoped calls tagged under All Disciplines, making up 13.5 per cent of all funding opportunities. Such calls are mostly national opportunities accepting any type of studies that can help the country combat the virus or come from smaller funding organisations that wish to support any relevant research.
About the database
Science|Business has been building and publishing its coronavirus research opportunities database since the crisis began. To maintain it, journalists search funders' web sites and announcements across the globe in multiple languages and enter new funding opportunities in an open-access database maintained on the Science|Business news site. Calls logged include those from government agencies, private foundations and multinational companies.
Each time a call is logged in the database, Science|Business journalists tag the entry using a consistent taxonomy of research topics. Because many calls do not come with specific budget announcements, it is not yet possible to make a reliable estimate of the total value of these urgent funding calls.
In analysing the database in recent weeks, Science|Business has also looked at the geographical distribution of calls, and their evolution over time. For more information about the Science|Business database, please contact info@sciencebusiness.net.