---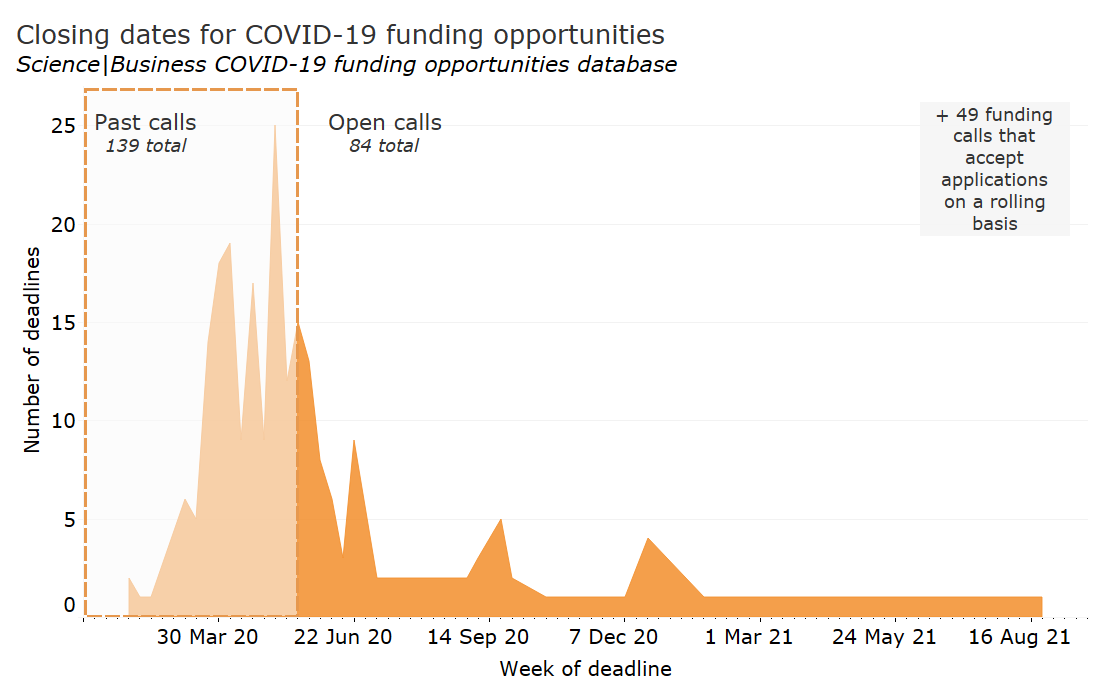 Research funders around the world this spring rushed out an unprecedented number of calls for COVID-19 studies – and nearly half remain open for scientists seeking to further expand our understanding of the novel infection.
According to an international database of COVID-19 funding opportunities maintained by Science|Business, 139 public calls for research applications had been completed by 22 May. They included 36 from the EU and its member-states, 38 from the US, 12 each from Britain, Asia and Africa and 10 from Canada.
On top of that initial burst of funding calls, an additional 84 funding opportunities with fixed deadlines remain open for researchers to apply for. Another 49 funding calls have "rolling" deadlines – meaning they stay open until the money runs out or a final date is reached.
Among these newer calls, for example, the European Commission announced a €122 million COVID-19 research funding round under Horizon 2020, while the Eureka international R&D network launched a call for investigations into the prevention of future pandemics.
UK Research and Innovation, a British public funding agency, is still accepting applications for its rolling rapid response COVID-19 call. In the US, the National Aeronautics and Space Administration is looking for proposals on how its satellite data can be used to address the environmental, economic, and societal impact of COVID-19, and is reviewing applications on a regular basis.
The Science|Business coronavirus research opportunities database currently lists more than 270 funding calls from 44 countries. To maintain it, journalists search funders' web sites and announcements across the globe in multiple languages, and enter new funding opportunities in an open-access database maintained on the Science|Business news site. Calls logged include those from government agencies, private foundations, multinational companies. Because many calls do not come with specific budget announcements, it is not yet possible to make a reliable estimate of the total value of these urgent funding calls.
For more information about the Science|Business database, please contact [email protected].