Eleven universities from the EU and the Eastern Partnership countries have signed a new agreement to boost cooperation following the Russian invasion. Four members of the new cluster are in Ukraine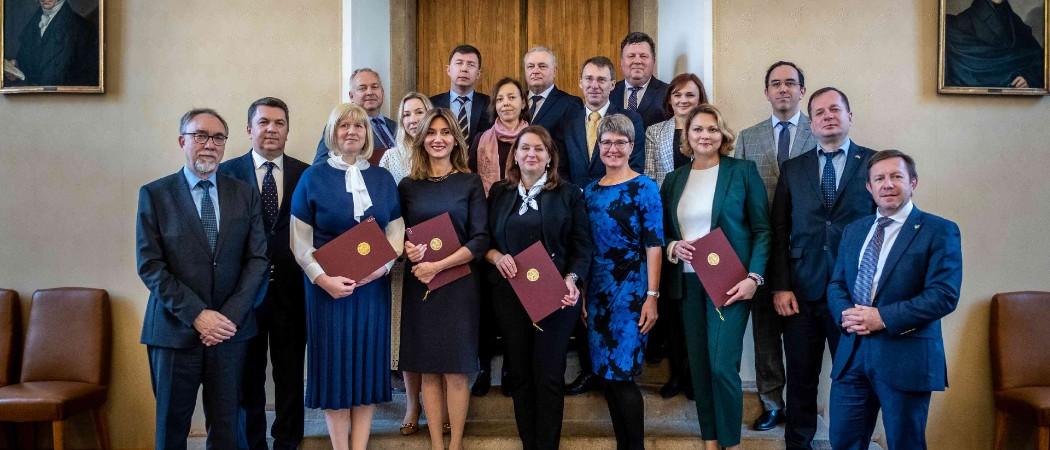 Universities in Ukraine, Georgia and Moldova have come together with EU member state universities to form a new cluster that aims to strengthen ties in light of Russia's invasion of Ukraine. 
The new grouping, called the Eastern Partnership University Cluster, was launched last month in Prague, in cooperation with the Czech Ministry of Foreign Affairs and with consultation from the European Commission. 
Milena Králíčková, rector of Charles University in Prague, said the goal of the grouping is for EU institutions to share best practices with the Eastern Partnership universities and also to support cooperation in research and education activities. 
"The idea for this cluster is not new – it has been around since the European Commission launched the Eastern Partnership initiative," Králíčková told Science|Business.
Fittingly, that too took place in Prague, in May 2009, with a mission to reinforce the political association and economic integration of the six partner countries of Armenia, Azerbaijan, Belarus, Georgia, Moldova, and Ukraine. 
The Russian invasion of Ukraine was a catalyst for action, Králíčková said. "Since the war began in February, we have felt more intensely the need to help not only Ukrainian institutions, but also those in other Eastern Partnership countries, such as Moldova and Georgia."
Sergiy Okovytyy, rector of Dnipro National University (DNU), told Science|Business that the new partnership offers hope during troubling times.
The war has brought "death and destruction" to the country and DNU has lost contact with some of its students who are in areas currently occupied by Russia. "This is why we hope to get support and develop cooperation with leading European universities, which is very important for us, both during and after the war," Okovytyy said. 
"We believe that the partnership within the cluster will allow us to provide new educational opportunities for our students, both in online and in-person mobility, to unlock the scientific and technical potential of our research laboratories and to introduce the best global practices in education in the DNU," he said.
"We believe that such a partnership will support our university in wartime and contribute to the further recovery, strengthening the expansion of scientific and educational activities after Ukraine's victory," said Okovytyy.
Králíčková  said the partnership is not beginning from a standing start, with cooperation between Charles University and Ukrainian universities already in place. Academics fleeing Ukraine, most of whom are women, have been employed at Charles University.
"We want to support them here," Králíčková said. "But we are also ready, and they are ready, to go back to Ukraine after the war is over and we hope that we will be able to continue our cooperation going forward."
"The Ukrainian universities are caught up in a war. Plenty of their students and academics are fighting or are involved directly in the war, so the situation is not easy," said Králíčková "There are multiple obstacles that we will try to help them to solve." 
Joint applications for EU funding
The idea is not for the EU institutions to provide direct financial support to Eastern Partnership universities, although Králíčková said that Charles University and other Czech universities have already dedicated a substantial amount of money to helping Ukrainian refugees and forging partnerships with Ukrainian universities. Rather, the different institutions will work together to apply for EU funding, for example through Erasmus+ or Horizon Europe. 
The 11 founding members of the new cluster are Charles University, the University of Milan, the University of Warsaw, the University of Cologne, Eötvös Loránd University in Hungary, Taras Shevchenko National University of Kyiv, Uzhhorod National University, Ivan Franko National University of Lviv, Oles Honchar National University of Dnipro, Ivan Javakhishvili State University of Tbilisi and Moldova State University in Chisinau. 
The initiative is, "a strategic step towards a new level of partnership," said Volodymyr Smolanka, rector of Uzhhorod National University. "It is a great opportunity for Ukrainian universities to expand partnership in joint international projects, implement cultural and humanitarian initiatives, organise joint training programmes, and organise exchange of experience between professors and students," he said.
"It is important for us to study the experience of European academic practices and introduce their new forms in Ukraine."
For Smolanka, the university's main priorities within the partnership are to introduce new education processes, spread knowledge about local culture and historical heritage and also share experiences in the field of energy efficiency, healthcare and European integration. 
More information about the Eastern Partnership University Cluster will be available online soon on a dedicated website.