Poland has taken a lead role in coordinating international support for Ukranian scientists. As a result, new bonds have been forged between the two countries and research cooperation has strengthened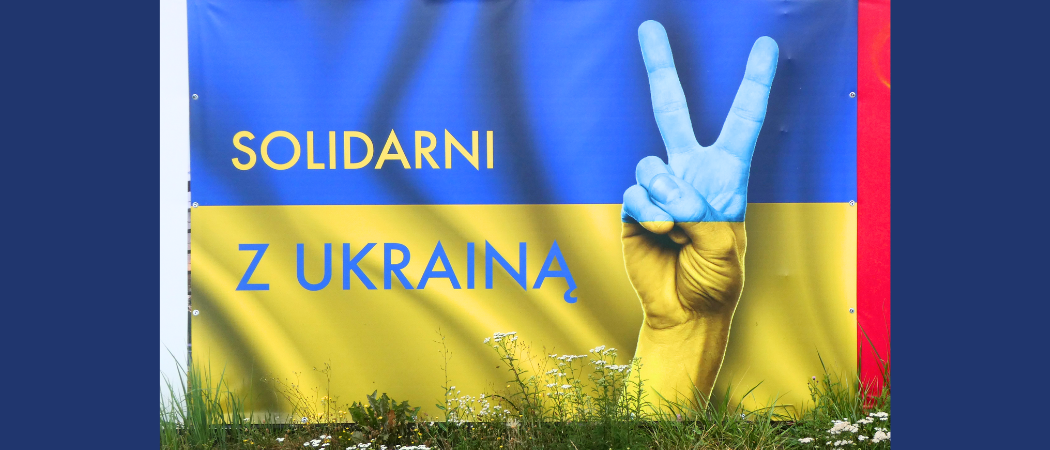 The Foundation for Polish Science (FNP) recently extended its For Ukraine programme, launching a third call, open for proposals until 4 April from pairs of scientists working in tandem, one from Ukraine who can be living anywhere, and one employed in Poland.
Originally, the Foundation planned to hold only two calls, but with the level of interest exceeding expectations, decided to continue the programme, which is supporting research in humanities and social sciences, with a particular focus on issues that have come to the fore since the Russian invasion of Ukraine, including the advancement of civil society, European integration, democracy, and security.
In each call, an international jury selects three winning projects. The budget for a one-year research project is €57,000, which is intended to cover both salaries and research-related expenses.
This is but one example of how the scientific establishment in Poland has opened its arms to researchers who have fled the war in Ukraine, and is supporting those who remain there. Apart from the For Ukraine social sciences and humanities programme, FNP set out to involve and fund Ukrainian scientists, who are renowned for their expertise in computer science, energy, and agricultural technology, in other research projects.
"What started from an immediate urge to help, most likely will later develop into collaboration beneficial for both sides," Justyna Motrenko, head of awards at FNP told Science|Business. 
Around 20% of Ukrainian scientists fled the war, most of them women. But while the majority of researchers have remained at home, almost three quarters say they are struggling to carry on with their research, due to problems such as access to laboratories and working spaces, internet access and electricity and water outages.
Close allies
There has been an across the board strengthening of cooperation between Poland and Ukraine over the last year. Since the Russian invasion in February 2022, Poland has proved to be one of Ukraine's closest allies, welcoming more than 1.5 million refugees, and taking the lead among NATO members in supplying Kyiv with heavy weaponry.
In science, Poland has played a major role in coordinating international efforts to support Ukrainian research and innovation. In the first two months after the invasion, the Polish Academy of Science (PAN) provided support for 200 Ukrainian researchers.
Following this, in June the academy hosted a meeting in Warsaw where international scientific institutions drew up a 10-point action plan. The plan emphasises the need for funding programmes for joint research initiatives, particularly those that are conducted within Ukraine.
At the end of 2022, PAN and the US National Academy of Sciences (NAS) jointly launched a new funding scheme with $200,000 per annum for research teams from Ukraine of up to five people. Participants must be resident in Poland or Ukraine. To date, PAN has received over 170 proposals, which are currently under evaluation by NAS.
"Polish-Ukrainian cooperation in science was strong before the war, and it has been even further strengthened since the outbreak of the war," says Anna Plater-Zyberk, the director for international cooperation in the Polish Academy of Science.
Solidarność
Major Polish universities have also engaged in supporting Ukrainian scientists. The University of Warsaw added 2,437 places designated for Ukrainians in the 2022/2023 academic year, in addition to the usual number of places for other candidates.
"The institution provided student and doctoral candidates with financial assistance. After the outbreak of the war, legal procedures have been duly adapted so as to simplify the applications for social scholarships and assistance grants, and minimise any possible related stress," university spokeswoman Anna Modzelewska said. In addition, the university has initiated various initiatives, such as collections, donations, and legal and medical counseling for Ukrainians.
"The previous year can be perceived as a kind of an operational test for the University of Warsaw. This experience has revealed that the university community knows the real meaning of the word solidarity," said Modzelewska.
Poland is clearly not alone in its efforts. Universities and research organisations all over Europe have welcomed refugee scientists, mobilised grant support, and set up collaborative initiatives. However, the EU's support is largely focused on immediate help for Ukrainian scientists, while long-term planning is hard, if not impossible, in the present climate.
Brain drain is another long-standing issue for the Ukraine, and the war has made this more acute. The Organisation for Economic Co-operation and Development (OECD) has warned that without global solidarity and policies to enable refugee scientists to maintain strong links with their home institutions, the war with Russia is likely to accentuate the permanent loss of scientific expertise in Ukraine.
Work in progress
Of the six projects that have been awarded grants in the FNP For Ukraine programme, three are in progress and another three will start in the next months, Motrenko said. The projects cover research areas such as economics, philosophy, ethnology, pedagogy, psychology, and cultural studies, with many of them being interdisciplinary.
It's too early to talk about direct results or the impact of these projects, but it is clear that cooperation between Ukrainian and Polish researchers has been strengthened, according to Motrenko. FNP has not yet decided how long the programme will last.
"We are closely looking into the situation and listening to the needs communicated by the Ukrainian academic community," Motrenko said. She expects Polish-Ukrainian collaboration in research to grow even stronger in the years to come.
Serhii Terepyshchyi from Drahomanov National Pedagogical University, is one of the Ukrainians to have been awarded funding under the programme. In February 2022, several days after the war started he fled from the town of Irpin near Kyiv with his wife and newly born child, to Lviv in the west of Ukraine, where he started looking for opportunities to come to Poland.
After receiving a scholarship from the Polish Academy of Science, Terepyshchyi travelled to Warsaw last June, where he met Michal Federowicz of the Institute of Philosophy and Sociology at the Polish Academy of Sciences. Following this, their joint project on democratic values in educational practice, which aims to support the integration of Ukrainian children in Polish schools, won a grant in the second programme call.
There are 190,000 refugee children in Polish schools and as Federowicz noted, in some schools the share of Ukrainian students is above 20%. Working with parents is crucial to prevent potential tensions. At the same time, many Ukrainian mothers and their children worry about the possible temporary nature of their stay, which creates a heavy emotional burden.
"My scientific interest is to confront the rigidity of the institutional system - which by definition is highly regulated by law - with spontaneous social innovation in bottom-up processes," Federowicz told Science|Business. The aim of the project is to develop new approaches based on democratic values. "For a couple of years, Europe has been living a kind of crisis of values; we are aware that the war in Ukraine shows again how important European values are," he said.
For Federowicz, this is not the first Ukraine-related project. He worked in Kyiv back in the 1990s and was published jointly with Ukrainian colleagues. However, since then, he had not had opportunities to cooperate with scientists from Ukraine until recently.
"Both in science and outside of science, the awareness of Ukrainian culture is much stronger now than it used to be a year ago. It influences our work and our scientific interests," he said.