EU competition policy is holding the continent back, Lithuania's former prime minister Andrius Kubilius, now an MEP and sitting on the European Parliament's Industry, Research and Energy committee, tells Science|Business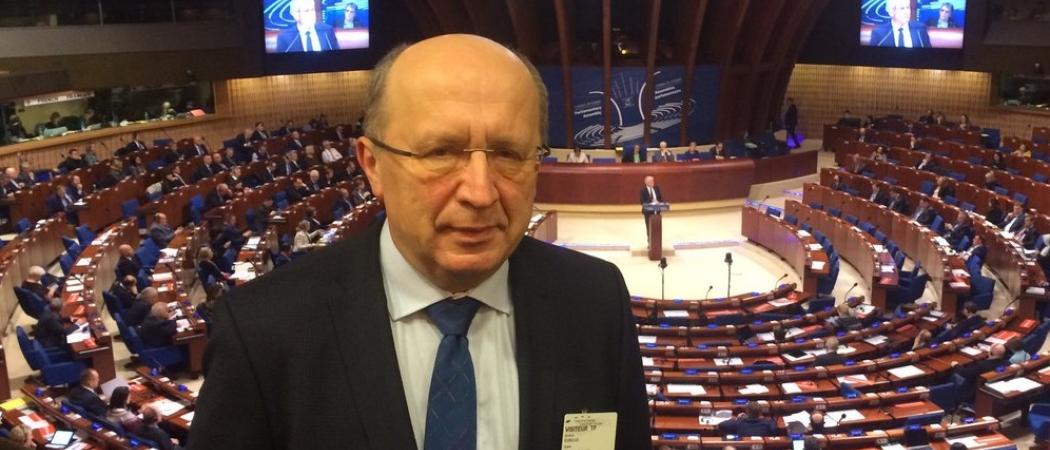 Europe fears American and Chinese tech titans but lacks the gumption – and the policy framework - to let its own emerge, says new MEP Andrius Kubilius, Lithuania's former prime minister, who this week joined ITRE, the European Parliament's Industry, Research, and Energy committee.
EU competition policy puts the continent, "in an uneasy situation," where it is trying to constrain the dominance of companies like Amazon or Alibaba, but does not foster the creation of European companies that can compete with them, Kubilius said. "We are afraid of global champions on one side, coming from China or the United States; on the other side we are afraid to create our own global champions."
Not only is Europe "lagging behind" the US and China in economic terms, it is losing influence too, said Kubilius. "Those global champions are starting to make a very big impact – an intellectual impact – on policy developments globally," he said. Companies like Facebook and Google are, "forcing governments either to follow […] or to start to look [at] how to regulate – but in any case, they're dictating what is going to happen."
Europe needs large companies with the capacity to take on the outputs of publicly-funded research and invest heavily in commercialisation. "We are good at research and development which is funded by either the EU or national governments,"Kubilius said, but "We do not have companies who are able to use research results as they are doing in United States."
"China is doing it in a different way," he added, such as by subsidising artificial intelligence companies. "We are, of course, different. We are not Chinese, we do not have such an authoritarian [system]," he said. "But we need to see what is missing in our case."
After all, it's not as if European companies have no track record in applying research. Nokia, for example, "was doing a great job in really pushing forward" research results, Kubilius said. "Of course, the Nokia story ended not so well for Finland," but "we need to ask ourselves a question, why do we not have enough Nokias? What is wrong with our environment?"
He is far from alone in thinking that part of the answer may lie in competition policy. Kubilius applauded proposals by German finance minister Peter Altmaier, for a European industrial strategy that relaxes anti-trust rules to let European firms become larger. Altmaier's proposal was made as the EU competition commissioner, Margarethe Vestager, announced in February that she was blocking the proposed merger of Siemens and Alstom, to create a globally competitive European champion in railway equipment and high speed train manufacturing.
Losing intellectuals
Kubilius was elected MEP as a member of Lithuania's Homeland Union, an affiliate of the centre-right European People's Party (EPP). He served twice as the country's prime minister during 1999-2000 and 2008-2012. At his own request, the EPP appointed him to ITRE, which shapes the parliament's position on industrial policy and research, including the upcoming Horizon Europe research programme.
While now a champion for R&D, Kubilius expressed unease about European Commission proposals to boost the research budget by cutting the cohesion funds, which largely go to poorer EU countries like Lithuania. Both are important, he said, "but I'm always a little bit worried about how research and development funds are used at the whole EU level."
As things stand, fewer than one-fifth of the research projects funded through Horizon 2020 include a participant from the EU-13 member states in central and eastern Europe and Malta and Cyprus. The EU wants to fund the best science and that means research grants tend to go to existing centres of excellence, which in the main, are not based in the EU-13. "What we are facing [is] that our professors, our high-quality researchers, they're becoming involved in those elite centres," Kubilius said. While good for the individual scientists, it makes it harder for the EU-13 to improve their R&D systems. "To develop our national research facilities, it's a little bit tricky. We're losing intellectuals."
But Kubilius doesn't dismiss the rationale of spending EU research money where it will have the most impact. "I understand the logic, you need to concentrate your resources," he said.
This is precisely the approach he wanted the Lithuanian government to take with national resources, which he argues are spread too thinly. "It's what I call 'distributing money labour union style'," he said. "Because when you are inviting all the scientific community and you are asking what do you want, everybody says: I want money. I am doing very important research."
The answer for Lithuania may lie in smart specialisation, in which investment is focussed on a few limited fields, like biotechnology and photonics, and in transforming the economy from one relying on cheap labour to one based on knowledge. To achieve that will require both cohesion and research funding, but also some added EU instruments, "to push us to make some needed reforms," Kubilius said.