MEP Dragoș Tudorache is concerned a weighty regulatory regime will hold back AI developers in Europe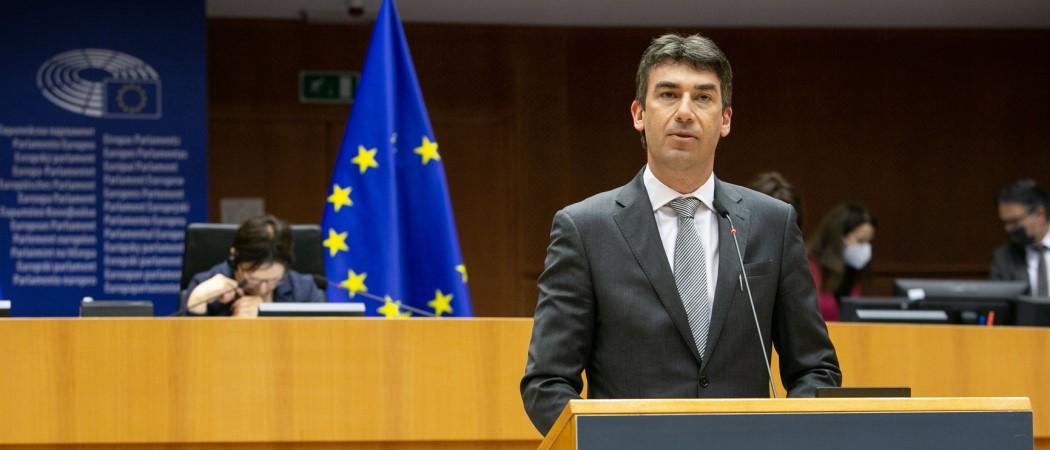 MEPs need to go "line by line" through the Commission's "complex" proposed rules on artificial intelligence (AI) to ensure there won't be a heavy burden on innovators, says Dragoș Tudorache, Romanian MEP and chair of the European Parliament's committee on AI.
"It's such a complicated area to legislate for and this tech is going to move so much further in the next few years. How are we going to deal with this evolution? It's very tough to be the first one to do something," Tudorache told Science|Business.
The proposal on AI regulation presented in Brussels last month, is the first of its kind in the world. It will need to be adopted by the European Parliament and EU member states—a legislative process that will take a long time, Tudorache notes.
The draft 108-page policy is an attempt by EU officials to regulate an emerging technology that is already threatening to transform industries. "Inevitably, we're going to get bogged down in nitty gritty. It will take quite a good number of months to munch through it all," the MEP said.  
Tudorache appreciates the Commission's effort to come up with a "differentiated system of managing high risk applications that avoids a blanket, one-size-fits all. But the ultimate test is how much burden this will put on businesses and developers," he said.  
While keen to avoid the worst of what AI can do, Tudorache says his ultimate focus is on how he can boost AI's potential for the economy in general.
"No matter what we do, it will probably still look quite complex. If I put myself in the shoes of a developer, who is trying to figure out what I need to do to be legit[imate], it might prove too problematic, and requiring a lawyer, which is a burden and a cost. These are the concerns I have," the MEP said. 
Tudorache urges member states to follow the advice in Brussels, and establish "regulatory sandboxing schemes", where start-ups and SMEs can test AI systems before bringing them to market. In these sandboxes, companies can interact directly with regulators earlier in the development cycle, the Commission says. This ensures that companies are not heading down the wrong path, and that regulators learn throughout the process.
The parliament's committee on AI, created last July, will study the impact and challenges of rolling out the technology. The committee's ranks include Romania's Dan Nica, Portugal's Maria da Graça Carvalho and Spain's Pilar del Castillo Vera, three members who sit on ITRE, the committee on industry, research and energy. Also on the new committee is Andrus Ansip, former European Commission vice president, and former holder of the digital single market portfolio.
The draft rules set limits around the use of AI in a range of activities, from self-driving cars to hiring staff and school admission decisions – areas considered "high risk" because they could threaten people's safety or fundamental rights.
Tudorache says it's hardly surprising to see the legislation take a hard line on mass surveillance technologies and social scoring systems, such as those used in China to track people and businesses. The proposed EU rules do make an exception to allow police forces to use surveillance tech if they're fighting serious crime.
The proposal also wants to prohibit AI systems that cause harm to people by manipulating their behaviour, opinions or decisions. "This bit I find harder to chew on. I'm yet to figure out how easy it's going to be to apply this definition to concrete applications. Does social media fit the definition of manipulation or not?" Tudorache said.  "I suspect we're going to have quite a lot of discussions on those terms."
27 different AI laws
Tudorache believes Europe's AI legislation will follow its General Data Protection Regulation (GDPR) as a global standard setter for regulating data and online life.
"What is said about GDPR, all the good and the bad stuff, is also going to be said about our AI regulation," the MEP said. 
He is concerned that AI rules will run into some of the problems associated with GDPR, which has inadvertently held back medical research and is being interpreted in different ways across Europe.  "Where I'm less enthusiastic about the AI bill is the role it gives national governments, which is bigger than to my taste," Tudorache said.   
"Whereas GDPR was supposed to be this generally applicable piece of legislation, some of that didn't happen because it in fact got fragmented into 27 mini-GDPRs. There was too much interpretation and implementation left to governments. I can picture again the same scenario repeated with AI," the MEP said. 
Regulating AI is only one of several big pieces of technology-related legislation in the Commission pipeline and already Tudorache is concerned about creating a vast and overlapping oversight regime for companies.  
"In almost every proposal, there are new national authorities being created. In one year's time, perhaps we'll have six different EU boards [ruling over] these different authorities – that is a bit of a cacophony. Maybe we can force some of this together," the MEP said.   
China will notice
The EU's AI rules are likely to fall into the crosshairs of US lawmakers, many of whom argue for looser rules on the technology.
Tudorache says MEPs need to involve their US counterparts in their work. "If we don't listen to how our partners feel about this, then we're careless. This technology file is part of a broader geopolitical piece; it has to fit into an alliance of liberal democracies. We have to do this together," he said. 
Countering China is America's main concern when it comes to AI. Tudorache says Beijing – which is harnessing the technology to fashion a surveillance state – won't be able to ignore the new EU rules.
"It's going to influence China both directly and indirectly. Some folk in China might even think, hmm, which way is better. And for the Chinese companies with global ambitions, if they want to play outside China, the work we're doing is going to influence them," the MEP said. 
Europe needs to go a very different path than China on AI, said Tudorache. "AI is now entrenched in the way that the [Chinese] governing party is running society. China is using AI to social score and survey every second of their people's lives."   
"But what we're coming up with is a model that can't be ignored – not even by China. It is important to set these standards, from a liberal democracy's point of view," he said.