'Devil in the details' when US and European researchers try to work together under Horizon 2020.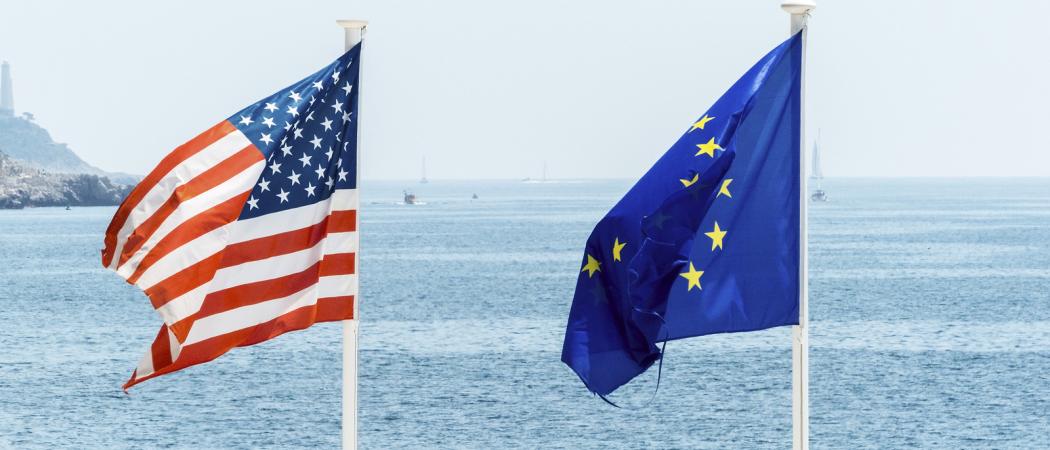 When it comes to US-European relations, nothing is simple these days. Consider this small example.
Earlier this year, some US Department of Agriculture (USDA) scientists wanted to renew the necessary official approvals to continue working with a European team on forestry research. Each side had its own funding, the USDA researchers from Washington, and the Europeans from Brussels' Horizon 2020 research programme. No money crossing the ocean, just ideas. Surely a simple matter to renew the collaboration.
But then came a message from Brussels that a European Commission agency wanted the Americans to designate a "LEAR", or Legal Entity Appointed Representative. That, in Horizon 2020 jargon, is a person who takes the responsibility of filing financial and other reports to the Commission. But why, the USDA researchers wondered, would a LEAR be needed if they weren't filing any reports or taking any EU money? It stumped them. "These researchers are not lawyers," says Jaime Adams, an official in the USDA's Office of the Chief Scientist. "It elevated the legal involvement to engage in a simple research collaboration."
In the end, it all worked out. After some back-channel work, the request was dropped and the research continues. But the incident, however trivial, shows the vast room for unanticipated problems and misunderstandings when the huge US and EU research machines try to put their scientists together. "The devil is in the details," says Lisa Brodey, director of the State Department's Office of Science and Technology Cooperation.  
Lost in translation
Of course, Europeans can point to at least as many examples of bureaucratic missteps in Washington as the Americans find in Brussels, and the plethora of US funding agencies, each with its own research agenda, complicates collaboration. But that's the point: despite willingness on both sides, the systems are inherently complex and different – different laws, funding rules, even vocabulary. "The terminology – it's difficult to understand what the partner on the other side of the ocean means," says Claire Chen, of the National Council of University Research Administrators.
"There may be an issue of communication, both in the US and Europe," says Maria Cristina Russo, director for international cooperation in the Commission's Directorate-General for Research and Innovation, which runs Horizon 2020. She cites several steps taken to improve the relationship, and notes the EU successfully coordinates research with a number of other nations including Brazil, Korea and Japan.
One of the Commission's official slogans for Horizon 2020 is "Open to the world". However, the pace of US-EU collaboration has not kept up with the growth of Horizon 2020 overall. As a share of all "participations" – project by project partnerships throughout the programme – US involvement has dropped to about 0.35 per cent of the total, from 0.5 per cent in Horizon 2020's predecessor, Framework Programme 7, Commission data suggest.
Out 966 American participations, the vast majority are relatively simple researcher travel grants under the EU's Marie Skłowdowska Curie Actions. The more complex, multi-partner collaborative research projects trail behind.
The problem isn't unique to Washington: participation by researchers from outside the EU and its partner countries is down all around - to 2.4 per cent of all participations, from 4.3 per cent in FP7. The reasons include an EU cut in its research subsidies to Russia, India, China, Mexico and Brazil, as well as a reorganisation of the way the Commission handles international cooperation. But declining participation rates can also be seen with such long-time collaborators as Canada, Australia and South Africa. The Commission is implementing plans to reverse the trend, and designing new approaches as part of its next research programme to start in 2021.
A special relationship
Why does anyone care? Because there's special significance to the US-EU relationship. They are, after all, the two biggest research powerhouses in the world, and share the world's largest trading relationship – much of it driven by the products of science, from BMW to Facebook. "We have to make it as easy as possible for our researchers to work together," says Rebecca Keiser, head of the US National Science Foundation's Office of International Science and Engineering. The Europeans "are good partners," she says. "They have great science."
But, Keiser adds, her agency finds it easier to work one-on-one with other national research agencies, rather than direct with Brussels. For instance, the UK research councils and the NSF organise joint calls for grant proposals, and do the merit review and funding decisions in tandem. NSF has 360 active grants to UK researchers, 241 to Germans, and 158 to French. But nothing like that goes on with Horizon 2020. "We understand the EU is a unique entity, with so many countries coming together. That's the difference," says Keiser.
The US National Institutes of Health also reports difficulties with the relationship. Health research is the largest single area of US-EU collaboration in Horizon 2020, but NIH says most of that is happening without its direct involvement, even though NIH and the Commission made an agreement to boost inter-agency collaboration in 2007.  
When asked about it, NIH issued a statement attributed to Roger Glass, associate director for international research. "Despite the 2007 understanding between NIH and the EU to foster increased research collaborations, significant barriers remain including regulatory and legislative issues regarding liability, intellectual property allocation and jurisdiction. Until these are addressed, there is little chance that US researchers can enjoy the same level of access to EU programmes as European scientists receive in pursuing NIH grant and fellowship support. We remain hopeful the EU will make progress on these issues."
'Nitty-gritty' problems
Some US universities report frustration with the system. Richard Lester, associate provost for international relations at Massachusetts Institute of Technology, says to his knowledge MIT does not have any current collaborative projects in Horizon 2020, though it does have Curie fellows. "The reasons are several. They are fine-grained, nitty-gritty research management sorts of things."
To understand it, consider the basics of international collaboration. As in most of the world, so in Europe for a foreigner to get research money is the exception, rather than the rule. But Horizon 2020 is special in allowing 16 non-EU members, including Israel, Norway and Egypt – to "associate" with the programme. By putting some money into the central EU pot their researchers can get funding, just like any French or Spanish scientist. But outside those countries, such as the US, in most cases a researcher must show unique skills or data to join and get paid by Horizon 2020. That is a mixed blessing, because it means they also have to sign the standard Horizon 2020 grant agreement. And this is where the US and EU systems come into sharpest conflict, at a line-by-line bureaucratic level.
For starters, says Lester, the Horizon 2020 agreement can prevent you from granting an exclusive license for your work to a non-European company,  a requirement MIT and many other US universities think limits their rights to explore various avenues for commercialisation of innovations  (under US law, universities have a legal right to patent income.) Then, it requires "joint and several liability", which means that if a partner fails, you have to find a solution. It requires disputes be settled in a European, rather than American or neutral, court.
In addition, MIT lawyers interpret the standard Horizon 2020 contract as leaving open a possibility that your research partners could attempt to delay publication of the results, which could get a university caught up in the US government's fearsome export controls. (Fundamental science in the public domain is exempt from the controls and slow publication jeopardises the exemption.)
But the most difficult barrier to overcome is that the two systems clash in how they handle university overheads. Horizon 2020 limits a university to charging no more than 25 per cent of the grant to its overheads, such as buildings and administration. The US is far more generous – in the case of MIT, it has a negotiated rate of 59 per cent, Lester says. But under the US deal, if a university accepts a grant from someone with lower rates, it has to make up the difference from its own funds. That is not an incentive to collaborate in a formal, joint research project.
'I want funding'
Of course, another way to collaborate is for each partner to get their own national grant, and just work together informally. But as a researcher, you have to be pretty rich to accept that idea. "Most people don't want to waste the time collaborating without any benefit," says Kate Von Holle, director of federal research development at the University of Chicago. "Funding is extremely tight in the US, and you've got young researchers struggling with [grant success rates] as low as 5 or 6 per cent."  
Chen agrees. "Most of the participants who come to us say 'I want funding'," she says.
There have been attempts to bridge the Atlantic divide. In late 2016 US and EU officials signed an "implementing arrangement" providing a public assurance that US-funded American researchers can collaborate with Horizon 2020 consortia without being a formal "participant", and "are not required to sign grant or consortia agreements." At the time, both sides trumpeted the deal as an important step towards more transatlantic science collaboration.
Not so much, now. According to Brodey the system is not working smoothly. She says the European partners need to know about and invoke the implementing arrangement in their grant applications and often they don't. She also questions whether lower-level Commission project officers are aware of the arrangement. In January 2017, the US submitted a white paper to the Commission urging several changes in the next programme to remove these and other obstacles to US-EU collaboration. Keiser says the aim is to foster, "As much flexibility as we can encourage. That's what really makes international collaboration work."
EU officials say the implementing arrangement only took effect last October, so it is too early to draw any conclusions. According to Russo the initial signs from the most recent calls for proposals are encouraging. "This implementing arrangement clarifies the possibilities for cooperation. It has a political significance," she says.
At base, the problem boils down to differing systems and the resulting confusion this generates among researchers, whose day-by-day grant applications are the key indicator of collaboration.
Von Holle says EU officials have visited the Chicago University campus, and the Commission has improved the way it presents information on its Web sites. "I wish I could see more people applying," she says. "We try to make it as easy as possible, but the uptake just isn't there."