Participants in a S|B roundtable warn new regulation will undermine open innovation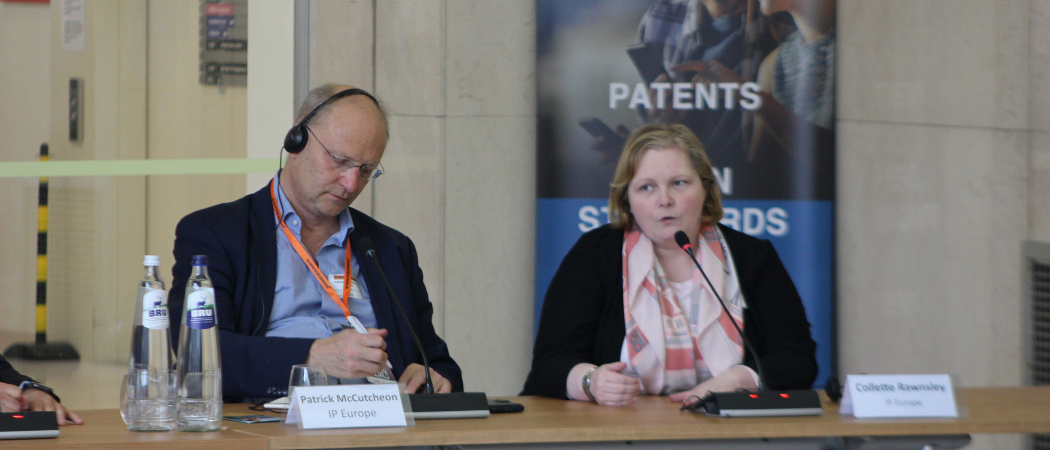 The European Commission's proposal for a new regulation on standard-essential patents (SEPs) is unnecessary, misguided and fundamentally flawed, according to experts participating in a Science|Business roundtable sponsored by IP Europe on 22nd of May.
The regulation, published at the end of April, is part of the European Commission's 2020 IP Action Plan, which covers a broad spectrum of updates and proposed new European intellectual property rules.
In his opening remarks, Patrick McCutcheon, managing director of IP Europe, said the Commission's proposal not only threatens the business models of IP Europe's members, which include Nokia, Ericsson and Orange, but "the entire European open innovation ecosystem."
IP Europe members invest 15-20% of their annual turnover "into the development of critical technologies, which are then contributed to the development of open standards, which facilitate rapid diffusion of the technology," he said, citing cellular telephony as an example. "If this open innovation ecosystem is threatened, then technology leadership will be in the hands of big tech and large, vertically integrated companies, of which the EU has few if any," he said.
SEPs are patents that a standards organisation has deemed essential to the functioning of a technical standard, for example for cellular telephony or audio or video compression. When patents are accepted as being essential to a standard, the organisations that own the patents have to license the patents under fair, reasonable and non-discriminatory terms and conditions to encourage rapid uptake.
The Commission presented the SEPs regulation as a bid for a more "transparent, effective and futureproof framework for intellectual property rights" than existing EU rules, which it said led to frequent and costly litigation.
While court disputes related to standards are relatively rare, they have involved several large companies, including Apple, Google, Mercedes-Benz, Continental, Nokia and Ericsson, and can take years to settle.
Collette Rawnsley, chair of IP Europe and head of IP policy at Nokia, said the regulation may cause companies "to invest R&D resources elsewhere" than in Europe if the Commission proposal goes through. Nokia invests about 4.5 billion euros a year in R&D.
Flawed design and unintended consequences?
Roundtable participants highlighted a number of specific complaints about the proposed regulation, starting with the way that it was developed.
Axel Ferrazzini, managing director of 4IP Council, a non-profit organisation, said the data on which the Commission based its decision to intervene in the market "do not support what the European Commission is trying to do with the regulation." He pointed to the very limited response by small- and medium-sized businesses to the Commission's consultation, declining litigation and a flawed estimate of the cost of checking whether any one patent is truly 'essential' to the functioning of a standard.
Christian Loyau, director of legal affairs and governance at ETSI, a global ICT standards organisation which operates one of the biggest databases of SEPs globally, said the Commission did not even consult it—despite contributing to its funding.
Some participants said the Commission underestimated the potential unintended consequences of its proposal.  For example, Gregor Langus, an economist who is vice president of Cornerstone Research, said the regulation, if adopted as drafted, could result in a fragmentation of SEP licensing, which is currently global, along regional lines. That could complicate licensing negotiations, making the process less efficient and "worse than what we've had before".
Patrick Hofkens, director of intellectual property (IP) rights policy at Ericsson, added that the small budget which the Commission had proposed for a new Competence Centre within the EU Intellectual Property Office to facilitate SEP licensing "may benefit bad faith actors" which, for example, could register a patent portfolio as being essential to a standard on the expectation that the competence centre would not have the resources needed to appropriately staff and monitor the activities within its competence.
Patrick McCutcheon, the IP Europe MD, suggested the Commission proposal would actually exacerbate "the one actual problem in the marketplace," one of strategic infringement or "hold-out, where certain implementers decide to delay the negotiation process and ultimately, the payment of royalties."
DG Grow, which drafted the proposal, declined to participate in the roundtable. After listening to others' criticisms, Christer Hammarlund, a Commission cybersecurity expert who works in DG CNECT and was in attendance, said it was "eye-opening" that there were "so many arguments against this proposal" and that he found this "alarming" and "disturbing."
Rawnsley, the IP Europe chairwoman, said the Science|Business roundtable marked the start of a debate on the proposed regulation and that it would likely continue for the next couple of years.
Editor's note: This article was updated 8 June 2023 to clarify comments made by Gregor Langus on SEP licensing.