Sponsored by Business Finland and Innovation Norway
Commission planning is now underway to buy shares in fast-growth tech companies – but experts warn a 'cultural shift' is needed to make it work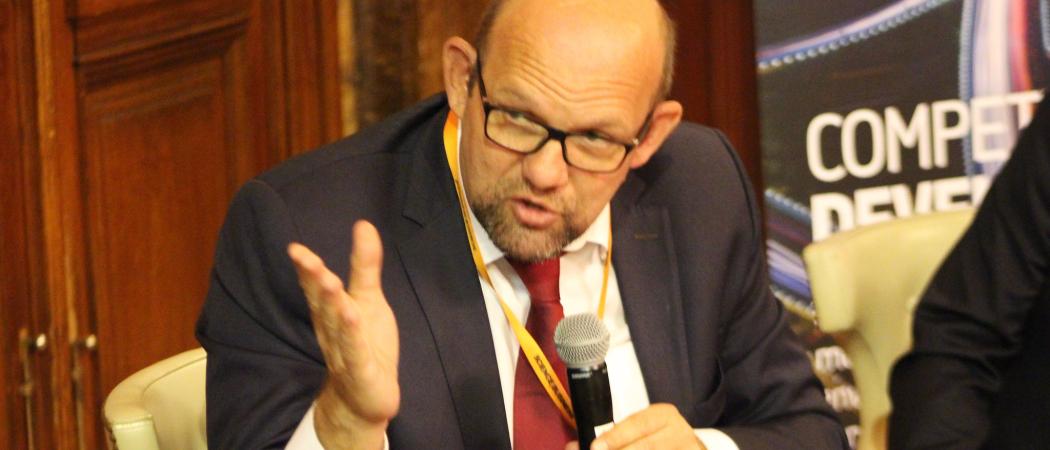 From 2021, the European Commission is due to become one of the biggest investors in high-growth companies in Europe. But a lot of planning is now underway to figure out how that will work.  
The initiative, approved in principle by the European Council and Parliament earlier this year, could pump hundreds of millions of euros into promising tech companies – in effect, trying to breed made-in-Europe "unicorns", hot companies valued at $1 billion-plus.
At present, "we have only eight per cent of the unicorns in the world," said Jean-David Malo, director of the Commission's task force planning the programme. In the past the Commission has already tried wielding grants, loans and other means to help. Now, he said, "we must try something else": adding the possibility of direct equity investment to its financial tools.
Planning for that, however, is a daunting task – perhaps requiring a change in the paperwork, evaluation and monitoring methods, and the basic mind-set in Brussels, he and other government officials agreed at a Science|Business conference 10 September.
Acting more like a venture capitalist than a grant agency "is a big cultural shift in how we think," said Mona Skaret, a director at Innovation Norway. To make it work, the Commission will need to do more than just pass out money; it will also need to mentor, monitor, network and, if need be, cut off companies – just like a real VC.
For that, Skaret said, "we should really draw on all the experience in the member-states to put the right twist on it."
One-stop shop
The €10 billion EIC effort – the size of the programme depends on budget negotiations over the next year – is one of the main new features of the EU's planned €94.1 billion, seven-year Horizon Europe R&D programme. The idea: a one-stop shop for innovators to bring promising technologies from lab to market, and help the most innovative companies scale up.
The programme has two main parts. The EIC Pathfinder will provide grants to high-risk projects with early-stage technology. The second part is the EIC Accelerator for small companies with "disruptive innovations", to speed up their growth mainly through providing "blended finance" of equity, possibly loans, and up to €3 billion in conventional grants. Exactly how much goes to equity, Malo said, will be worked out based on demand as the programme proceeds. But, he said, it will be managed by the Commission through a fund set up for the purpose, to invest on its own or alongside others, depending on the circumstances.
Malo said the notion of a public body directly buying shares isn't entirely new – tried on a small scale in France, Denmark, Israel and elsewhere. But, he said, "what is new is the magnitude. It's a real novelty. That's why it's so debated." The rationale: to intervene "where private investors are not yet or not sufficiently ready to take the risks alone. And if we want to test direct equity support now, it's because in the last decade the indirect support has not delivered the expected results".
For the most part, other government innovation agencies around Europe tend to focus on grants and loans; and when they do buy shares, they most often do it by investing in independent funds managed by professionals, rather than trying to pick and manage investments on their own. For instance, Innovation Norway has a "fund of funds" programme passing state money to professional fund managers. Business Finland often starts ventures off with a €50,000 grant on condition that a private investor puts up at least another €30,000 in equity. And Innovate UK has an "investment accelerator" programme that provides grants alongside equity investments by private investors.
With such schemes, "we believe we are de-risking the investment for the VC," said Priya Guha, an Innovate UK council member (and, herself, a fund manager.)
But a direct equity investment from government is rare – in part because the agencies have found that private investors are better at picking and guiding entrepreneurs. For success at a tech venture, said Jukka Häyrynen, development manager at Business Finland, what counts is "the team, the business skills, the business vision. Money is not the solution. In fact, scarcity (of cash) is very good. It keeps the team running."
Planning how to do it
The Commission's planning, Malo indicated, aims to take account of several potential complications. To attract busy entrepreneurs, the Commission may simplify its application and evaluation process – perhaps permitting a short first-stage application or a video presentation. For applicants clearing the first hurdles, face-to-face interviews were found in the EIC pilot programme to work better than only the Commission's usual paper-based review by experts working remotely. And when the "due diligence" process begins for equity investment, he said, it will also "incorporate the search for other investors" such as private venture funds.
After investing, however, the Commission will face the next logical question: When to sell? Malo said he expects a fifth or a quarter of the companies will fail outright. In that case, the financial impact will be the same as with a grant: No direct return to the Commission. A few companies, he said, may be a "huge success" and the Commission would be able to sell its shares, cycling the money back into the fund. But the majority will probably drift. In that case, the Commission might sell out at a loss, or stay on if needed to attract new private investors, like any VC fund.
But if the venture is in a strategically important area and a proposed buyer isn't from the EU, then "we may decide to stay with the company." He called it "a question of sovereignty for Europe". He noted that his EIC Task Force is still discussing these and other issues with its newly appointed governing board.
At the conference, the national officials urged coordination between them and the EIC. One suggestion – what Malo called a "plug-in" – would be to make it easy for ventures begun with national funding to connect at a later stage to EIC funding. Another suggestion was to set up a way to share data about the ventures among the agencies, avoiding the need for multiple funding applications.
However it happens, "the key word is 'ecosystem,'" said Guha.  She noted that, for instance, in Finland many ventures get started with the help of former employees of Nokia, which was for a time the world's biggest and richest mobile-phone company.
"The Finnish example is a great one," she said. "When you have every single entrepreneur in Finland with a Nokia background, that means you have a very successful ecosystem. That's what Silicon Valley is about now. It's decades of entrepreneurs cycling through and reinvesting."