Responsibility, international solidarity, openness, inclusion, mobility, flexibility and predictability should be central to improving mid- and long-term support for science systems affected by conflict, according to a newly released International Science Council report on the Ukraine crisis, which makes recommendations for the international community.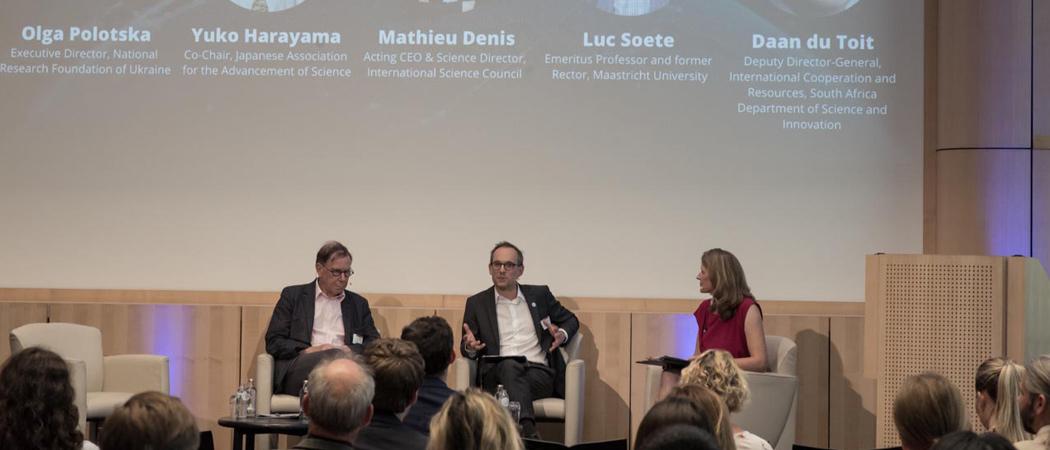 On 7 September 2022 the International Science Council (ISC) used the platform of the Science Business conference on Widening research and innovation cooperation in times of war to highlight recommendations from its recent report on the Ukraine crisis.
Based on consultation with scientists and stakeholders from the higher education and research sectors in Ukraine and across Europe, the report makes seven recommendations for high-level policies aimed at national governments, multilateral organizations, universities, international science organizations and disciplinary unions and associations.
The recommendations emphasise the importance of solidarity, and shared responsibility for supporting the fundamental right to education and science, facilitating mobility for researchers, and ensuring that the design of support measures and opportunities is flexible and inclusive of groups with different needs.
Full adoption of the United Nations Educational, Scientific and Cultural Organization (UNESCO) recommendation on open science is highlighted as a pathway for enabling displaced scholars to continue their work, and supporting the (re)development of fragile science systems. Crucially, stakeholders must work together to develop sustainable frameworks in higher education and research systems for a more predictable and effective approach to the phases of preparedness, response and rebuilding in the aftermath of conflict or disaster.
The report results from a June 2022 event co-hosted by the ISC and partners, the All European Academies (ALLEA), Kristiania University College, and Science for Ukraine, which brought together more than 150 stakeholders from across Europe, with the majority of attendees coming from Ukraine.
'This report highlights important lessons on how to support the science sector in Ukraine and in other places affected by conflict and disaster,' said ISC Science Director and Acting CEO Mathieu Denis, 'the recommendations were developed with Ukrainian stakeholders involved at every step of the process. They provide guidance for responding to and supporting academics, researchers, students and higher education and science systems affected by conflict and disaster, all of which are applicable beyond Ukraine'.
Speaking at yesterday's Science Business conference, Executive Director of the National Research Foundation of Ukraine Olga Polotska stressed that 'The international community must distinguish between emergency and long-term support for Ukraine. A long-term roadmap is necessary for support and recovery'.  
These sentiments were echoed yesterday by Mathieu Denis who highlighted that the ISC recommendations provided an important framework for the scientific community to better address the range of threats and crises affecting science systems globally. As well as practical recommendations for immediate support, the report's authors aim to provide guidance that can be applied in other future instances of conflict or disaster recovery. Minister of Education and Science for Ukraine, the Honourable Serhiy Shkarlet, who is quoted in the report, said
'Science, technology and innovation are playing key roles in the rapid recovery of war-affected regions of Ukraine.'
The war in Ukraine has focused attention on the need to build resilience in science systems, and of the importance of networks and shared platforms such as those that exist for international scientific collaboration.
'The war in Ukraine must be a warning sign that there will be other episodes which disrupt science, and we are not well prepared. As a scientific community we can either be passive or recognize that in finding ways to help Ukraine we must also generalize and find ways to ensure our planet's and people's futures,' said ISC President Peter Gluckman.
Achieving the Sustainable Development Goals (SDGs) and dealing with the existential crises facing humanity today, such as the need to address increasingly dangerous climate change, demands substantial, joined-up support for research and innovation collaboration between different countries on an equal footing.
This is true in the European context as in the wider global context, and the ISC and its Members work to build capacity and foster opportunities for greater R&I cooperation. The ISC is also expanding its membership to young academies and societies in recognition of the importance that early and mid-career scientists bring to international scientific cooperation. Now more than ever, there's a need for 'track two' multilateral organizations such as the International Science Council to collaborate on the challenges of our time.
Access the full report Conference on the Ukraine Crisis: Responses from the European higher education and research sectors and the Executive Summary here: https://council.science/publications/ukraine-crisis-responses-from-european-higher-education-research/.
Please direct all media enquiries to [email protected].