Partly in response to the pandemic, the European Commission has proposed creating a new agency – the Health Emergency Preparedness and Response Authority (HERA). What should it do? Who will fund it?
---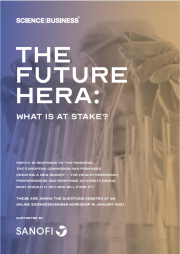 Supported by Sanofi

In the midst of the pandemic in September 2020, European Commission president Ursula von der Leyen announced the creation of a new organisation to help deal with such disastrous health issues: the Health Emergency Preparedness and Response Authority (HERA). Exactly what it will do, how and with what money, remain open questions as we enter 2021; member states are still discussing the plans. But it is clear to all that such an authority would be a major, and important, departure in EU efforts to promote its citizens' health.
To help elucidate some of the open questions, Science|Business on 14 January 2021 organised an online conference about HERA. In an effort to widen that debate on a matter of vital public interest, this impartial document reports on the questions raised – with a call for policy makers to consider their answers carefully before acting.
Experts discussed the extent to which HERA should emulate the US Biomedical Advanced Research Authority (BARDA), which since 2006 has been stockpiling and funding the development and manufacture of a variety of medical countermeasures, including for influenza-like epidemics. HERA's funding is unlikely to be of the order of BARDA's $1.6 billion per year, so participants agreed that its scope must be limited to goals that can be agreed within the budget available. For example, participants said, the European Commission should define clearly what HERA will or will not fund, such as whether it will bankroll manufacturing directly or coordinate financing from the European Investment Bank or other sources.
The next key question under debate is how HERA itself will be funded. The EU budget for the next seven years is settled and contains no provisions for anything like HERA. For example, the BARDA-coordinated public-private partnership (PPP) for SARS-CoV2 Vaccines, Operation Warp Speed, invested some $12 billion, whereas the EU's PPPs for vaccine R&D are worth a fraction of that. Taking money from existing programmes could prove controversial, experts warned. EU member states could be asked to contribute directly, but they would likely ask for a direct role in HERA's governance in return.
HERA's governance needs to be designed carefully because healthcare is a national competence in the EU treaties. Other EU agencies focused on health or medicines are intergovernmental—they answer to member states—and are independent of the European Commission. That raises a series of questions about HERA's structure and governance—will it take a similar form? Will it be a concrete entity, or a policy of coordination among existing bodies? Will the authority be a full-blown EU agency, and will it answer directly to the Commission, to the member states, or an independent board? Meanwhile, the EU's Innovative Medicines Initiative (IMI), which funds early stage medicines research, is not an agency at all but a public-private partnership. So will HERA be an exclusively public body, or a partnership that gives the private sector a seat at the table? And how will its activities remain focused on science and epidemiological insights, while keeping political interference at bay?
Whatever form it takes, HERA is likely to fund private sector activities, including late-stage development and manufacturing—so the Commission needs to define the limits of what companies will be able to do with public money. There also needs to be a clear plan for how risks and rewards will be shared, and how the Commission will win the public's confidence. Pharmaceutical companies sink huge amounts of money and time into medicines and vaccines that never take off, and make up for that with large profits from those that do. So how much public money will be put at risk in this way, and how will the public's fair share of the rewards be guaranteed? Finally: the EU is a union of high-income countries, and COVID-19 shows that pandemics can come to the EU from far beyond its borders. Participants asked what HERA's global role will be: for example, will it help address breakouts around the world before they spread, and will it help guarantee medical supplies for underserved regions?
The full list of participants in the Science|Business workshop The Future HERA: What is at stake? held on 14 January 2021 is available here: https://sciencebusiness.net/events/future-hera-what-stake.
/system/files/reports/TheFutureHERA.pdf