Oceans have enormous capacity to supply the earth with clean, renewable energy. Are we ready to harness this potential at global level, and what will be required to do so? A new Science|Business report explores the options.
---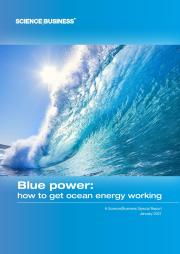 In November 2020, the European Commission published an ambitious new strategy for offshore renewable energy, as part of its bold plans to make Europe the first climate-neutral continent by 2050 – and to position the continent's cleantech firms as front-runners to exploit a potential €50+ billion industry. Suffice to say, it faces some stiff competition. While Europe generates the majority of global patents in a range of key offshore energy domains, other heavyweight players – not least the US, China, Canada, Australia and India – are ramping up their R&D investments and policy commitments in a significant way.
Nonetheless, experts say, there are crucial issues still to be addressed for this burgeoning global market to flourish. Wide differences persist in technology readiness levels across the sector, with many ocean-based solutions held back by the complexity and roughness of their operating conditions, and there is little consensus around technology standardisation. There are a limited number of cross-border platforms supporting the development of ocean renewable energy sources at an international level. Investors are also wary, having seen 10-15 years of funding fail to produce the promised results. And yet, the Commission believes that €800 billion of (mostly private) financing will be needed to achieve its long-term goals.
The purpose of this Science|Business special report is to shine a light on some of the key challenges and opportunities facing marine energy leaders today. Given the enormous potential of oceans to contribute to sustainable energy futures, while mitigating the climate crisis, there is no time to waste in addressing them. In parallel, the report lists a range of options – suggested by experts at a Science|Business online event on 19 November 2020 – which could help national governments, agencies and other stakeholders accelerate their progress.
/system/files/reports/Blue%20Power%20Report%20-%20Jan%202021.pdf