An Israeli start-up wins investor and EU interest with a device to monitor severely ill heart patients at home – improving care and outcomes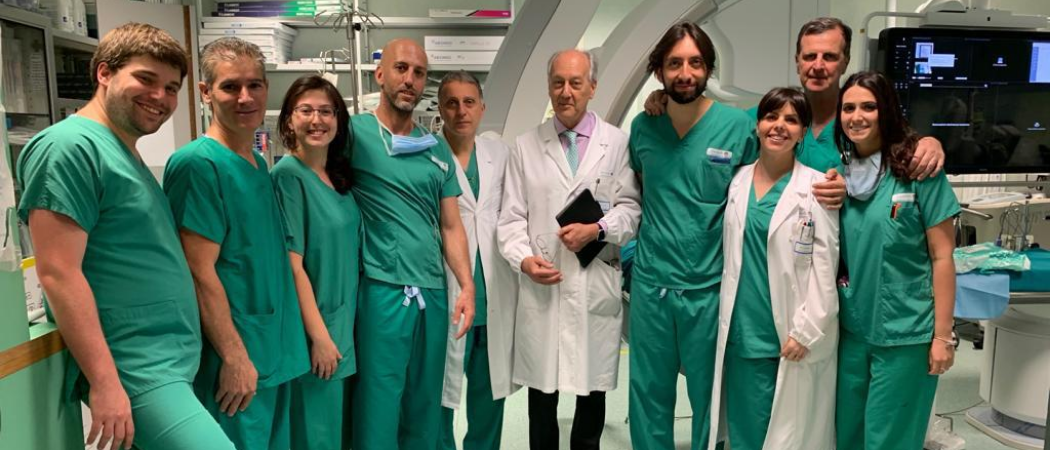 The human heart is a remarkable organ, beating 100,000 times and pumping 2,000 gallons of blood a day. But when it develops problems – as with the 49 million people in the EU with cardiovascular disease – it can be costly and difficult to treat. The COVID-19 pandemic has only made this challenge more urgent. Patients suffering from pre-existing heart conditions are at significantly higher risk of severe COVID-19 symptoms, and to protect them from contagion, experts are urging more use of telemedicine and remote care.
That's why the future of cardiac care may well include something like the V-LAP – an implantable remote-monitoring device developed by the Israeli medtech start-up Vectorious Medical Technologies. In 2018, the EU's Horizon 2020 innovation acceleration programme awarded the company €1.8 million in financing to trial its solution.
Co-founded by engineer Oren Goldshtein and serial entrepreneur Dr. Eyal Orion, the company aims to enable accurate, early detection of heart failure symptoms, with an eye toward driving better treatment decisions, improving patient outcomes and driving down skyrocketing healthcare costs.
The Vectorious approach
Heart failure, in which the heart is unable to pump sufficient amounts of blood through the patient's body, is not only highly lethal, but also extremely costly, accounting for 1-2% of all healthcare expenses in most Western countries, with hospitalisation the primary cost. Most Class III heart failure patients – one step away from the most severe level of disease – are hospitalised every two to three months and further strain resources.
Heart failure, CEO Goldshtein explains, typically starts with pressure rising on the organ's left side. "Ask any cardiologist about the best indication for heart failure," he says, "and they will all point to the left side of the heart."
Accordingly, Vectorious developed a microcomputer device to be implanted into the left side of the heart of severely at-risk cardiac patients. To measure left atrial pressure (LAP), for one minute a day the patient straps on a belt that syncs with the implant and transmits data to a cloud-based system, empowering clinicians to analyse patients' metrics, deliver personalised care, and prevent costly hospital stays.
"You should be able to live a long and full life by taking your medication for heart failure," Goldshtein says, "but the right amount of medication can be an enigma. What we provide is the earliest, most objective data for deciding the right dosage and optimally managing the disease."
A study published in the European Heart Journal in October 2019 found V-LAP "was feasible, safe, and showed good accuracy and precision" in the two patients for whom it had been successfully installed. In the coming months, Vectorious hopes to enrol between 30 to 45 participants in trials in Germany, Italy, Israel, and the UK, in addition to 15 trial participants to date. While the COVID-19 pandemic has slowed down trials ahead of a planned 2021 CE mark in Europe, it has also reinforced the need for solutions like the V-LAP – and Goldshtein says that Horizon 2020 has proven decisive in the product's progress toward the market.
Horizon 2020: Accelerating clinical trials
Most significantly, participation in the Horizon programme "enabled us to accelerate and switch to the clinical [trial] phase," Goldshtein says. The programme has also opened new funding doors to Vectorious, which has garnered $18.6 million in funding to date. In addition to the CE mark expected next year, Vectorious plans to launch its study in the US next year to obtain FDA approval by 2025.
With a 35-person skilled workforce, Vectorious is a prime exemplar of the emerging field of bio-convergence, which aims to revolutionise medical treatment by combining different technologies and solutions from biology, digital health, mathematics, computer science, engineering, and the physical sciences.
"With my background in the semiconductor industry and Dr. Orion's background in medtech startups, we've managed to build a stellar team of engineers and clinical professionals who have enabled us to develop such a challenging product," Goldshtein says.
The V-LAP aims to fulfil a critical market need. As aging populations drive greater demand for cardiac care, the global cardiovascular device market is poised to reach $59.1 billion by 2022, up from $42.4 billion in 2017, according to BCC Research.  For the tens of millions of Europeans with CVD, the need for solutions that will boost quality of life and enable proactive disease management is a critical priority. As the V-LAP nears EU certification, help – in the form of innovative medical technology – is on the way.