The EU-Africa clinical research scheme is promoting deep collaboration and leading to improved treatments, says director Michael Makanga. It should be bigger and better in Horizon Europe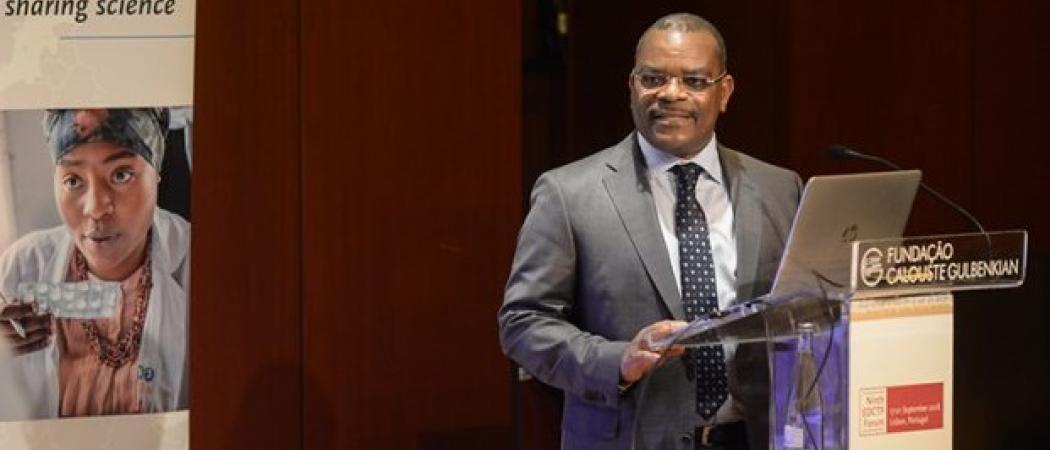 The EU-backed global health partnership supporting the development of new or improved drugs against HIV, tuberculosis, malaria and other diseases in sub-Saharan Africa, deserves to come back bigger and better in Horizon Europe, says Michael Makanga, director of the multi-million euro programme,
The European and Developing Countries Clinical Trials Partnership (EDCTP) has issued grants to medical researchers in around 60 countries since 2014, investing some €564 million.
The result has been to create more equity in collaborations between health researchers in low-income and middle-income countries, and academics in high-income countries. That has led on to the introduction of a number of improved treatments, Makanga told Science|Business.  
A minimum of three independent research institutions, two in European partner states and one in Africa, must be involved in any clinical research project that's considered for funding.
The majority of funding - over two-thirds - has gone to 264 institutions in Africa.
"We allow researchers in sub-Saharan Africa to play a bigger role in clinical research, creating a symbiotic approach with Europe," Makanga says. "We are promoting real co-ownership of research results, which is a healthy thing. We are promoting local leadership."
The EU funding is sorely needed. Africa's potential is handicapped by a shortage of trained scientists – the continent has fewer than 200 researchers per million people, which is below the level of many middle-income countries.
EDCTP was renewed for 10 years in 2014 and its mandate extended to include a list of 17 neglected tropical diseases, lower respiratory tract infections, diarrhoeal diseases and infectious diseases with epidemic potential, such as Ebola and yellow fever.
Makanga, EDCTP director since 2016, would like to see the programme further expand under the next research programme, Horizon Europe. But he is also concerned that research being carried out under the current Horizon 2020 programme is in danger of being undermined by the U.K's departure from the EU. EDCTP is eligible to receive up to €683 million from Horizon 2020, but that has to be matched by an equivalent contribution, in cash or in kind, from EU participating states.
Securing matched funding is a big challenge, and with the UK the biggest cash contributor to the programme, this is likely to be more difficult after Brexit. And if the UK were to crash out of the EU in three months' time, it would inevitably leave a large hole, Makanga said.
"When we look at the projects, the majority involve the UK. It's beyond the cash contribution; they're contributing substantially with quality research," he said.
One answer would be for more EU countries to take part. Currently, only 14 member states are involved.
"I think the member states could do more. Remember, we are talking about diseases that are not only impacting Africa, but also Europe. Infectious diseases have a knock on effect everywhere," said Makanga.
"The UK is making a substantial cash contribution and we have increased contributions from places like Germany, Sweden and France," he said. "Still, more would be better."
Deutsche Stiftung Weltbevoelkerung, a global health advocacy group in Brussels, is calling for the programme's budget to rise to €1 billion after 2021. 
Makanga would also like the European Commission to make it easier for EDCTP to tap diverse funding sources.
Officials in Brussels are discussing ways of opening the programme up to private funders and non-EU countries. But other organisations carrying out health research in Africa, such as the Bill & Melinda Gates Foundation and the Wellcome Trust, find it hard to coordinate their funding with the scheme.
According to an independent analysis, this is due to bureaucracy, lack of funding flexibility and slow decision-making at an EU-level.
The annual approval of research plans by the commission and participating countries can be painfully slow. When EDCTP plans are eventually sanctioned, its managers face a wild dash to administer research competitions during the time left in the year. 
More flexibility would help, but said Makanga, "One has to also be conscious about one thing. You want to broaden the funding base without compromising the decision making process. "
Right now, the 16 African and 14 EU participating states in EDCTP command the driving seat, and while everyone would like to see more funding sources spring up, there is concern about handing private organisations more influence over the research agenda.
Trust growing
EDCTP's targets are staggeringly broad, but the programme is leaving a mark.
An evaluation of the programme in 2017 found it has so far led to eight improved treatments, in particular for newborns, children and pregnant or breastfeeding women suffering from HIV/AIDS or malaria.
In September 2018, the programme launched a €2.25 million emergency funding initiative for the Ebola outbreak in the Democratic Republic of the Congo.
The scheme is also claiming success in helping to shift policy.
Data from research conducted jointly in Bobo Dioulasso, Mombasa and Nairobi, for instance, provided some of the earliest evidence that triple antiretroviral therapy could dramatically reduce mother-to-child transmission of HIV during breastfeeding.
On the back of this research, the World Health Organisation later recommended more extensive use of antiretrovirals for pregnant and breastfeeding women.
African ambassadors met some of the project leaders in South Africa recently and gave the scheme top marks, Makanga said.
"They are beginning to trust [us] more. They see we are operating, not in an exploitative way, but with a true partnership approach."
Editor's note: This article was corrected on 5 August to reflect a more precise description of the project.