Democratic legislators push $10M for SESAME lab in Jordan, to promote science diplomacy in a high-profile project that mixes Israel, Iran and EU funding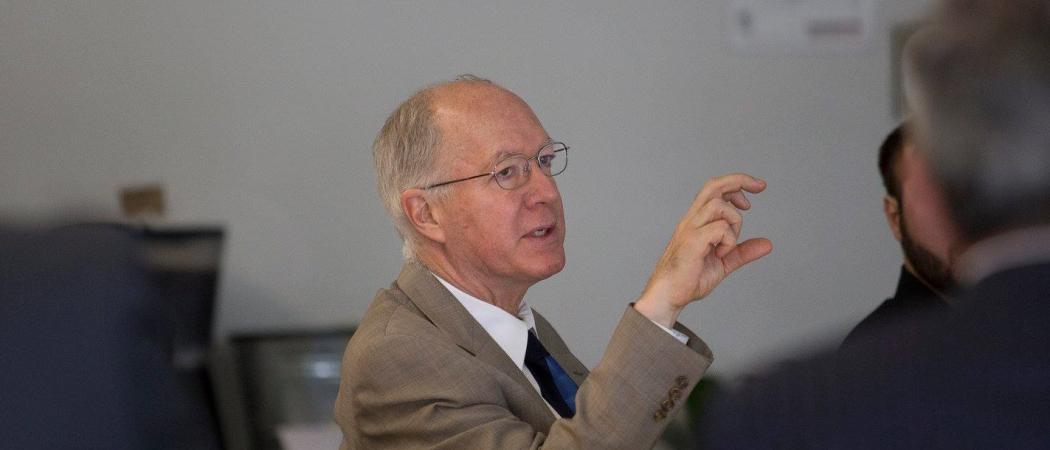 WASHINGTON, DC – In a rare effort at science diplomacy in the troubled Middle East, a group of US legislators is pushing for government funding for the region's only high energy physics lab, the SESAME synchrotron in Jordan.
The legislation, proposed by Rep. Bill Foster, an Illinois Democrat and a physicist, cleared its first hurdle last month when the US House of Representatives approved $10 million in US State Department funding for SESAME. The proposal could well be blocked in Congress' upper chamber, the Republican-controlled Senate – but even getting the legislation this far was a milestone for its backers, who have been unsuccessfully urging US support for a decade.
The project, supporters say, is an important effort at bridge-building in one of the world's most conflicted spots. It shows "that even when the politicians can't get along with each other, the scientists can," said Foster, in an interview with Science|Business.
The synchrotron, so far funded largely by the European Union and some of its members, is one of the world's strangest labs geopolitically – with eight government members that include inveterate enemies Israel and Iran, as well as the Palestinian Authority, Egypt, Jordan, Cyprus, Pakistan and Turkey. The EU so far has contributed about €20 million to the project, but the US has so far never authorised a cent for it.
Due to budgetary and political conflicts, the lab only started operating in 2017 after more than 20 years of planning and construction – but on 1 June it had its first research paper published, by a group of Turkish and Jordanian researchers, on a process to convert biomass to synthetic gas.
A synchrotron is an increasingly common tool of science these days. It spins atomic particles in a ring to project beams of high-energy light at materials  – in essence, operating as a giant microscope to look inside molecules. There are about 60 in the world, ranging from relatively small ones such as SESAME all the way to the massive machinery of CERN in Geneva.
An hour from Jerusalem
The idea for SESAME began with US and European physicists in the 1990s, who saw it as a way to apply science diplomacy to the region's troubles. Scientifically, said Foster, the device can be especially useful in that region as a tool for archaeologists analysing ancient specimens, which hitherto had to be flown to synchrotrons in Europe or elsewhere. By contrast, SESEAME is "less than an hour's drive from Amman, and less than an hour from Jerusalem," he said.
The most contentious issue in Washington could be Iran's involvement in the project, and due to US sanctions, Iran is in arrears on payment of its annual dues.
But the Iran-US conflict shouldn't get in the way of this science project, supporters say. "There is nothing in a synchrotron light source that has any military relevance," said Foster, who previously worked at the most famous US synchrotron, Fermilab.
By contrast, Foster argued, Israel and the West could benefit from SESAME by learning more about Iranian science. "The security risks of Iran are much higher when we cannot see inside their scientific enterprise, than when we can," he said. Similarly, he noted, CERN had been useful in the Cold War as a way for Western and Soviet physicists to learn about each other's work.
So far, the US position has been ambivalent. It is, like the EU, an official "observer" at SESAME; but it has never agreed to spend money on it. And the Trump Administration has yet to state its position (The State Department did not provide comment for this article.)
By contrast, the EU, partly through its Framework Programmes, has funded computing systems, beamline construction, training, and a new solar power plant to bypass Jordan's high electricity-grid costs – amounting to about €20 million since the idea was first floated at a CERN meeting in 1995. Germany, France, the UK, Switzerland and other official observer-nations have donated equipment, cash, researchers or all three.
The EU's support is part of its long-standing use of science for diplomacy. "It's very clear there's a need for a facility for science in the region," said Adam Tyson, head of research and industrial infrastructures at the European Commission. "There are several needs that come together with SESAME. We've got a development need there. We need to keep scientists in the region. They need that as economic development. It's about getting people to talk to each other."
Reflecting the EU support, SESAME has become a passionate project of several of Europe's scientific leaders; Rolf Heuer, former director-general of CERN, is currently SESAME president. And it is currently recruiting a new scientific director. But it also has strong US scientific support: Earlier this year, the American Association for the Advancement of Science awarded its annual science diplomacy prize to five scientists who helped advance the project.
Building bridges
In Washington, Foster has been the lead SESAME advocate since his first term in Congress a decade ago. In 2017 he proposed legislation – squelched by the Republican majority – to start funding. Now, however, with the House under new Democratic leadership, his proposal quickly garnered support; six other Democrats, including Somali-American Rep. Ilhan Omar, endorsed Foster's amendment.
"Science provides a common language through which individuals from different nations and distinct cultures can communicate, cooperate and work together toward common goals," the group wrote in a March letter to the House leadership. "It can build bridges between people and countries – if we let it."
By a vote of 231 to 187 on 19 June, the House approved a line-item amendment to fund SESAME as part of the State Department's appropriation for the year beginning 1 October. The $10 million for SESAME would go towards supplying new lab equipment to be built in the US; and the money would come out of a State Department programme to combat terrorism and weapons proliferation. Foster said he hopes the use of the money would be controlled by one of the US national laboratories.
But the funding would also require approval in the Republican-controlled Senate – and all budget matters are unpredictable this year as Washington's partisan wars continue. "We're in a holding pattern" on individual appropriation measures, pending negotiations for a comprehensive budget deal, said a senate aide. Given the state of politics in Washington, that could easily drag into the Autumn – or beyond.
So far, no public opposition to SESAME has emerged on Capitol Hill – but that doesn't mean the plan will make it into law.
There is, Foster said, "always a segment of Congress that is reflexively against spending any money outside the US. But if you look at the multiple trillions of dollars we've spent on wars in the Middle East, and if this can make some small contribution to making that less likely, it's money well spent."