Cooperation between Brussels and Washington is set to step up a notch, after their first formal science diplomacy meeting since 2017. Separately, Biden's new science adviser hails importance of allied R&D cooperation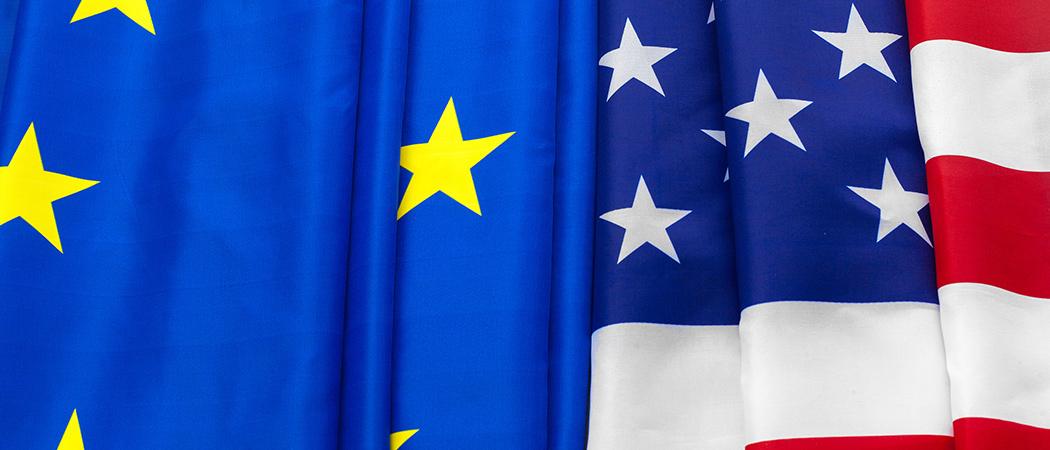 US and EU officials agreed to expand R&D collaboration on cancer, climate change, green aviation and other fields, signaling a further warming of transatlantic science relations.
At a meeting in Brussels on 12 October, US and EU delegations conducted a "stock-taking" exercise, comparing what each side is planning on R&D and identifying broad fields in which they want to boost cooperation between their respective programmes. Specific decisions on budget, programmes and projects will come later, as specialist agencies on both sides of the Atlantic compare notes.
But both sides hailed the session as a milestone in their science diplomacy. It was the first time in five years that there had been a formal meeting under a longstanding EU-US science and technology agreement, and both sides immediately agreed to renew that pact next year for another five years without need for further negotiation. By contrast, for most of the Trump administration, relations between the two sides had often been frosty, with Trump officials at one point berating the European Commission publicly over its R&D programme.
Now, however, in response to questions from Science|Business about the 12 October meeting, the two sides issued a joint statement: "The partnership between the United States and the European Union in science and technology has never been stronger. Together, we are advancing the frontiers of science to benefit all of humankind." The statement was co-signed by the delegation leaders, Signe Ratso, the EU's acting director general for research, and Monica Medina, US assistant secretary of state for oceans and science.
US pushing science diplomacy
One factor behind the change in tone is Washington's stepped-up investment in R&D under President Joe Biden, and a general eagerness to work more closely on science and technology with US allies – an eagerness intensified by the pandemic, the war in Ukraine, and mounting paranoia in Washington about Chinese competition. In September, the White House sent a report to Congress saying that the US has to do a better job at science diplomacy, generally. The US "is missing out on both short- and long-term strategic opportunities to engage internationally and is being left behind as a result," the report said.
Reflecting that, in just the past year, the State Department has been updating and expanding bilateral science and technology deals with a string of countries, including Finland, the UK and Switzerland. The Brussels meeting on 12 October was its first formal, cross-sectoral and EU-wide discussion on R&D.
That cooperative ambition was repeated 21 October, at the first public outing of Biden's new science adviser, Arati Prabhakar. Speaking at a conference of the American Association for the Advancement of Science, the Office of Science and Technology Policy director ticked through the administration's big ambitions for science and technology, backed up by a record budget request for the coming year of $200 billion for science and technology, including $111 billion for basic and applied research.
"We absolutely have problems that have to get tackled on a global basis that will require working with our allies and partners around the world," Prabhakar said. "And at the same time, it's a reality that we are now in a very significant competition with China."
US participation in Horizon Europe
In the joint statement after the 12 October meeting the two sides reported there are now 162 Horizon Europe projects involving US-based participants; because many have multiple partners, that means there are 196 participants in all. That makes the US the top-ranking non-European participant in the programme so far, according to the Commission's database. In "the vast majority" of cases, the statement said, the US participants are so-called associated partners, meaning they bring their own funding to the projects rather than tap EU budgets. The Commission is in the midst of a campaign to expand this kind of collaboration.
At the meeting in Brussels, the two sides said, "We agreed to expand our collaboration in new areas in health, with increased cooperation on the climate-health nexus and on cancer." Both governments have recently launched big programmes to develop new cancer treatments. The US recently upgraded a "Cancer Moonshot" programme to cut the cancer death rate by 50% in 25 years. And the EU, as part of its €95.5 billion Horizon Europe programme, is mounting an ambitious "Cancer Mission" to develop new therapies. Details of exactly how collaboration will be increased weren't included in the statement. But historically, health is one of a few areas in which the Commission and US science agencies have managed to arrange joint funding or planning in the past.
On climate and energy, officials said they plan to boost cooperation in green aviation, including low-carbon engine technologies. The Commission and US Department of Transportation will organise transatlantic workshops on electric vehicle R&D. They plan to continue collaboration in oceans research, and "agreed on the need for developing joint modelling capacity for climate, together with increasing the ambition in our cooperation on earth observation. Both sides recognised the need for more collaborative research related to the circular economy on issues such as circularity by design."
They didn't offer specifics, but said they also discussed "making scientific systems more resilient to disinformation" and continuing to work with other Group of 7 leading economies on bolstering research security. They said they "discussed the need to rebuild Ukraine's research infrastructure" due to the war.