European Research Council grantees from Ukraine add their voices to calls for direct action. They say they need peace before they can return to labs and desks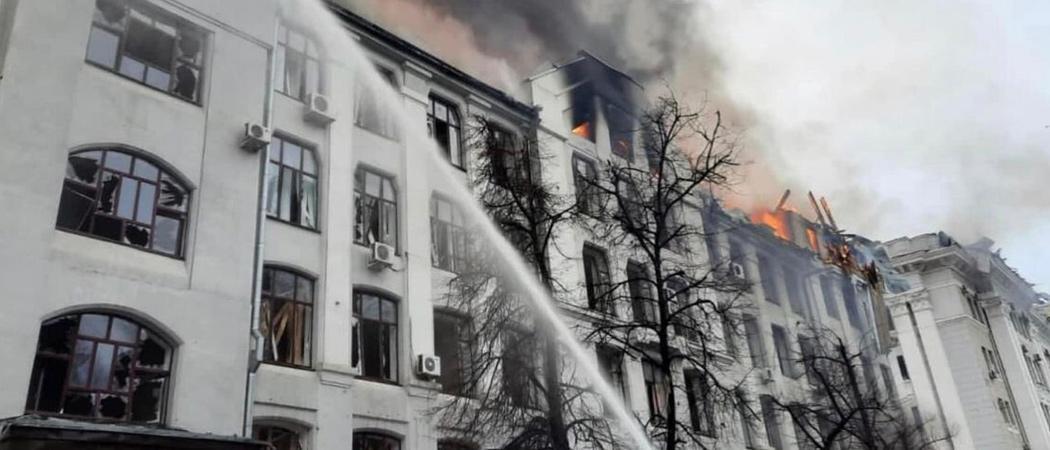 Ukrainian scientists say today they need weapons, not grants, as Russian invaders continue to bomb cities, civilian shelters and infrastructure across the country.
"Right now we, Ukrainians, including scientists, need the EU to provide more weapons, and NATO to close the sky over Ukraine, as Russian troops keep on bombing Ukraine and killing people, including women and children," Pavel Mykhailiuk, a Kyiv-based biochemist and grantee of the EU's fundamental research fund, the European Research Council (ERC), wrote in an email.
Mykhailiuk's candid words mirror a view shared by many. As the Russian invasion climbs into its fourth week, life in the country is on hold until peace is reached.  Many university and research institution buildings have been bombed. Some researchers have taken up arms. Others have fled to neighbouring countries, an option unavailable to most males between the ages of 18 and 60, who are not allowed to leave the country. Research is not on many minds at the moment.
Olga Polotska, the executive director of the National Research Foundation of Ukraine (NRFU), said researchers need the war to stop and expect western countries to instate a no-fly zone and tougher economic sanctions. "What academics need in Ukraine is peace," said Polotska.
Three weeks ago, Polotska talked to Science|Business from a bomb shelter in Kyiv. She has now moved somewhere outside the capital, where she continues trying to keep her agency alive.
Anton Kuzyk, a Ukrainian bio-nanotechnology researcher based in Finland who this week won an ERC grant for mid-career researchers, agrees continuing research is not the main focus these days. "Of course, now, careers are not really the main concern," said Kuzyk. "I would say the main effort is bringing life back to normal in Ukraine as soon as possible."
Coordinating support
While many stay to fight, others are fleeing. More than 3 million people have fled Ukraine since the start of the war, according to the UN. Among them, inevitably, are many academics and researchers.
The European research community has been rapidly mobilising to help researchers escaping the increasingly bloody war to continue their work in safety. Within days, researchers across Europe put together a grassroots campaign listing hundreds of job postings in academic and research institutions around the world available to Ukrainian refugees.
The ERC, which is managed by a dedicated EU agency, announced today it will run a database listing job opportunities on ERC-funded projects available to Ukrainian researchers and support staff, such as technicians and lab managers.
ERC president Maria Leptin asked the 5,600 grantees the agency is funding to consider hiring Ukrainian refugees for their ongoing projects. "You may be planning to hire team members for your ERC-funded project and I would ask you to consider refugee researchers and other staff members from Ukraine whose expertise matches your needs," Leptin said.
The next step is coordinating response at government level. Christian Ehler, one of the European Parliament's strongest voices on research, took to Twitter this morning calling on the EU to set up a dedicated fellowships scheme for scholars at risk.
Ehler acknowledged the European Commission is rushing to find ways to help Ukrainian academics in exile, while member states are discussing coordination, but so far the response has been scrambled.
One solution, according to Ehler, is establishing a European programme for scholars at risk, a cause he's been advocating for a while. Just months after the EU was unable to help scientists fleeing the Taliban's offensive in Afghanistan, the wave of Ukrainian researchers is met with no coordinated help at EU level. "Last summer we failed Afghan scholars, 100s are still at risk," said Ehler. "Now we are ill-prepared to effectively help researchers from Ukraine."
In a nod to long-term EU support, the ERC said it had already prepared a proposal making it easier for researchers fleeing war and conflict zones to apply for its grants.
Similarly, looking to help Ukrainian students who have been unable to continue their studies, the Irish higher education and science minister Simon Harris called on the EU to start using funds from the student mobility Erasmus+ to set up a special scholarship programme for Ukrainian refugees.
Kuzyk, who was born in the city of Lviv in western Ukraine and has worked in Finland and Germany for the past 19 years, says the research world's response has been great but notes many of the stays offered are short-term. While the desire is to end the war as quickly as possible and for the scientists to return to Ukraine, some researchers, especially those that are older, are not as flexible and will need long-term support to continue if they choose to continue their careers in exile. 
After the war, Kuzyk hopes Ukraine will boost investment in research allowing its scientists to continue their work in the country. There's lots of potential. Kuzyk, for one, is the third person from his year at the Taras Shevchenko National University of Kyiv to receive an ERC grant. Today, none of the three recipients work in Ukraine. "Ukraine is a big country. We should recognise there is significant intellectual potential in it," said Kuzyk. 
Editor's note: this story was updated on 18 March to include the ERC call on its grantees to support Ukrainian researchers.