Science minister George Freeman visited Brussels on Wednesday in a last-ditch attempt to end the 18-month deadlock over association to the EU research programme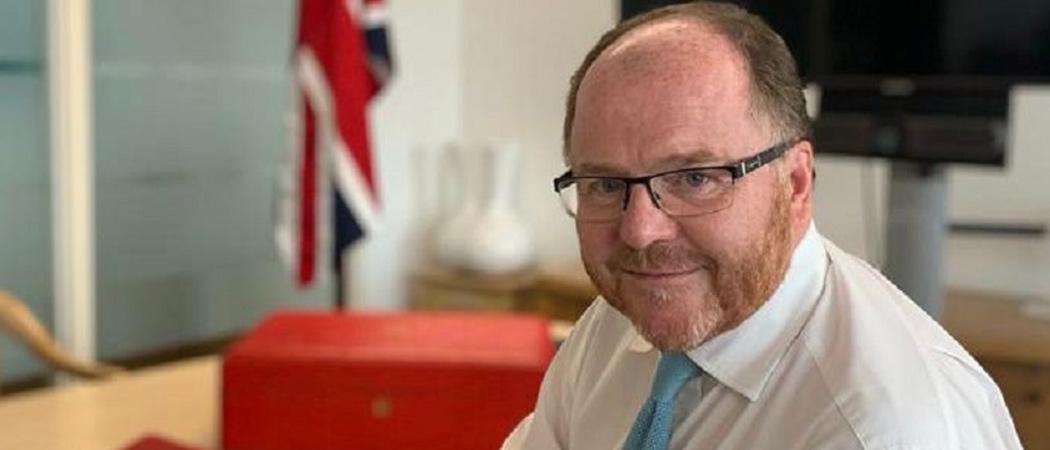 The UK is still seeking association to Horizon Europe but time is quickly running out, UK science minister George Freeman told the Brussels science community at the British ambassador's residence on Wednesday.
"I'm not here to tell you tonight that we're walking away, quite the opposite," said Freeman. But the UK is not willing to wait much longer. "If the phone doesn't ring in autumn, we'll have to go."
Freeman's visit to Brussels was a last minute attempt to salvage the UK's Horizon Europe deal, which was agreed as part of the Trade and Cooperation Agreement setting out the terms of Brexit back in 2020. But it is now caught up in the political battle over the Northern Ireland Protocol, which the Commission has tied to association.
A year and a half into Horizon Europe, the UK is losing hope the doors to the programme will open and is preparing a £15 billion back-up.
Scientists are already feeling the impact of the persisting policy deadlock. Fewer and fewer researchers based in the UK are applying to Horizon Europe calls amid fears they will be kicked off projects if the association bid falls through. Yesterday marked the final deadline for UK-based European Research Council (ERC) grantees to decide whether they want to leave the country or give up the prestigious grant, with a least one recipient saying on Twitter she had been forced to abandon the award.
So far, only two UK-based ERC grantees have said they will definitely be staying in the UK and so give up the award, an ERC spokesperson said. Another 16 have said they are "potentially interested" in moving to the EU to keep hold of it, they confirmed.
However, UK winners will be given "a bit more time" to decide on whether to leave the UK, the spokesperson said, although did not give more details on how long that would be. 
"I have to have a solution for researchers in the UK," said Freeman. "We have to have a solution this summer. If not I'll have to give them an alternative."
The UK's rival programme has three pillars, much like Horizon Europe, and will give out ERC-like fellowships, support industry and innovation with a focus on getting private investors to match public money, and fund global research projects.
Freeman highlighted European collaboration would stay at the heart of the programme, but said smaller Horizon countries might lose out if they cannot carry the burden of participating both in Horizon Europe and the UK alternative. "Whatever we do with this, we want to make sure we keep those European links," said Freeman.
For European researchers, an alternative way to work with UK-based counterparts is better than nothing, but some are concerned about the openness of the future programme.
Thomas Jørgensen, director of policy coordination and foresight at the European University Association (EUA), recalled the UK's recent "high potential individual" visa was limited to graduates of very few European universities.
"What we need to understand from the Brits is how open this will be," said Jørgensen. "In the best of all worlds, we'll see a very good British research programme that has openness for international cooperation."
Member states stand firm
One member state science representative in Brussels acknowledged that a failure to associate the UK would be a "lose-lose" for both sides.
But, speaking on condition of anonymity, they said member states were fully behind the Commission's policy of tying Horizon association to resolution of the row over the Northern Ireland Protocol.
Horizon association may have been agreed as part of the Trade and Cooperation Agreement, but London risked undermining the entire deal by threatening to unilaterally override the Northern Ireland Protocol, they argued. Last month, the UK government said it would introduce legislation to do so, and it is expected to be made public imminently.
"You can't build a building when someone is shaking the foundations," the representative said. "You have to have a stable cake before you can put a cherry on top."
What's more, there's doubt over whether the UK would stay the course even if it was let into Horizon Europe.
"Is it going to last?" they said. "What happens if for some reason the UK kills the Northern Ireland Protocol and we have to unwind the whole thing again? Do we have to cancel projects?"
The UK is such a big science player that the disruption would be enormous if it associated, then withdrew, from Horizon Europe, the representative said.
Meanwhile, in the UK, a huge rebellion against prime minister Boris Johnson in a vote of confidence by his own MPs has undermined his authority – with potential implications for the Plan B Freeman is drawing up to replace association.
"There are […] questions about whether there is the bandwidth to set up and run an alternative," to Horizon Europe, said Andy Westwood, a former government science adviser and now professor of government practice at Manchester University.
Plan B is "hardly top of the 'red meat' list of policy initiatives" Johnson will want to put in place to show his government is getting on with the job, Westwood said.
However, Johnson may now be so weakened that he is unable to push through legislation overriding the Northern Ireland Protocol and further wrecking the relationship with the EU, said one UK research policy figure, who wished to remain anonymous. On the other hand, Johnson might now feel he has to be tough on Brussels to shore up his support, he added.
In his speech in Brussels, Freeman did not address the possibility of concessions from the UK, instead stressing the Commission's role in the stalemate. Many member states, he noted, had expressed a desire for the UK to join Horizon Europe as soon as possible.
Freeman claimed he had asked EU research commissioner Mariya Gabriel to meet him five times and each request was denied, including one this week, but, according to sources in the Commission, Gabriel's cabinet has never received such requests.
Final plea
Freeman made one last appeal to the audience to put all their efforts into advocating for UK association in the coming weeks, before Brussels breaks for summer holidays.
Jørgensen said to change minds, the research community would have to come up with new arguments and find new allies. "We've been very loud. Everybody who wanted to listen to universities listened to universities," said Jørgensen. He pointed to industry as a potential ally that could still sway Brussels bureaucrats.
At the same time, Jørgensen acknowledged, the ball is not only in the Commission's hands. "We could of course have political developments in Britain that would be helpful because this is not only the Commission being impossible, it's also a political situation that is unheard of," said Jørgensen.
In the UK, universities and research organisations are also making their final pleas to EU politicians to decouple science and Brexit politics.
Last week, the association Universities UK sent a letter to European Commission vice president Maroš Šefčovič, who is responsible for Brexit negotiations
The letter referred to instances of UK-based researchers being forced to leave consortia while fewer and fewer organisations take the risk to apply to Horizon Europe, during the now 17-month wait for the association to be confirmed.
The letter warned the UK could abandon hopes to join Horizon Europe as early as June. "[The UK government's] view is that the value-for-money case for UK association is weakened every day that the UK is left waiting for the arrangement to be confirmed," the letter said.
Vivienne Stern, director of Universities UK, called the EU's move to block UK's association to Horizon Europe "an act of political self-harm."
"Science should not be used as a political bargaining chip and we are running out of time for everyone to realise that," she said.
For now, the impasse goes on. Jørgensen was glad Freeman did not come to Brussels to announce the UK is pulling out of Horizon Europe. "I think we have a little bit of respite. There are people that thought today would be the day that they close the door," he told Science|Business.
Some member states, meanwhile, are waiting for a miracle. "I don't see any chance for any last minute effort" by member states to convince the Commission to allow the UK to associate, said one national science representative in Brussels. "But you never know, miracles happen."
This article has been amended to include more details about UK recipients of ERC grants.