Manifesto promise of increased science funding is welcomed but many fear uncertainty about the UK's place in future European research projects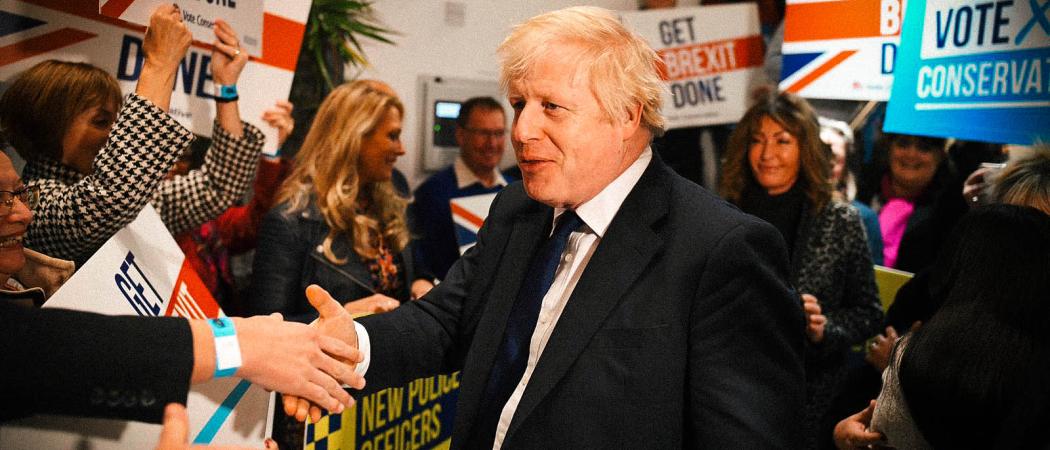 UK scientists are resigned to Brexit, but warn that their future is still up in the air following the Conservative party's thumping win in last week's election.  
Boris Johnson's new majority of 80 seats in the UK parliament means his Brexit Withdrawal Bill will pass before MPs head off for Christmas.
Asked about their hopes and fears for the next half-decade under Johnson, many researchers say they expect the Tory party will use its newfound power to turn the science funding taps on. Others warn that the party has over-inflated its domestic commitments, and will not be able to nail down a pivotal science agreement with Brussels.
"I am optimistic," said Nick Hillman, director of the Higher Education Policy Institute. "Boris Johnson understands the importance of research [and] there are few people who are as strongly pro-research as his chief adviser, Dominic Cummings."
In his victory speech last Friday, Johnson pledged "colossal new investments in science".
"We've got a level of prominence here for science – a recognition – that goes to the top of the new administration. That marks a change with previous regimes," says Sarah Main, executive director for the Campaign for Science and Engineering pressure group.
The Tory manifesto talked about applied industrial projects and restated a commitment to ramp up the UK's spending on R&D, which is lagging behind many competitor countries, from 1.7 per cent of GDP to 2.4 per cent.
"My hope is that increases in science funding are invested wisely: attracting more business investment, addressing regional disparities in the economy; and attracting talented people from around the world. My fear is that funding increases provoke a scramble for the extra money without taking time to think through how best to invest it," said Graeme Reid, chair of science and research policy at UCL.
UK's place in European science projects
Others however predict that the Conservatives will be a disaster for British research, saying the result leaves significant uncertainty over the future of Scotland and the UK's place in European science projects.
"I think it was a bad night for our country, and Brexit is now almost certainly going to happen, to our great detriment," said Julian Huppert, director of the Intellectual Forum at Cambridge University. "I also think it is highly likely that Scotland will press harder to leave, breaking the Union."
Huppert formerly was a member of parliament for the Remain-supporting Liberal Democrats, which campaigned hard to stop Brexit, but endured a nightmare result, with leader Jo Swinson losing her seat.
Despite the Lib Dems' disappointment, Huppert said the party "must hold [the government] to account for their commitments."
"Already, we have seen apparently firm commitments – such as 50,000 promised extra nurses – being abandoned, delayed, and watered down, and I fear the same will happen to commitments on science funding. I hope to be proven wrong - but the size of the majority means that the Tories will only have themselves to blame if they fail to deliver on their promises."
In Scotland, a constitutional crisis looms after the pro-Remain Scottish National Party made significant gains, winning 48 of 59 seats, and saying it will use this mandate to press its demand for a second independence referendum.
Nicola Sturgeon, Scottish first minister, who leads the party, said it is "now clear beyond any doubt that an overwhelming majority of people in Scotland do want to remain in the European Union."
"A Scottish referendum is a real possibility by 2025," said Murray Pittock, pro-vice principal of Glasgow University.
EU talks
Scientists are urging the Tories to make a firm commitment to secure the UK's place in EU-funded science programmes.
"I spoke to many people about future engagement in EU R&D programmes. The universal view is that a good deal for science means full engagement in Horizon Europe," said Reid.
Hillman believes politicians won't block the UK's place in the 2021-2027 EU research programme after the 11 month post-Brexit transition period elapses.
"Even the biggest Eurosceptic recognises the value of cross-border science projects. That doesn't mean the new government will get all that they want, and there will have to be compromises along the way. But Brussels have been complaining for ages about a lack of clarity in the stance of the UK parliament. They will surely wonder no more," he said.
Others, like Scott Lucas, professor of international politics at Birmingham University, caution that the UK will be on a "hard road" to agreeing a trade deal with Brusssels by the end of 2020.
"Withdrawal is only the first phase – we may go until 2021 without knowing what the detailed agreement looks like. We have no idea where we'll end up on research and education. That's all up in the air," said Lucas.
Currently, the transition period can be extended by mutual agreement for up to two years, but Johnson is now preparing to pass a law ruling out any extension beyond December 2020.
Critics say that gambit introduces a new cliff-edge with the EU and raises the chance of the UK leaving without a science deal. Figures on both sides, including the bloc's chief negotiator Michel Barnier, are sceptical that a deal can be agreed within a year.
"It puts us in a position of depending on the goodwill of European partners," said Lucas. "The research environment is going to continue to be disrupted and there's no way around that. Add to that the uncertainty over personnel – we don't have absolute clarity of the status of Europeans in the UK from 2020. We're going to lose a lot of European scientists too, I bet."
Researchers argue that the UK's transitional period will prolong the chilling effect on collaboration throughout 2020.  "Research funding from the EU has already been wiped out because of uncertainty," said Johannes Angermuller, professor in discourse, languages and applied linguistics at the Open University. "There is no sign whatsoever that those huge losses will be made up by the government."
"I guess the UK will stay in a state of limbo after Brexit, which means that we will formally still be allowed to apply for international research money and activities, but there are great practical problems because of perception," he said.