President of the Royal Society tells candidates from the three biggest parties of need to fix the damage caused by 3.5 years of uncertainty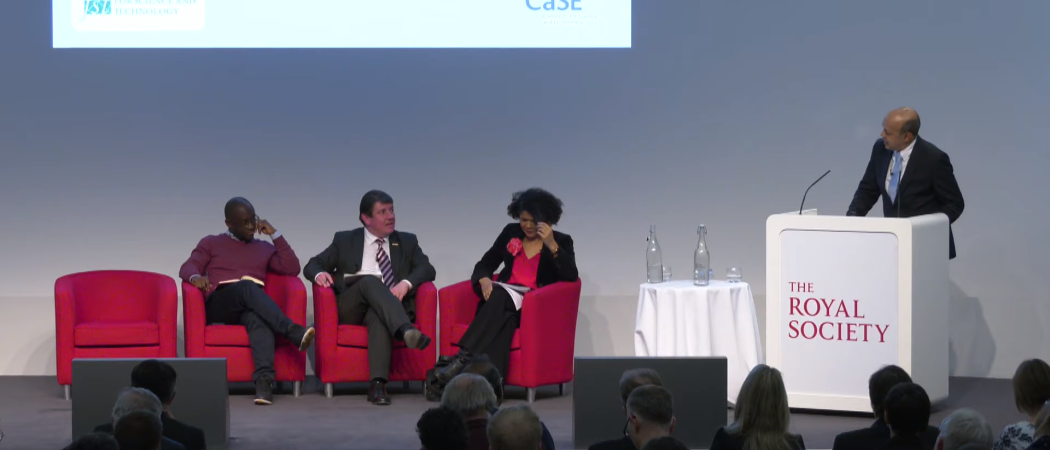 Candidates running in the UK election were on Tuesday challenged to "reverse the huge reputational damage" to British science caused by Brexit.
At the Royal Society in London three candidates, from the Conservative, Labour and Liberal Democrat parties, locked horns over university tuition fees, short-term research contracts and attracting the best scientific talent to the UK after Brexit.
The host, Royal Society president Venki Ramakrishnan, told them the last three years of Brexit turmoil have inflicted "huge reputational damage."            
"When I talk to young people on the continent, many are unwilling to choose the UK. We've seen a drop in ERC [European Research Council] and Marie Curie [EU fellowship programme] applicants coming here," he said. "How will you reverse this? You have to start by recognising that it's the truth."
The debate heard of three fundamentally different policies on Brexit, of remaining in EU from the Liberal Democrats, and leaving on January 31 from the Conservative Party, while Labour wants to negotiate a new withdrawal agreement, with a customs union and a closer relationship to the single market. The new deal would then be put to a public vote, with remain an option on the ballot paper.
"We're better off remaining in EU when it comes to science," said Sam Gyimah, former science minister in the Conservative government, who has now joined the Liberal Democrats. His party trails Labour and Conservatives in the polls.
Gyimah resigned from the Conservative party because he disagreed with its Brexit policy. In terms of science it would "rip up institutions and arrangements that serve us very well," he said.
Currently, the UK is "punching above [its] weight," Gyimah said. "But our competition, whether it's Germany, the Netherlands or Australia, is not sitting down and waiting. We need to be clear-eyed. The Netherlands will have the most English-speaking universities in the EU if we leave," Gyimah said. "Playing political football with our universities is the last thing you want to do."
Institutes like the Royal Society and Oxford University have established deals with counterparts in Europe to get around the problem of access to EU funding, he noted.
Gyimah said it is "vitally important that free movement carries on. Our track record is because a lot of our best and brightest were allowed to come here." Immigration quotas don't make sense, because it's hard to tell which young scientists could go on to win a Nobel Prize.
As things stand, the UK will be "levelling down, not levelling up" when it comes to immigration, because any post-Brexit arrangement, "will be a worse deal than we currently have," said Gyimah.
Ramakrishnan said the UK must redesign its visa system to make it "straightforward, inexpensive and fast." Scientists coming to UK "have to go through a number of administrative hoops. It's very expensive, and [for] a family of four could cost up to £20,000," he said.
'Dead hand' of Brexit
"We are still one of the global science superstars," said Conservative candidate Stephen Metcalfe, standing in for science minister Chris Skidmore, who is expecting his third child.
Metcalfe, a previous chair of the UK parliament Science and Technology committee, said his party, which is topping the polls, would invest £18 billion per annum into research within five years. He confirmed the Conservatives would push for full association to the EU's 2021-2027 Horizon Europe research programme, "assuming it's created in the proper way".
Brexit is a "dead hand" Metcalfe said. "We need to move on and get it done." If the Conservatives win a majority, they will take the UK out by 31 January and begin talks with Brussels on a permanent trading relationship.
If in government, Labour would be "prepared to step in and take risks," said Chi Onwurah, an engineer, who was shadow minister for science during the previous parliament.
The inspiration for its policy comes from University College London economist, Mariana Mazzucato, who argues for the state to set a clear direction for innovation.
"Years of crossing our fingers and letting the market solve everything has led us to where we are today," Onwurah said.
Research funding would be spread right around the country under Labour. "The whole of the north of England has fewer science jobs than Cambridge. Science shouldn't be something [mainly] happening in elite institutions," said Onwurah, who is standing for a seat in Newcastle, north east England.
Labour plans to set up regional banks and a green transformation fund to create jobs and help with reskilling.
The party is also "absolutely committed to scrapping tuition fees" for university students, said Onwurah.
All undergraduates in England pay £9,250 a year in tuition fees, the highest rate in Europe. The government gives additional grants to top up the funding for high priority or expensive courses such as medicine, engineering and physics. Meanwhile, Scotland has free university tuition for undergraduates and in Wales fees are capped at £9,000.
Labour's proposal to do away with fees is controversial. While a fee reduction would be great news for students, universities worry about the financial implications. Fees for teaching undergraduates now comprise the vast bulk of all university income.
Science's gig economy
The candidates were asked the science world equivalent of the reality check question, 'How much is a pint of milk?'. In this case, 'How many postdocs are there in the UK and how much are they paid?'
Onwura said there are 70,000 postdocs in precarious, short-term contracts. "The gig economy was in research before it came to taxis," she said. "We will be bringing in a ministry of labour because we want to make [contracts] longer term."
Metcalfe agreed the government could do more to improve university contracts. "Short term contracts don't work for a lot of women," he said. "We lose them from the academic system."