Science budget and R&D tax breaks will go up, but manifesto promise of agency modelled on DARPA is ditched, as government confirms it wants a hard Brexit, with UK outside the EU single market and customs union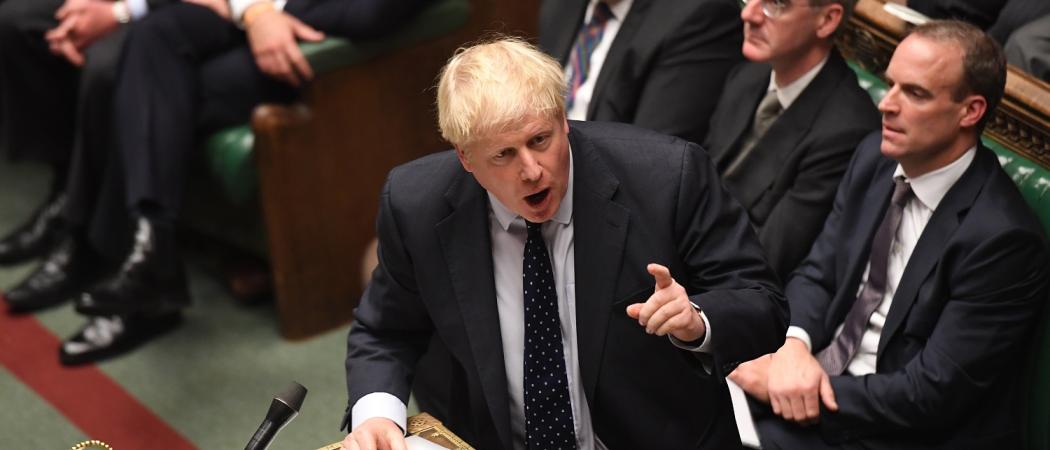 The UK government's proposal to establish a new technology funding agency broadly modelled on the US Defense Advanced Research Projects Agency (DARPA) was a surprise omission from prime minister Boris Johnson's legislative agenda set out on Thursday.
The new DARPA-style body, independent of the current commercialization agency, Innovate UK, was originally proposed in October and appeared as a specific pledge in the Conservative party's election manifesto.
Science minister, Chris Skidmore, had said the new agency would invest £800 million over five years for "blue skies, high-reward, research in artificial intelligence and data". The proposal is thought to originate with Boris Johnson's chief strategist, Dominic Cummings.
Now, however, this specific proposal has been scrubbed and replaced by a more general commitment to "back [...] a new approach to funding high-risk, high-payoff research in emerging fields of research and technology."  The government says it will work with industry and academics "to finalise the proposal."
Having won a resounding majority last week, Johnson was setting out his legislative agenda from a far greater position of strength than on the previous occasion 10 weeks ago. The apparent move away from backing a UK DARPA follows a muted reaction to the proposal from UK scientists, who have witnessed a huge reshaping of the funding landscape in the previous two years, with the merger of seven research councils and Innovate UK to form UK Research and Innovation (UKRI).
Concerns raised by the science establishment over post-Brexit limitations on the mobility of researchers also appear to have been listened to, with the government putting forward plans  to abolish the cap on the number of tier 1 'exceptional talent' visas that are granted.
There is a promise that despite the end of EU freedom of movement, the government will ease the way for researchers and their partners and children to settle in the country. There will be no requirement that partners have a job offer before they come to live in the UK.
Under the R&D funding plan the government says it will help accelerate the ambition to reach 2.4 per cent of GDP spent on R&D by 2027. This boost in funding "will be invested strategically in cutting-edge science, while encouraging the world's most innovative businesses to invest in the UK."
The funding plan will prioritise investment in industries of the future, such as life sciences, clean energy, space, design, computing, robotics and artificial intelligence. The government says it will drive forward development of these technologies by investing in hubs around world-leading UK universities.
R&D tax credit will be increased by one per cent to 13 per cent and there will be review of what R&D-related costs qualify, so that investments in cloud computing and data, which boost productivity and innovation, are also incentivised.
In addition, there is a promise to remove unnecessary bureaucracy in the science funding system.
Trade agreement with no science cooperation?
Manifesto pledges to leave the EU by the end of January and to be outside the single market and customs union by the end of 2020, were confirmed.
Johnson now has a substantial majority of 80 seats – the largest enjoyed by a Conservative leader since Margaret Thatcher in 1987 – leaving him with great power to achieve his goals.
But critics warn his Brexit bill forces the UK to strike a trade deal with the EU by the end of 2020 or exit on World Trade Organisation terms.
Completing a trade deal at such speed "may constrain the ambition" of the future agreement with the EU, warns former UK prime minister Theresa May's former Brexit adviser Raoul Ruparel in a report for the Institute for Government think tank published on Saturday. "It is possible to agree a deal in the time available, but it is likely to be relatively shallow and narrow," the report says.
A swift free trade agreement would be unlikely to include arrangements for future EU-UK science collaboration, Ruparel says. Nor will it touch on internal and external security co-operation, data protection and sharing, aviation, energy, and mobility. "Of these, there are a few decisions of particular importance," said Ruparel.
Any trade agreement without these elements risks delivering a bad deal for industry in particular, with businesses making their plans based on the outcome of the initial partnership with Europe. "The value of the future relationship with the EU for business is the extent it manages to limit change, rather than what it can add after the change has been made," Ruparel said.
The new government has reiterated its commitment to paying its way into the 2021-2027 EU research programme, Horizon Europe, unless Brussels blocks its path.
Currently, the UK receives around £850 million of research funding each year from Brussels. Leading science figures are adamant that this scientific relationship needs to be protected.
The Remain-supporting Liberal Democrat party, which had a disappointing election result, has vowed to keep opposing the UK's departure from the bloc.
"No deal Brexit is [still] firmly on the table," said Layla Moran, Liberal Democrat MP. "We've got to the airport but we've no idea what the destination is going to be."