Eindhoven president Robert-Jan Smits describes the details and the rationale behind one of Europe's largest university-industry deals, worth 'several hundred million' euros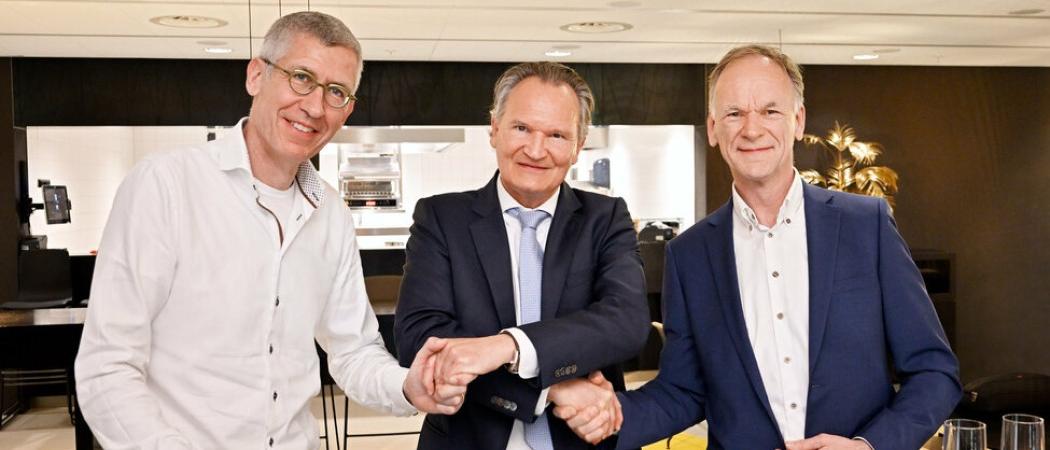 For big universities these days, courting corporate partners is crucial – for funding, advancing research, and training students. But a deal in the Netherlands between Eindhoven University of Technology and the semiconductor industry's ASML stands out as among the largest in Europe.
The agreement for ASML to build a lab and clean room on the university's campus will involve the investment of "several hundred million euros," according to the joint announcement 24 April. It provides the university a corporate research and teaching partner of a stature to compensate for the travails of its original corporate backer since 1956, electronics company Philips – still one of the largest employers in the region but globally diminished due to mounting competition.
By contrast, ASML has a market value topping $250 billion with 2022 sales of $21.2 billion, and a near-monopoly in high-end lithography equipment that chip makers around the world need.
The deal entails construction of a semiconductor clean room on the Eindhoven campus by the end of 2025, which will include a new research laboratory to be shared between the company and university, for the study of photonics, quantum computing, nano materials and chip manufacturing. Up to 40 new PhD positions will be created annually and ASML staff will be involved in teaching.
For ASML – itself spun-off from Philips in 1984 – the deal helps ensure a strong supply of new talent for its labs and factories. In ASML's 2022 annual report, chief technology officer Martin van den Brink noted that on the back of its €3.3 billion-a-year R&D budget the company employs the equivalent 14,000 full-time employees, and that is growing by 1,000 a year. "Our growth and ability to hire large numbers of new staff present challenges," he said. While ASML has other university partners, Eindhoven is within a few kilometres of its corporate headquarters in Veldhoven, and the university produces more than 3,000 science and engineering graduates a year.
In this interview with Science|Business, Robert-Jan Smits – formerly the European Commission's director general for research – discusses the deal and how it fits into the broader European policy environment for research. It has been edited for concision and clarity. Separately, an ASML spokesperson provided more details on the deal, below.
Q: How did the deal come about?
Smits: Well, we have always been "the Philips university" but gradually their share [in university activities] is diminishing. And ASML came quite naturally: they started from Philips. We have been developing many projects with them, in mechatronics, in semiconductors, in optics, in artificial intelligence. I started two years ago to discuss with them a 10-year roadmap for cooperation. We were about to sign it and suddenly they said, "listen, we're getting more and more attracted to the idea of a long-term strategic approach. We want to move our research department, 500 people, to your campus." We have a part of our campus that is designated for an industrial partner – so it ticks all the boxes for them.
Q: Why are they doing it?
Smits: They're expanding at the moment, rapidly. They need talent more than ever. And they know what happened to Blackberry and Nokia: completely put out of the [mobile phone] market by the technology they did not see coming. That's something they want to avoid. Of course, universities can never compete with the enormous research capabilities of Taiwan Semiconductor or Intel; but what we are good at is completely bizarre, out-of-the-box thinking. And a clever company knows that is necessary for them, for the future.
Q: Is the Dutch government funding this?
Smits: Nothing. Nada. Not even a tax break.
Q: But the Eindhoven region is pushing for more government support?
Smits: Eindhoven's Brainport is now the number 2 economic area of the Netherlands. Last year, they [the Dutch government] made available €1.6 billion for infrastructure – a new bus station, e-bike lanes, a railroad station upgrade. And the region had put on the table two months ago a [€400 million] proposal for talent development. We have estimated that in the next eight to 10 years there will be 70,000 technical vacancies in the area. The government has not said no [to the talent plan]. But there's not white smoke yet. (ASML, Smits says, did not make its investment conditional upon the regional support.)
Q: How does a deal like this fit in with strategy for the university sector, generally?
Smits: Universities all over Europe have three objectives. One is education. Second is research. The third is valorisation of research, or impact. This is not high on the [government] agenda; I think it gets only 1.5% of the [public] university budgets on average in the Netherlands. But now, the government is saying we want to see value for money. This ASML deal fits very nicely. We have to make sure that our output supports the economy and societal challenges. Universities have to get out of the ivory tower and to work.
And there's another debate going on, to do with retention rates of international students. It is very political at the moment: in Amsterdam, students come to get educated and then they leave. At Eindhoven, 82% of students stay [in the region to work for at least five years after graduation], and for foreign students its around 65%. This ASML deal will allow us to attract the very best talent from all over the world. A fantastic clean room, with an enormous amount of equipment and facilities, will be an important door-opener.
Q: How does this fit into European tech strategy?
Smits. It fits 300%. European Commission president Ursula von der Leyen and [industry commissioner Thierry] Breton – they all have come to the region in the last two years, because this company holds the key to the production of sophisticated chips. This deal is contributing big-time to strategic autonomy (the current EU policy of building up local tech capabilities in the face of geopolitical tensions.) This deal fits into the whole European agenda.
Separately, a spokesperson for ASML provided further details in an emailed response to Science|Business:
Q: Why Eindhoven University?
A: ASML has its roots in Brainport Eindhoven, just like TU/e (the university's brand name). Not only is this our birthplace, this is also a special place in the world: the technology that is made here is unique, and this technology cannot exist without fundamental research. The most important thing is that we are emphatically looking for physical proximity to the university to encourage cross-fertilisation between disciplines. ASML has been working with TU/e since the 1980s. Over the years, this has become a close partnership in which we try to bring together fundamental scientific research and system engineering. Because we know that this is an important strength of both Brainport Eindhoven and the Dutch economy. By working even more closely together, we can make Brainport Eindhoven a more attractive region.
Q: How does this plan fit into ASML's broader R&D strategy and budget?
A: We see ourselves as architects and integrators, we need our ecosystem to do what we do: to bridge the gap between understanding the fundamental science of lithography and then engineering for it on the cutting-edge. That's why we've always worked closely together with academia: TU/e is closest to our roots (Brainport Eindhoven), but we also work with other universities (albeit to a lesser degree like this latest announcement out of Eindhoven). Next to that, we have our own worldwide R&D centers like in Veldhoven, Berlin, Wilton, San Diego, Pyeongtaek, Linkou and Hsinchu.
Q: Can you give more details on the deal?
A: We announced that TU/e is in the process of granting a long-term lease on the TU/e campus to realise a new ASML research facility in the coming years. Financial-wise this is our biggest commitment, the new research facility will cost several hundred million. We signed an MOU in which we will deepen and expand our cooperation in certain disciplines. Meaning we will develop a 10-year strategic research road map in different fields. TU/e and ASML will invest substantially and equally in the joint programme.
Q: How will the shared facility, and security for it, work?
A: The separate parts for both TU/e and ASML will be closed. In addition, there is a shared part with top facilities where students and researchers from both ASML and TU/e will work together. It is not new for ASML to have a building on an open campus: for example we also do this at the High Tech Campus in Eindhoven. ASML buildings meet all kinds of strict safety requirements, and this new building on the TU/e campus will be no different.