With negotiations stalled, Swiss universities fears hiatus could be at least as damaging as the 2014 – 2016 ban from EU research. National schemes fail to recognise the value of collaboration and won't fill the gap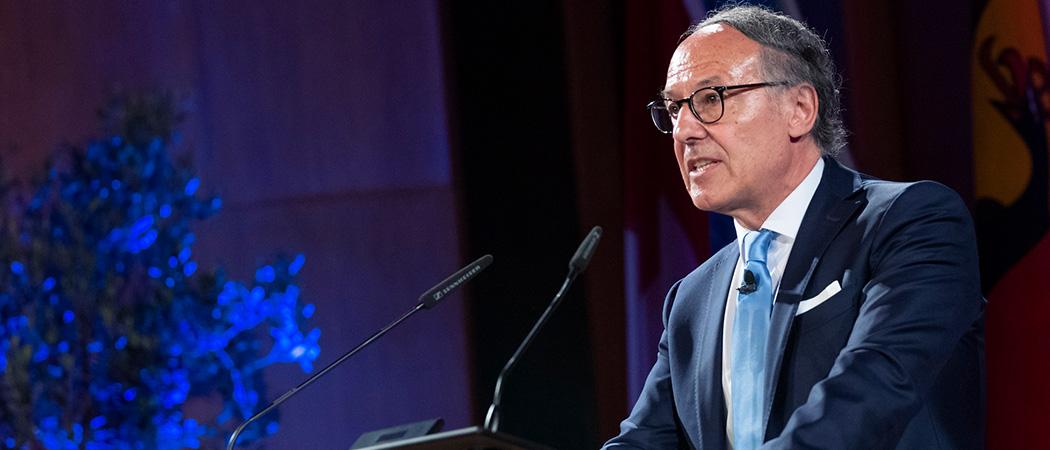 Switzerland will be excluded from Horizon Europe for at least two years, fears Yves Flückiger, president of the country's university association, swissuniversities and rector of the University of Geneva.
With the fundamental rift between Switzerland and the EU unresolved and the Commission's in-tray overflowing with association talks, Flückiger thinks Switzerland will suffer a longer period in the wilderness than from 2014 to 2016, when it was excluded from full association after a referendum vote in favour of immigration quotas on EU citizens.
"I'm afraid it will at least last for two years," Flückiger said of the current freeze. "It will take time," he added. "The EU has many other things to do."
The EU barred Swiss-based researchers from Horizon Europe in June, after Bern walked away from a wider, long-running negotiation to consolidate ties with the bloc into a single framework agreement.
Then in August, the Swiss National Science Foundation (SNSF) announced it was drafting "transitional measures" to replicate lost opportunities, creating funding schemes that "will be aligned as closely as possible" with European Research Council (ERC) advanced grants and Marie Skłodowska-Curie fellowships. Swiss researchers have already been able to apply for this year's ERC starting and consolidator grants, which had deadlines in April.
The problem as Flückiger sees it, is that the Swiss government believes that its own, replica programmes are "enough".
"They totally underestimate the fact that being part of Horizon Europe is more than just the money," he said. The government's approach fails to appreciate the damage caused by loss of wider research links.
This is "the same situation" as 2014, with Swiss politicians still convinced the country can go it alone with alternatives to Horizon Europe, despite evidence of the damage done to Switzerland's scientific leadership then, said Flückiger.
"We thought we had enough evidence to convince our politicians," he said. "But I think they didn't really listen to it."
One difference from 2014 is that Swiss politicians can point to partners outside the EU, with the UK having left the bloc, and China having risen to overtake the US on some measures of research prowess.
But the quantity of scientific papers co-authored by Swiss and EU scientists still dwarfs those with China and North America. "Look at the reality," Flückiger said. "Our field of collaboration is really Europe."
Third country terms
Swiss researchers will still technically be allowed to join Horizon Europe projects as a third country. But Flückiger is sceptical this fix can come anywhere close to filling the gap left by association. "I don't see any possibility to do it better than it was in 2014," he said. "I don't see any sign of a Plan B".
As in 2014, all researchers, not just those based in Switzerland, would be able to apply for SNSF transitory grants to conduct research at Swiss institutions. But even if the financial conditions are comparable, the country will lose the renown that comes with winning ERC grants, some officials fear, and lacking the critical mass of the ERC competition, the Swiss equivalent risks not being as competitive.
"It's not about money here, it's about international recognition," said Jean-Luc Barras, head of institutional relations at the SNSF. "The European schemes are quite impossible to replicate, so we would align to them as closely as possible."
"It's a band aid," Thomas Jørgensen, senior policy coordinator at the European University Association, said of Switzerland's replica grants.
The Swiss State Secretariat for Education, Research and Innovation acknowledges the measures won't make up for non-association.
"It is not the goal of Switzerland to replace Horizon Europe participation with national schemes," a spokeswoman said. "The fastest possible association to Horizon Europe and its related programmes and initiatives remains the declared goal for Switzerland". Instead, the hope is to mitigate the impact "to some extent", she said.
The Swiss government argues that there is no reason Horizon Europe association and the wider framework agreement cannot be separated out in negotiations. "The scope of the framework...only covered specific market access agreements and never had any linkage to research cooperation," said the spokeswoman.
This is legally true, agreed Jørgensen, but the European Commission has nonetheless made the "political choice" to entwine them in order to increase pressure on the Swiss. "It's part of the Commission's strategy," he said.
One stumbling block to an agreement is what the EU says Switzerland owes in an outstanding contribution to cohesion funding. "It is politically impossible to consider a new financial relationship with Switzerland as long as Switzerland is not paying its financial contribution to the EU cohesion policy," a Commission spokesman said.
The Commission also wants Switzerland to agree a new overall deal on participation in EU programmes. "Here, there can be no surprise: we will take into account the development and the prospect of the EU-Swiss relationship as a whole," said the spokesman.
There are two possible endgames to the deadlock. First, Switzerland could return to the negotiating table and hammer out an overall framework agreement, said Jørgensen.
Or the commission could change tack and allow Horizon Europe negotiations to proceed separately. 
But given how long it is taking to finalise the UK's association to Horizon Europe, any deal with the Swiss could take a long time indeed, he said.
From the British point of view, negotiations are now running behind. Minutes released earlier this week record that in June the UK raised concerns about a "seeming delay to the UK's association to various union programmes, including Copernicus, Euratom and Horizon Europe," during the first meeting of a joint council implementing the EU-UK Trade and Cooperation agreement.
But this week also brought a modicum of relief to Brussels' association headaches: on August 24 it was announced Kosovo has become the first third country to agree Horizon Europe association terms.*