The EU's outgoing health chief reflects on three decades in Brussels and how life has got steadily better. But he worries citizens are now forgetting the benefits of science. That could threaten recent medical advances, he says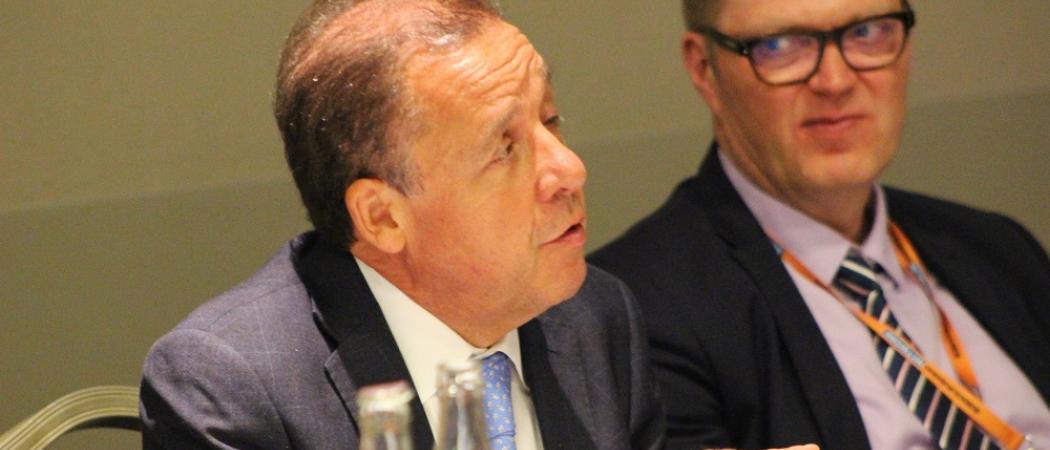 One of Europe's most powerful voices in healthcare, Xavier Prats Monné, wants to know why many people believe the world is getting worse rather than better. This bleak assessment, he says, is not only wrong – it's damaging.
"I receive every day letters from people who think vaccination is some conspiracy. It's extraordinary. Bit by bit citizens of western societies are forgetting about the benefits of science and knowledge. We clearly don't remember the half a billion people who died of smallpox just in the 20th century," he said.
The fear that vaccines are somehow dangerous is one specific, nefarious effect of a more worrying erosion of the integrity of evidence and science Prats Monné sees around him.
"Developing countries are often more optimistic about the future of humanity, in spite of all the challenges they face" he told Science|Business in an interview this week. "We have a developed country syndrome, where we've begun to take many things for granted."
Vaccine angst, which was a flash point between mainstream parties and populists in this year's Italian elections, is a "significant, dramatic threat" to the world, he said. "Is it that we're not doing enough to sell the merits of vaccination? Perhaps not."
Prats Monné, Spanish and 62, will leave the Commission, his workplace for just over three decades, at the end of September to focus on his main passion, education. He will advise the people behind a global non-profit organisation called Teach for All, which has sought to transform education in 48 countries.
After joining the Commission in 1986 Prats Monné went on to cover briefs in employment, culture, youth, sport and foreign affairs. For the last three years, he has run the Commission's 900-employee department of health and food safety. In two weeks, he will pass the baton to another career civil servant, Anne Bucher, current chair of the Commission's Regulatory Scrutiny Board.
Magnifying bad science
For Prats Monné it's not easy to explain the prevailing pessimism, though the internet has probably made it easier for anyone with a political agenda or an axe to grind, he said. The power of bad science is magnified by social media.
The deeper mystery is why we have trouble recognising good things. Despite the very real global inequalities and some peoples' dark imaginings, statistics show that, around the world, improved health care has dramatically reduced infant and maternal mortality, and extreme poverty has been steadily decreasing for the last 25 years.
Europe's education system, though flawed, is one of the best in the world. "Fifty years ago, 10 per cent of Europeans went to university; today it is 40 per cent. How can we complain about this?" Prats Monné said.
Progressive change, by contrast, gets overlooked. In the minds of many, the EU is always preparing for chaos, but it is also the driver of many good things, Prats Monné says, even if they get over-shadowed by the crisis du jour.
"You cannot say the EU doesn't care about education. It has done a lot: more money, and great incentives for mobility and cooperation. At the same time, I'm not shocked when there's a big focus, or resource allocation, on immediate problems like the migrant crisis. That's to be expected," he said.
The Commission could do more, "but lacks hard competencies – in education, in health. It's the contradiction at the heart of all the debates around the EU," the Spaniard said.  
Prats Monné has heard many stark warnings about the EU's direction, including gossip that the health portfolio could disappear entirely under future leadership of the Commission (he has always batted the speculation away).
Viktor Orbán, the Hungarian prime minister who never lacks dark warnings of his own, says only one subject matters in next year's European Parliament elections: migration.
"It's an extraordinary simplification of all the challenges we face," Prats Monné said.
Simpler, not better
The memories are fond. In 1991, Prats Monné, who was born in Tarragona in northeastern Catalonia and grew up in Rome, was appointed assistant to the spokesman for Commission president Jacques Delors. "I remember the time under Delors – that was unique, really; a moment when the Europe we know now was being constructed," he said.
A question he fields a lot recently is whether the EU works better now, or back when he first joined the executive arm.
"It wasn't better, it was simpler, because we were really only talking about western Europe then. The picture elsewhere was completely different. China and India, for all intents and purposes, did not exist as global forces. Then in 2004, the EU expanded to include many Central and Eastern European countries, and gained more diversity in our societies."
An anthropologist by training, Prats Monné admits that he was "so ignorant about healthcare" before taking his current job three years ago. Now, however, he can confidently riff about algorithms that have become better than doctors at detecting melanoma and knee surgery statistics in Austria and Portugal.
What else has he learned? "That we need to find common solutions as fellow human beings, not as separate nations or states," he said. "And with all our failings as a project, as a Union, I can't think of a better way to do it than through European integration."
People in Brussels say they will miss Prats Monné's candour and wit. He is looking forward to more free time, but also the opportunity to work with 20-30 year olds at Teach For All. Their ingenuity and passion, he said, keep him optimistic.
Despite his occasional encounters with conspiracy theorists, Prats Monné believes in the end, evidence and truth win out. "Mark Twain said that 'a lie can travel half way around the world while the truth is putting on its shoes'. But there's a limit to how far a lie can travel. Truth is the tortoise that wins the race," he said.