The incumbents of the aerospace industry are lagging behind free-thinking new entrants when it comes to meeting climate change targets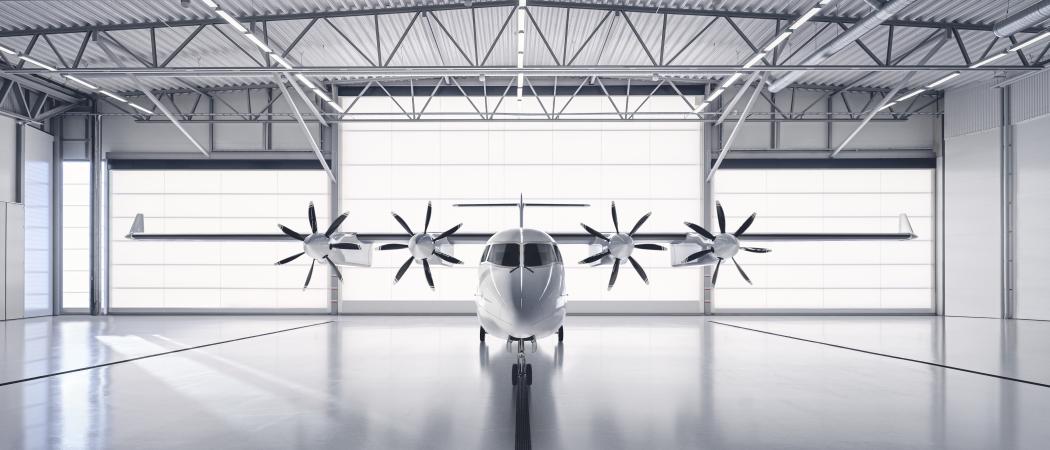 Ask how the aviation industry will meet its net-zero carbon commitments, and you expect the answer to come from one of the giants, from Airbus, Boeing or Rolls-Royce for example. But a surprising number of startups have something to say on the matter - companies that already have zero-emission craft in the air, and orders on their books.
"Startups have a different mindset, they are free to re-think," said Lukas Kaestner, co-founder of Sustainable Aero Lab, an accelerator in Hamburg that mentors clean aerospace startups. This agility contrasts with the giants, who have cumbersome corporate structures and are tied to established supply chains. "Getting to zero-emission aviation will require new kinds of technologies, new supply chains, and more speed than we've seen from aviation in past decades," Kaestner said.
By the time a Goliath like Airbus puts its planned hydrogen-powered planes into service in 2035, a host of Davids will already be airborne. Eviation from Israel and Heart Aerospace from Sweden have announced orders for their new zero-emission cargo and passenger planes, from DHL and United Airlines respectively, for delivery in 2024 and 2026. Meanwhile, Wright Electric in the US has set 2026 as the delivery date for the Wright Spirit, a retrofitted battery-electric plane able to take 100 passengers for a one hour flight, from London to Paris, for example.
ZeroAvia, based in the UK and US, has already flown a six-seat plane retrofitted with its hydrogen-electric system. It is now completing work on the powertrain for a 19-seat aircraft, which is expected to fly for the first time this month. "We hope to finish certification for that in 2024, and then introduce a larger aircraft, perhaps a 40-seater, to the market in 2026," said Sergey Kiselev, company vice-president and head of operations in Europe.
High barriers to entry for startups
With its reliance on precision engineering, aviation is not an easy sector for startups. "You need to invest a lot of money up-front, there is the challenge of safety certification, and the long business cycle until you might eventually break even," Kaestner said.
Mapping the area in August last year, Sustainable Aero Lab identified 37 "next-generation" startups working on technologies that would help commercial aviation decarbonise, of which 20 were active in electric or hydrogen-powered flight. This list complements a survey of established aviation startups by the Lufthansa Innovation Hub, which adds a further 18 companies to the electric and hydrogen sector.
Clean aviation startups also have to worry about the big players belatedly applying their considerable resources to the problem, particularly now that the industry has adopted a target of net-zero carbon emissions by 2050. This commitment was only made in October 2021, bringing aviation into line with the Paris climate goals for the first time.
Airbus has its three 'concepts' for zero-emission aircraft, entering service in 2035. Driven by hydrogen combustion and hydrogen-electric power, these would carry 100-200 passengers on regional or transcontinental flights. But Boeing has adopted a wait-and-see approach, preferring to meet its immediate climate goals with sustainable aviation fuel (SAF). This is a kerosene substitute produced by carbon-neutral methods, which can be used in conventional aircraft engines with little or no modification. The company wants all of its commercial airplanes ready to fly on SAF by 2030.
The challenge here is not the flying per se, but finding enough SAF to meet demand across the industry. The International Air Transport Association estimates that SAF could contribute around 65% of the emission reduction required by 2050, but this will require a massive increase in production: from around 100 million litres a year at present, to 449 billion litres in 2050.
This leaves a window of opportunity for clean aviation startups, and even a relatively new entrant such as Dutch startup Venturi Aviation thinks it can beat the big companies to the punch. Set up in 2020, it plans to design and build a regional battery-electric aircraft for 44 passengers, delivering in 2029. "It's high-risk, but we only have to build one aircraft design," said Joost Dieben, co-founder of the company with Jan Willem Heinen. "So, we are focused and we can go far further in our risk-taking, because everything is new and we have nothing to lose."
This contrasts with the large, established firms, where new projects have to fit in with a legacy of past designs, manufacturing facilities and business planning. On top of that, they have competing demands for their cash, particularly in the context of pandemic recovery. "I'd even argue that we have more funds at our disposal than the major companies, because all the money we raise goes towards achieving our one goal," Dieben said.
With a small team of aviation engineers, Venturi began by building its own multidisciplinary design framework capable of simulating different shapes and sizes of electric aircraft, varying factors such as battery performance and configuration, engine configuration, and materials. "We found an aircraft design that gives us the highest efficiency with the battery density we expect in 2027-28, which is our launch date, but which also has a business case if battery density stays where it is today," said Dieben.
The design selected looks rather conventional: a high-wing aircraft whose main novelty is the eight engines strung along its wide wings. More futuristic designs, such as a delta wing, were tested, but following traditional design has a strategic advantage, Dieben said. "We know how this type of aircraft flies, and it makes use of many conventional structures and parts that are already out there and being built by suppliers. That makes our technology readiness level much lower and reduces risk in getting it certified as airworthy."
The innovation challenge ahead is to design an electric powertrain, with airworthy battery packs, the cabling and the engines to get the plane in the air. "There are not many aircraft out there with eight engines distributed along the wings. That gives us benefits in terms of lift, but also raises issues that aviation doesn't know about yet," said Dieben.
Startup flexibility
The company also has plans to design a charging infrastructure that will ensure its plane can be refuelled and back in the air within the 35 minutes demanded by airline operators. As well as being part of the business plan, this will exploit the short working life of the aircraft batteries by redeploying them for short-term energy storage on the ground.
Asked what startups such as ZeroAvia bring to innovation in clean aviation, Kiselev cites agility, flexibility, and a willingness to work incrementally. "We're not afraid to take small steps, unlike the big companies who want to break the world speed record and then spend five years working on it. We would rather, in our case, do part of the system on hydrogen and the rest on batteries, and fly. That way we learn lessons and can implement them immediately in the next design iteration."
The company is working with technologies initially developed in the automotive industry. "We are already doing some of the research to fine-tune that technology to aerospace, addressing challenges such as the size and weight of the powertrain, its thermal parameters and so on," Kiselev said. "We are trying to solve those challenges with our partners, who are mainly startups as well, or established players outside aerospace."
He thinks that such collaborations are less intimidating when a startup is involved. "If a big company comes along and says 'let's work on fuel cell development and testing' most people would be thrilled, but scared at the same time. Working with us is quite different, and we can also give our partners quick feedback without things getting lost in bureaucracy."
Kaestner also sees this difference. "Open innovation has not yet been learned in aviation," he said, recalling how unusual the ZAL Centre of Applied Aeronautical Research in Hamburg seemed when it opened in 2016. "This is a research campus with 30 different partners, with halls everyone can look into, and no barbed wire fences," he said. "The approach is accepted now, but could still go a lot further, in that people will share their ideas with others at first hand, as has been learned in Silicon Valley."
The Sustainable Aero Lab has also adopted this approach, bringing together mentors from aerospace and venture capital to advise startups from across the spectrum of clean aviation. "Having these experienced people, with their diverse backgrounds, discuss among themselves the challenges faced by each specific startup produces a very interesting acceleration in finding a way forward," said Kaestner.
Just a year old, the lab is in the middle of its second round, with 10 companies beginning the acceleration process. "We've had a very diverse range of startups, from electric flight and hydrogen, to sustainable aviation fuel and software," Kaestner said. "And they face all kinds of different challenges. For some these are technological challenges, for others it is markets, the business model, financing, or regulation."
The incumbents are certainly keeping an eye on clean aviation startups, with Airbus particularly attentive. In November last year it announced the creation of Airbus Scale, an innovation unit that aims to build new companies from its "underutilised assets" and support independent, later stage startups. "We will look outside to seek, and inject into Airbus, startups that have relevant technology for our future zero emissions ambition," said Sabine Klauke, chief technical officer of Airbus, at the time.
It remains to be seen how closely these startups want to work with Airbus, and if being 'injected' into the giant is an attractive prospect. Inspired by the likes of electric car maker Tesla, many are determined to bring their innovations to the market themselves, and are confidently seeking venture capital to support their scale-up and growth. "The mindset has really changed, from exiting into one of the big companies, to trying to make your own way," Kaestner observes. "We will still see buy-outs, of course, but also a lot more startups striving for independence."