President of Spain's National Research Council wants basic science to get a larger share of Horizon Europe's budget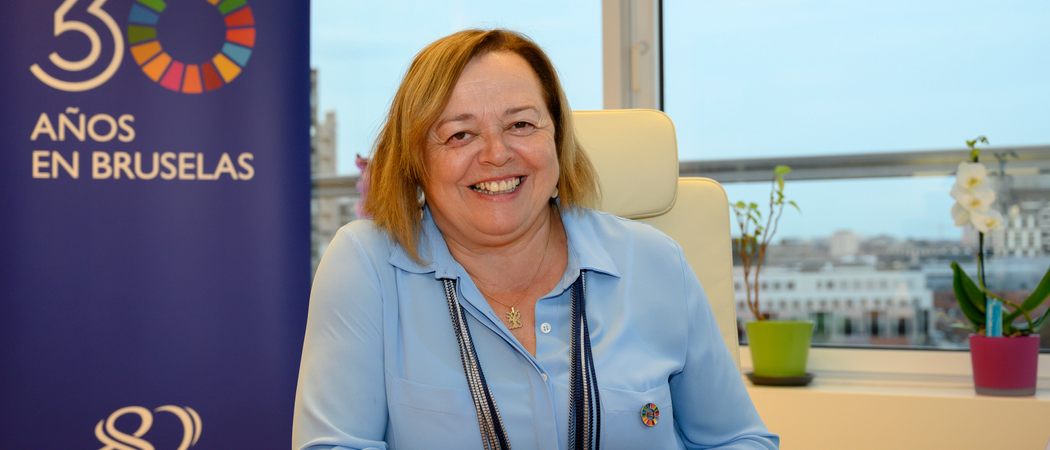 The president of Spain's National Research Council says basic scientific inquiry should make up a larger share of Horizon Europe, the EU's next research programme.
"I would really reinforce it," said Rosa Menéndez, a chemist who since late 2017 has been president of the Consejo Superior de Investigaciones Cientificas (CSIC). "Look at Europe, America, and Asia – where is Europe really important at the moment? Excellent science!"
In Horizon Europe, the European Commission wants to increase EU research spending overall, but cut the proportion for 'Excellent Science,' which funds scientific inquiry without telling researchers what to work on. The extra money would go towards politically defined goals like boosting industrial competitiveness, developing new technologies or addressing challenges like climate change.
Menéndez stressed that both free scientific inquiry and goal-oriented research are important – what matters is how the research budget is divided up between them. "We must keep both, we need basic research, but we also need competitiveness, otherwise Europe will always be behind," she told Science|Business.
Spending on basic science could fall in Horizon Europe
Under the Commission's €94.1 billion proposal for Horizon Europe, pillar I, covering Excellent Science would receive €25.8 billion, which is just over one quarter of the budget. But in the current Horizon 2020 programme, pillar I is getting €24.4 billion out of €77 billion, nearly one third.
"The critical issue here is the ratio" said Elena Dominguez, CSIC's vice-president. "We don't want to see pillar I decreasing as a proportion of the budget."
In the event, the final amount spent on basic science could end up being less than currently proposed, and even less than in Horizon 2020, because of difficult negotiations between EU member states over the next long-term budget for the EU as a whole.
The UK, one of the most important contributors to EU coffers, is leaving. The German government, meanwhile, wants to spend far less on the EU than the commission is asking for. On top of that, east European governments are unhappy the commission is proposing to move money away from farm subsidies and cohesion funds for poorer regions, in order to spend more on research.
With every member state having a veto over the budget, the only way to placate Germany without further irritating the east Europeans may be to cut Horizon Europe. If the current proportions within the budget stay the same, pillar I could end up being smaller in Horizon Europe than in Horizon 2020.
CSIC doesn't want to see that happen. "There is no way to innovation-based knowledge unless we cover the preliminary steps – which is to cover fundamental knowledge," said Dominguez.
Jorge Velasco, head of CSIC's Brussels office, said however the pillars stack up, basic science ultimately has to play a role in all of them. "We are asking for transdisciplinarity: we have to do basic science at all levels."
As an example of how this might work, Velasco pointed to Horizon Europe's new missions, as-yet undefined projects that will concentrate research funds on big challenges, like cancer. "For the missions, the best scientists have to be there," he said.
The tension between the EU's commitment to fundamental science and investment in goal-oriented research and innovation bubbled over recently in the controversy over the new job title of commissioner Mariya Gabriel, who in November will take over responsibility for research policy. Gabriel's title, 'Commissioner for Innovation and Youth,' has infuriated some for its omission of science and research.
Menéndez dismisses these concerns. "I'm not very worried about the name," she said, "I am pretty sure that under this name, science and innovation are included." Menéndez thinks the new job title has more to do with the image the European Commission wants to convey to the public than any material changes in the research commissioner's role.