New 'G6' group of top French, German, Italian and Spanish institutes aims for more collaboration, and to 'make sure politicians understand the urgency' of science investment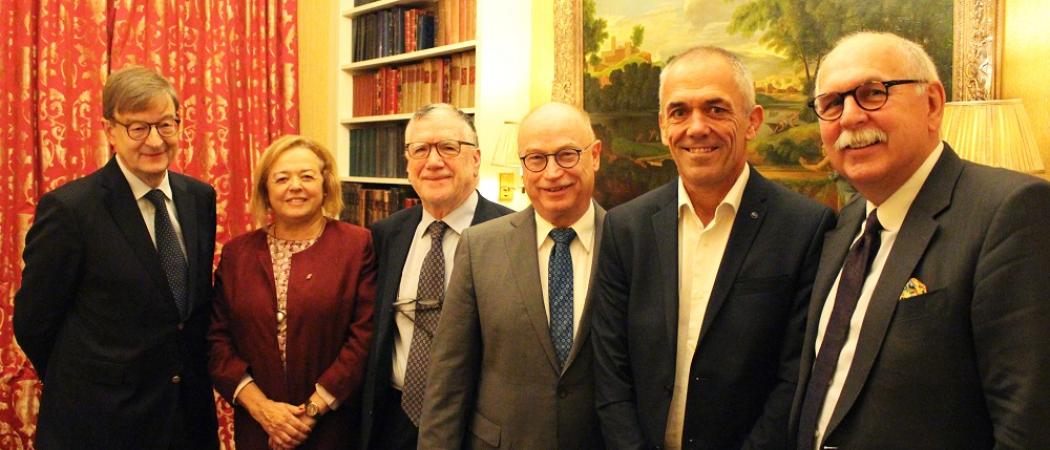 The heads of Europe's six major science organisations are joining forces to urge that politicians fund more, better research, and to collaborate more in artificial intelligence and other emerging fields.
"We are entering a new age in history. We live in a time of brutal change. We have to make visible the contribution of research to the future of Europe," said Martin Stratmann, president of Germany's Max Planck Society. Investing in fundamental, excellent scientific research, is essential to keep Europe unified and competitive in a tech-centric world. "We have to make sure politicians understand the urgency," Stratmann said.
"For us, it's a question of the sovereignty of Europe," said Antoine Petit, president of France's National Centre for Scientific Research, or CNRS.
In a joint interview with Science|Business, the six research chiefs – of Max Planck, CNRS, Germany's Leibniz Association and Helmholtz Association, Italy's National Research Council (CNR) and Spain's Council for Scientific Research (CSIC) – said they are forming a "strong, informal group" to argue the political case for science in Europe, and develop new research projects together. In total, the six organisations employ more than 50,000 scientists and deliver a large share of the world's top-cited research.
AI on the table
At their first meeting over dinner on 16 October in Brussels, the six presidents began discussing possible new collaborations in artificial intelligence and machine learning – which could involve inter-governmental funding, EU money, or both. In AI, said Petit, "I am very impressed by the big efforts in Asia – even Canada. We cannot wait. It's now we have to make an important effort."
European politics is a key motivator for their plan to meet regularly in a "small, informal group", which they call the G6. In a joint visit to Brussels on October 16 and 17, they met senior members of the European Parliament to call for a bigger budget for science in the EU's planned €94.1 billion Horizon Europe programme. They also want to see a continued emphasis on promoting excellent science in the programme and the preservation of what they regard as a delicate balance between national and EU programmes, between basic science and applied research, and between Europe's richer and poorer regions.
"We all feel Europe can do more," said Otmar Wiestler, Helmholtz president. "R&D can be a unifying theme for Europe, a real future strategy for Europe. We are one of the driving forces for research and innovation world-wide, and positioning Europe [correctly] would make us much more attractive for international investment. It's all about brilliant brains."
'Not much sympathy'
The group's formation comes at a critical moment in European politics, with the EU's R&D budget under fire and Europe at risk of splintering as the UK leaves and East-West political conflict rises. The G6 think science can help, but they feel few European politicians are listening. "The Commission as a whole could position R&D much stronger as a major driving force for Europe," said Wiestler.
For CSIC President Rosa Maria Menéndez López, "It's really important to communicate what we are doing, to show people the relevance of science, of joining together to improve the European situation."  
There is a long history of European scientific organisations congregating to shape policy – with frequent tensions arising between those that pay the bills and those that spend the money. From at least 1972, various groupings have arisen, large and small. Most recent was the formation in 2011 of Science Europe, a Brussels-based club of 43 research funders and performers that includes some of the G6 members. But the science bosses said their researchers already collaborate heavily, so doing so at board level is natural – and could make things happen faster.
 "We are a small group of people who can act very fast, very flexibly, without formal organisational aspects," said Wiestler.  
Missing: the UK
Notably absent from the group, however, is the Royal Society or any other UK science organisations – because of Brexit. The G6 said they hope – and expect – UK-based researchers will continue to collaborate with their organisations; but equally, it isn't their job to fix Brexit.
"Brexit is irresponsible. It's a crazy plan," said Leibniz President Matthias Kleiner. "And science should not be asked to heal this crazy outcome. But if the policymakers do their work, then we are prepared to include our British colleagues as best as possible."
Massimo Inguscio, CNR president, said quantum technologies and climate research are particularly fruitful fields for future UK/EU collaboration, and British research organisations clearly want to continue working with his and other EU countries. Whatever happens in the rest of the Brexit talks, he said, "my feeling is it will end well" for science.
In coming days, the group plans to release a statement summarising their common views on the Commission's Horizon Europe programme. Like most leaders of Europe's science and technology world, public and private, they think the Commission's plan is too timid – with some of the G6 members urging a boost to between €120 billion and €160 billion for the 2021 – 2027 programme. The current seven-year programme is €77 billion, and the Commission has proposed €94.1 billion for the next. The G6 said European governments overall should honour their prior pledges to devote 3 per cent of GDP to R&D; the current figure is just short of 2 per cent.
'Excellent' science
But what's of most concern to the G6 is the fundamental science part of Horizon, and the principle – embodied in the European Research Council – that competition for EU funding should be open, bottom-up and based on the excellence of the proposed research. EU programmes have a way of influencing policy in the member states, so this isn't just a Brussels matter, said CNR's Inguscio. "Excellent science depends on creativity, meritocracy and competitivity." From the founding Treaty of Rome in 1957, science has been at the core of the European community – and the ERC plays a pivotal role today. It promotes "excellence and meritocracy without any geographical bias, helping to align the national scientific strategies in order to achieve a Europe of Science."
In that light, the research bosses called into question the Commission's growing emphasis on applied research, or innovation, through creation of a new European Innovation Council. Leibniz's Kleiner critiqued a politically popular view that "innovation is a one-way street" from lab to market, when in fact there's a complex series of interactions among research, industry and society. "If there is a successful EIC, it will be if there is really a strong interaction with what's going on in science and research."
They also urged that Horizon Europe should not be used to bridge the scientific gap between Europe's richer and poorer countries. The Commission has proposed a rise in this kind of "capacity-building" funding, but several East European delegations have complained it isn't enough – and Dan Nica, a Romanian MEP who is one of the key legislators on the programme, is urging Horizon Europe be redesigned to cut the East-West gap by 50 per cent.
'A striking divide'
Wiestler said he understands the problem. "The 'spreading' issue is a real one. We have a striking divide in Europe: A limited number of countries that strongly invest in research and development which are quite active and successful. Then there are 15-plus countries which are continually falling behind. They fail to invest. They are not competitive. Many of these countries suffer a traumatic brain drain."
Indeed, it isn't just the east with problems. In Spain, said Menéndez, "we have many people who left in the (2008) crisis and we are now trying to get some of them back. It is very important for all of us to retain talent."
The answer, said Stratmann, isn't to lower the grant criteria for Horizon Europe so the easterners win more of the money. Rather, in the US as in Europe, "we need hot spots" of excellence. "You must make sure we have a dozen places that are like (scientifically prominent) Boston. You cannot have 100. We cannot aim for an even distribution" of research money. For regional development, he said, the EU already has larger programmes separate from Horizon Europe.
The research chiefs also want to ensure a good balance between EU research funding and national grants. An "added value" of European programmes, Kleiner said, should be enhancing cooperation. "If the challenges are broad enough, complex enough, then we need European cooperation in the Framework Programme." Brussels should not duplicate what the member-states can do on their own. Instead, he said, "we have to make clear that Europe is a team, and not an orchestra with one conductor" in Brussels.