The last six months have seen a flurry of announcements as brain-hungry countries try to lure researchers, entrepreneurs and students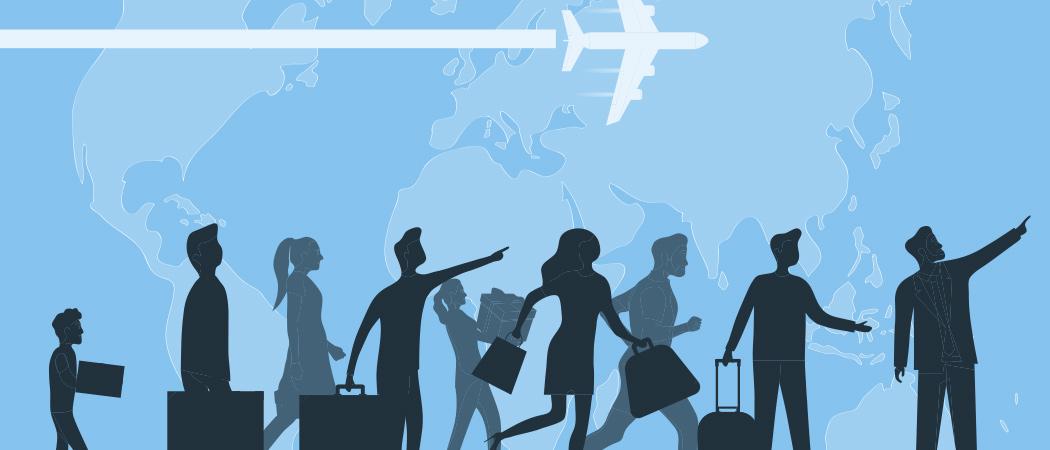 Countries and universities are once again engaged in a war for talent over researchers, entrepreneurs and students as the world emerges in fits and starts from a pandemic-induced slowdown in international migration.
Spurred by the need to be on the cutting edge of new technologies like artificial intelligence in an age of geopolitical rivalry between the US and China, a host of countries have in the past six months unveiled new academic recruitment drives, visa schemes and open-door policies to poach the brightest minds.
"There is increasing competition for talented individuals, and there's no doubt it's going to be with us for the foreseeable future," said Ian Walmsley, provost of Imperial College London, which in December launched a new programme to recruit up to four short-term "visiting professors" a year from black and underrepresented backgrounds.
"If you want to be in the game, smart people are the primary driver, generating new ideas and new opportunities," he said. Countries are increasingly aware how new technologies like machine learning will shape the future and this is pushing them to recruit.
Last month, Canada set out plans to hire 1,000 new academics to reinforce, among other things, life sciences and biomedical research.
This will dramatically swell the size of the Canada Research Chairs Programme, which since 2000 has set up 2,285 professorships. As with Imperial College, the motivation is not just competitiveness, but diversity and there will be a "focus on improving gender and racial equity among faculty" as Canada hires.
A post-Brexit UK, keen to remain attractive, last July announced a new strategy to "make the UK the most exciting place in the world for researchers to thrive and pursue cutting edge research", pledging to cut research red tape, open up more career progression opportunities, and tackle bullying and harassment.
At the same time it unveiled plans for a new "high potential individual" visa open to graduates of a "top global university" – a criterion that remains undefined – even if they have not secured a job in the UK.
This followed the creation of a "global talent visa" the previous year to entice winners of specific prizes – like the Nobel Prize – and scientists, artists and tech prodigies endorsed by bodies like the Royal Society.
Luring digital nomads
In December, Spain unveiled a draft "startup law" that would hand company founders, employees, investors and "digital nomads" a special type of visa for up to five years. The law also proposes cuts in corporation and income tax for startups, and streamlined bureaucracy.
Greece, Mexico and Caribbean countries have also recently introduced visas to attract "digital nomads," noted Jean-Christophe Dumont, head of the OECD's international migration division. The hope is to lure generally young and highly skilled workers. Around 30 OECD countries also have highly welcoming start-up visas. "It's more or less and open door," Dumont said.
International students are now being targeted as travel has returned to something like normal. In December Finland said it wanted to attract significantly more international students, and plans to increase their rights to work while studying and extend the post-graduation visa to help them find work.
Study in English
A report from the British Council last year found that the US, Canada, Australia and UK are facing increasing competition from non-English speaking nations for students who want to study in English. Almost one in five English programmes are now offered outside the 'big four' Anglophone countries, with courses on offer having grown 77% since 2017, spiking in particular last year as the pandemic eased.
China has increased its offering almost fivefold in this period, and the report predicts the country will overtake continental Europe by the end of the decade.
In one sense, this competition for researchers and innovators is nothing new. The phrase "war for talent" was coined in 1997 by a McKinsey consultant and has been invoked ad nauseum ever since.
"Most countries unveil a new scheme, make an announcement, or simply implement another round of an existing scheme, every year or two," said Simon Marginson, director of the Centre for Global Higher Education in the UK.
But with pandemic restrictions far less strict than they were during spikes in cases in 2020 or 2021, pent-up competition has arguably been uncorked.
"It may be that some policies on mobility of talent have been held in suspension while physical mobility was inhibited by travel restrictions, and are now returning," said Marginson.
In 2020, as governments halted flights and created tough testing and quarantine regimes to halt the spread of coronavirus, permanent migration to OECD countries fell more than 30% to its lowest level since 2003, a report by the organisation revealed in October.
Although there is no specific data on researcher migration, highly skilled workers have been hit even more severely, said Dumont.  
Students also stopped crossing borders. The number of study permits delivered in 2020 fell by 40% in OECD EU countries, and 70% in the US and Canada.
Now, there is once again "certainly a competition" for the highly skilled, Dumont said, although he pointed out that migration has been getting back to normal, albeit haphazardly, since the third quarter of 2020.  
Still, researchers and students may not be as willing to jump on a plane and relocate as they were pre-COVID-19, Dumont suggested. The pandemic has shown they are able to do research, teach and learn remotely online. "In the universities, I would be surprised if it went back really quickly to normal," he said.
US/China tensions
One other driving force behind the contest for brains is the geopolitical confrontation between the US and China, which sharpened during the pandemic.
In the US, worries about losing a global talent war have been rising over the past few years, leading to many think-tank and academic reports, exhortations from the Biden administration for action, and several legislative proposals.
The need for action is particularly acute in emerging technologies, such as artificial intelligence and quantum computing. An October 2021 report into quantum technology by the US government advisory body, the National Science &Technology Council, noted that about half the country's quantum-related graduates are foreigners. In recent years, about 70% stayed in the country to work for at least 10 years, to the benefit of US tech development. But, the report said, "foreign nationals are increasingly being recruited by and moving to countries other than the US."
Indeed, according to a report by the Washington-based Center for Strategic and International Studies (CSIS), Canada has gone so far as to advertise on billboards in US tech hubs:  "H-1B Problems? Pivot to Canada."
Immigration reform is a "national security imperative", concluded the National Security Commission on Artificial Intelligence last year.
A big part of the US anxiety focuses on talent competition from China. As the CSIS report notes, China's tech spending is on the verge of surpassing that of the US, and it is already producing more home-grown science and technology graduates than the US. The key to continued US strength, CSIS says, is immigration reform.
Washington's limits on immigration "have not materially changed since the 1990s," despite the US tech booms since then, the report says. "Under the current system, an Indian STEM PhD holder who receives a job offer today faces a projected wait time of 84 years" for a green card.
But so far, with the US Congress deadlocked by its own political infighting, not much has happened beyond rolling back some of former president Donald Trump's immigration constraints. In December, for instance, a Democratic push for immigration reform was stymied when Senate rules blocked its inclusion in president Joe Biden's massive social spending bill - and then the bill itself was blocked, at least temporarily.
Meanwhile in China, since the 2000s, Beijing has tried to lure western-educated Chinese researchers and entrepreneurs back home through initiatives like the Thousand Talents programme.
But more recently the country has set its sights on hiring foreign scientists too, said Dumont, although with limited success in academia.
In December, president Xi Jinping said the country would "exhaust all means" to attract global talent.
In addition, "a lot of China's focus is also on retaining top talent trained domestically," said Remco Zwetsloot, author of the CSIS report. Last July, the Beijing Academy of Artificial Intelligence said it would hire AI-related graduate students who had offers to study abroad, but whose enrolments had been postponed or visas rejected, he said.
However, entry and living conditions may thwart China's ambitions to become a hub for overseas talent for now.
China's dogged zero-COVID policy, which has made even limited business trips a bureaucratic nightmare of paperwork and quarantine, is one such hurdle.
"COVID restrictions have made it hard even for foreign students in China to return to resume their studies, this may also affect foreign talent inflow more broadly," said Zwetsloot.
And more broadly, internet censorship, pollution and a lack of spoken English could "limit" the country's capacity "to attract people on a large scale," said Dumont.