A new round of €384M in Canadian grants wins applause from the R&D community, but also questions about how fast science and technology budgets can keep growing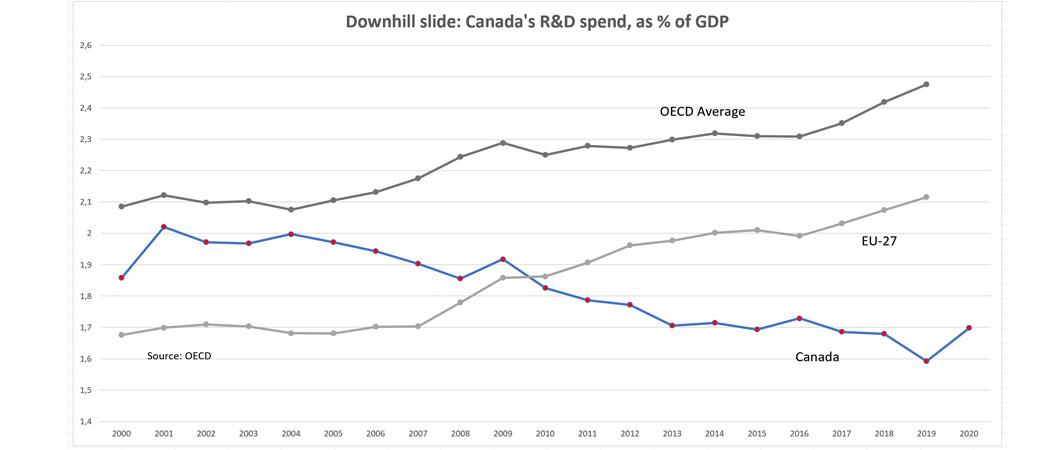 The Canadian government continued its six-year effort to boost R&D spending with the announcement on 12 January of another C$550 million (€384 million) round of grant awards. But in the country's research community the main question is: "what's next?"
Since coming to office in 2015 and narrowly keeping his job in the 2019 and 2021 elections, Prime Minister Justin Trudeau pledged to shore up the country's previously sagging science and technology base. Last month, the government published a list of 33 science, innovation and industry "commitments" it is planning in coming years, including a 50% rise in federally funded research chairs at Canadian universities and a shopping list of new funds for strategic or emerging technologies.
But the details of how much money, when, and for what, have yet to be filled in; and on the answers will depend how Canada fares in the mounting global competition for science and technology.
"There are many questions, and not a lot of answers at this point," observed David Moorman, senior policy adviser to the U15 Group of Canadian Research Universities.
A key indication will come in the next few months, when the government publishes its annual budget. At the country's universities, there's concern the budget may lack enough funding to support the work of the 1,000 extra research chairs that have been promised. And in industry, there's uncertainty about how much money will go towards each of the government's rapidly expanding list of "priority" targets: semiconductors, vaccines, renewable energy, climate technologies, artificial intelligence, quantum computing and much more.
"The budget will tell the real story," says Martha Crago, vice principal for research and innovation at McGill University in Montreal. A lot of the money announced in the last federal budget has been "priority-driven", or targeting a changing list of government industrial or social goals. Basic research got "a little dab" of extra funding, she says. Now, "if you put 1,000 new people (research chairs) into the system, you need money for their research projects."
A global concern: How much for R&D?
If all this sounds familiar, it should: The same kind of issues – how much to spend, and on which priorities – are being debated in research, industry and finance ministries everywhere. The world is still suffering through a pandemic and its concomitant economic mayhem. In Brussels last year, basic research advocates tried and failed to get a much bigger rise in European Commission funding than the member states were willing to supply. In Germany, a new government is wrestling with how to fund its grand climate and energy promises. And in the US, President Joe Biden managed to push through the largest infrastructure bill in a generation, but his signature social spending bill - which would include an historic jump in R&D funding - is now stalled in Congress.
In Canada's case, however, at stake is whether its reviving science and tech sectors will catch up on ground lost in the past.
From a peak of 2.02% of gross domestic product in 2001, Canadian spending on R&D tumbled to a low of 1.59% in 2019, as successive governments redirected funding to other national priorities. In 2020 the percentage climbed to 1.7% of GDP, as three years of Trudeau's expanded R&D budgets started registering. But that ranks Canada just on a par with the underperforming UK, and well below the 3.19% of Germany, 3.07% of the US, or 2.23% of China, according to the Organisation for Economic Cooperation and Development.
Still, the Trudeau R&D money – which the government says totals more than C$13 billion extra since 2016 – has produced some good results, most analysts agree. The number of Canadian patent filings and scientific publications has jumped. A new "supercluster" programme helped spur lively start-up communities. A "transformative" research fund, to include regular Canadian support for foreign research collaborations, got under way. And Canadian companies in artificial intelligence, quantum computing, semiconductors and cleantech are gaining international attention – permitting Trudeau to start playing science diplomat in meetings at the White House, the Elysée Palace and the Berlaymont. For instance, with French President Emmanuel Macron in 2020, Trudeau launched a global inter-governmental project to study the ethics and impact of AI.
"The government of Canada has made significant commitments, real increases" in R&D spending, said Ted Hewitt, president of Canada's Social Sciences and Humanities Research Council. "It's all positive news."
In response to questions from Science|Business about research expenditures, an innovation ministry spokeswoman said the OECD number focuses "solely on research and development, so doesn't include innovation investments made by our government." She added: "Moving forward, we are exploring new ways to ensure Canada's world-class research enterprise remains competitive and resilient."
Trudeau's new marching orders
But a December 16th "mandate" letter to his new innovation, science and industry minister, François-Philippe Champagne, raised the bar – with no clear indication of how the government will accomplish the new tasks.
Champagne's homework assignments include developing a new fund, modeled on the US Defense Advanced Research Projects Agency, to "drive technological breakthroughs." He is to put flesh on the bones of a C$2.2 billion plan to strengthen Canadian life science industries for the next pandemic, and develop a "moonshot" project for more vaccine research. He is to keep pushing efforts in climate technology, quantum computing, photonics and AI. Due to the pandemic, Champagne said in an online conference 12 January, "we've seen how important science and research is to our well-being and humanity."
The C$550 million in new grant awards announced on January 12th had been budgeted previously, but lumping them together in one announcement appeared aimed at dramatising the government's R&D ambitions. The awards included C$144 million for the country's first crop of "transformation" research projects under the New Frontiers in Research Fund. Its winners include a C$24 million consortium led by a University of Guelph researcher to perfect DNA "bar-coding" so every species on earth can eventually be catalogued, as part of global efforts to preserve biodiversity. Other projects include treatments for spinal cord injuries and repairing organs, foods and medicines from the ocean, and – somewhat more prosaically - anti-corrosion coatings for metals.
The grants also include C$151 million to fund 188 Canada Research Chairs – and it's this that garnered the strongest interest from Canadian universities. One of the challenges of R&D policy in Canada is the constant tension between the federal and provincial governments – and for universities, that boils down to who funds and controls what in their staff and research. A recent UNESCO report pinpointed this conflict as one of the country's biggest obstacles saying, "Provinces and territories all have their own programmes and strategies but there is no national approach to science and technology and, thus, no national vision."
Most public university funding comes from the provinces, but the CRC programme began in the 1990s as a way for the federal government to support individual university researchers; besides their salaries, it was intended to pay for some basic research costs. But, university administrators say, the per-person amount hasn't kept pace with inflation and today's competitive salary levels. The latest grant awards were previously budgeted, but Champagne's mandate to add 1,000 more chairs to the existing 2,000 isn't without risk. While they welcome the plan, universities worry they will have to find extra money to top up the researchers' federal pay packets – and worse, that there won't be enough money in the national research councils to pay for the extra science the new hires are supposed to do.
"We don't know when, or where, the funding for the research of 1,000 new chairs will come from," says Crago. "You can't invite 1,000 more people to the table on the same grocery allowance."
Editor's Note: This article was updated 14 January to incorporate late-arriving comment from the innovation ministry.
Editor's note: This article was amended 18 January to correct the Canadian minister's name. It is François-Philippe Champagne.