Better integration of funding streams is the route to fostering the long-elusive single market for research, says Portugal's research minister Manuel Heitor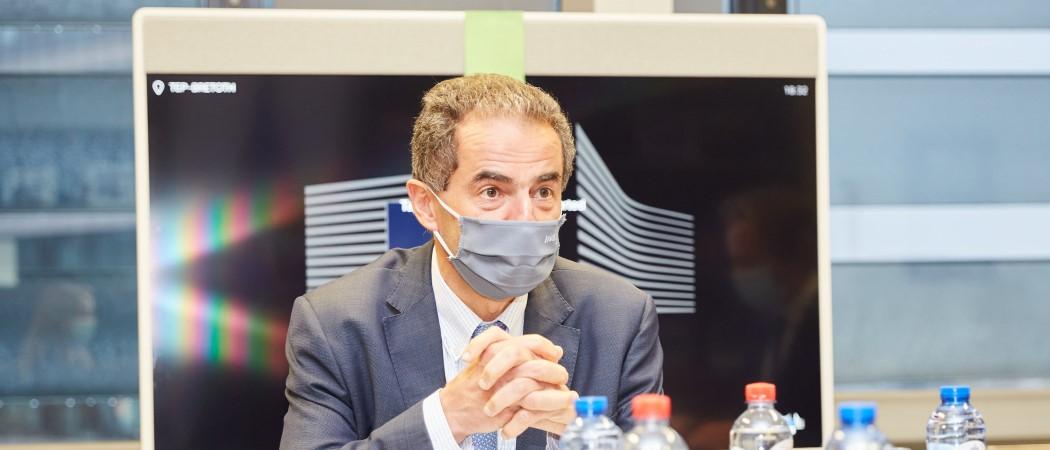 The Portuguese presidency has made strengthening the European Research Area (ERA) a priority over the next six months, with the country's research minister, Manuel Heitor saying that integrating different European, national and private funding streams is key to making this happen.
Convergence of the different programmes: Horizon Europe, the €750 billion COVID-19 recovery fund, EU cohesion money and national R&D funding, is vital for raising the overall level of investment in science, Heitor believes.
"The issue of articulating and improving synergies of funding will be critical for guaranteeing that in the coming decade we increase overall public and private expenditure," he said.
The EU's goal is to achieve an average research spending level of 3% of GDP. Member states first set out to do this in 2000 but little progress has been made since. Last month, research ministers once again reaffirmed their commitment to reaching the target and now hope to do so by 2030.
On 3 February, a day after the official launch of Horizon Europe, ministers will gather around the table once again to discuss how to move forward policies aimed at creating a single market for research in the ERA. In May, the presidency hopes to officially adopt a political position, inspiring further action.
Heitor says the new Horizon Europe missions, designed to tackle five societal challenges, will be a key tool for integrating the different funding streams. While rooted in the EU's research programme, the missions will demand funding from a variety of sources, thus encouraging integration of the different funding streams.
The five missions are meant to engage citizens, communities, and entire cities with their goals. The hope is to have coordinated research efforts at all levels, from EU research projects to local actions.
As one example, the mission aiming to rejuvenate Europe's soils will involve people with science through a network of living labs, where local researchers will be able to develop and test new approaches to improving soil health. Such coordinated action at different levels is bound to require better integration of different programmes.
Horizon Europe's 40-odd public private partnerships with industry and member states will also play an important role in fusing different funding streams. Partnerships bring companies, national funding agencies and researchers together to address common challenges in different industries, and they also integrate their different funding streams to maximise the impact of research.
Both the missions and the partnerships are still in the planning stages and will not launch at the very start of the EU's next research programme. The Portuguese presidency hopes to finalise their legislation by July, so they can be launched in the second half of the year.
"The coming semester is time for action. It is time to launch the programmatic lines of action in terms of research missions and research partnerships which will gain from articulating with recovery plans," said Heitor. "It is time to join forces and to more and more build up synergies."
The effect will be to strengthen open collaborative research in Europe, which is another priority of the presidency. The most important areas of research for the Portuguese will be green hydrogen, artificial intelligence and green supercomputing, all of which they hope to encourage through joint programmes.
But the focal point should be addressing climate change, according to Heitor. "We have evidence that the pandemic crisis is also a manifestation of the imbalance between economic and human activity and mother earth," he said. To make life better for everyone, there is a need to improve the balance between economic activity and climate. This "requires new knowledge, institutional innovation across institutions and disciplines, and new observation methods," said Heitor.
Scientific culture
The second ingredient for increasing research expenditure and its impact, is trust of citizens. "The way governments react and the way taxpayer money is used is certainly a reflection of the way people at large understand the role of science. This why investment is very much connected with scientific culture in Europe," Heitor said.
During the pandemic, people learned that science heals, now they need to learn science helps economies grow. This ties in with one of the presidency's other key goals of improving research careers. To generate more science, Europe needs mores scientists. But to attract talent, research careers must become more promising and attractive. "Investment in research is essentially investment in people," said Heitor.
Improving labour conditions is the first item on the to-do list. The presidency hopes to include research careers in the European Quality Assurance Reference framework, which helps member states monitor and manage vocational education. With research careers included in the framework, the member states would finally have a formal framework for tracking improvements.
Private research funders will also be involved. "I understand there is an increasing and very important role for private foundations in Europe," said Heitor. "Therefore, to have better research careers, we need to better articulate the actions of public foundations with private foundations, always with the goal to have more scientists in Europe and better research careers."