During the country's upcoming presidency of the EU Council one aim is to exploit 'a unique opportunity' to revive US relationship, Manuel Heitor, Portugal's science minister tells Science|Business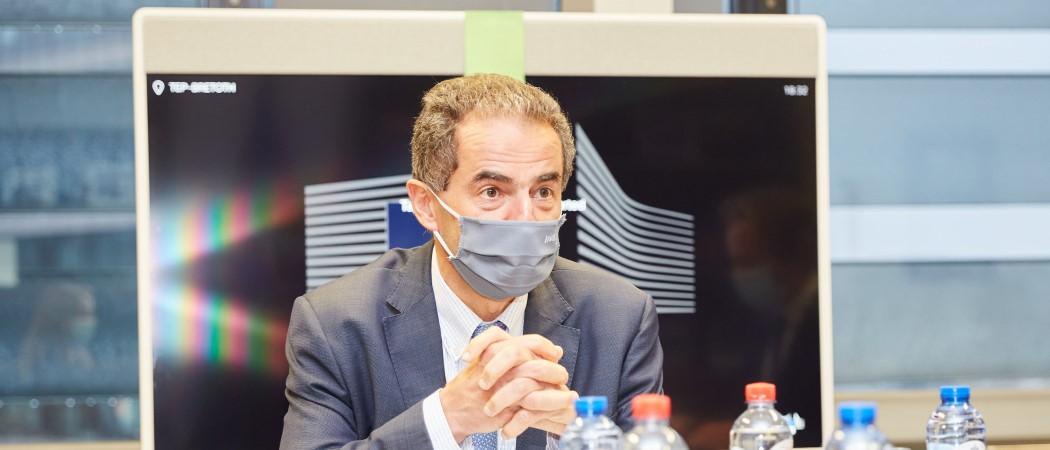 The Portuguese are taking over.
On January 1, Portugal will be passed the rotating presidency of the Council of the EU, for which Lisbon has drafted a programme that goes strong on science, climate change and tech sovereignty.
Lisbon has mapped out five broad categories of policy priorities, touching on "resilience, social, green, digital and global," Manuel Heitor, the country's science, technology and higher education minister, told Science|Business.
The minister spoke warmly about "a unique opportunity" to revive US ties with incoming president Joe Biden after the bitterness of the Trump years. Suddenly, the ambitious agenda European leaders want to pursue on environmental policy has an ally in the White House. 
"Certainly we should act together with the US on COVID-19, but also on climate change," Heitor said. 
EU leaders are preparing a sweeping transatlantic agenda for Biden, which many feel is essential to resuscitate the alliance, especially in the face of the growing technological challenge posed by China.
In the spirit of bridge building, and preventing China from establishing science and economic dominance, should the EU offer the US a spot in Horizon Europe, the EU research programme due to start next year with a proposed seven-year budget of €85 billion?
Brussels has already raised the possibility of the US joining, only to be met with a sharp rejection of the offered terms. The Americans weren't particularly receptive to the EU while Trump was in office, but Brussels officials now feel they have a better shot of boosting EU-US cooperation in research under Biden.
"It's a step-wise process," Heitor said. "We'll aim to build a number of joint programmes with the US. There's now a unique opportunity for this to happen. We should open doors between Horizon Europe and the National Science Foundation, the NIH [National Institutes of Health] and others," he said.
One example of Portugal's outreach to the US will be participation in a climate change conference planned in the Azores archipelago next year. "Our intention is to invite observers from the US," said Heitor.
Heitor would like to make headway on expanding the international reach of the EU's flagship research programme, once Brexit trade talks wrap up. "Opening up to Canada would be very interesting too," he said.
But as for inviting China into Horizon Europe, "At this moment, it doesn't make sense," the minister said. Europe benefits from Chinese investment in space and other technologies, but the science relationship is strongest between individual labs and universities in member states, rather than at the Brussels-Beijing level. 
"I do hope we can strengthen collaboration with China and do more between Chinese and European researchers. But I believe we don't need to go right now to Horizon Europe – maybe the EU research programme that comes after it," he said.
Portugal will have its work cut out for it in the first half of next year. It not only has to help crisis management of the pandemic but also steer the economic recovery, in the form of a €1.81 trillion budget and stimulus fund. There's also implementation of a trade deal with the UK, if one is agreed in the next few weeks.
Some might like a quieter tenure, but Heitor insists, "It's always a good time to be president. It's the fourth time for us, and now we must all face an enormous challenge together."
At the end of the six month term, "I think we'll have seen the full launch of Horizon Europe, the launch of new R&D partnerships, the roll out of NextGenerationEU [the EU's big post-pandemic stimulus package], and we'll be in a place where we can [commit to] investing 3 per cent of our GDP in research by 2030," Heitor said.
Big transitions
The financial response to the crisis will likely dominate Lisbon's spell in the hot seat.
Several key dossiers will also be signed off under Portugal's watch. "We want to make sure we do the official launch of Horizon Europe in early February. We should not lose a single minute," the minister said.
Portugal will also make it a priority to promote programmes announced before the crisis, like the European Green Deal and the new industrial strategy.
Building up new economic "resilience" in the bloc will get further attention, Heitor said. He shares the view that the EU was badly caught out in the early days of the pandemic, when countries were left scrambling to import medical supplies from Asia.
Despite an enormous hit to public finances this year, Heitor talks with optimism about increasing member state investment in research over the next decade, towards the EU goal of 3 per cent of GDP by 2030.
"This remains our big objective. We have 10 years where we cannot fail; every single semester we need to be tracking our progress," he said.
History tells a story of research budgets being among the first to suffer during recessions. Only in July, EU leaders cut Horizon Europe so they could grow a COVID-19 stimulus pot.
Heitor doesn't mention this cut, instead saying that Europeans should "feel very proud" that taxpayer money helped pave the way for vaccine breakthroughs this year. He points to funding for Germany's BioNTech, now poised to be the first COVID-19 vaccine available in Europe.
The minister predicts the virus will continue to drive the research agenda into the near future. "The virus will mutate, so the vaccines will need to keep evolving. We have the first batches, but all of these will need to be improved. We need to continue with the second and third generation of vaccines," he said.
Unsurprisingly, he's very keen to see brilliant scientists remain in Europe, and promises to use the presidency to push for better research careers in the EU.
"The internal gap between career development in Europe is still too high," he said. "And we're losing researchers to the US."
He wants to see the EU "move gradually to more joint recruitment programmes between universities and institutes, [across borders]. Research labs should help us promote this activity," he said.
With many predicting a third wave of the virus in the new year, some of Lisbon's presidency ambitions risk being impeded by practical and logistical problems caused by the pandemic.
Again, Heitor is optimistic. "We've strengthened our presence in Brussels, adding staff to our perm rep. We always gain a lot from face to face meetings, but we have also learned a lot about digital tools in the last year too. It's another challenge we can overcome," he said.