No concrete funding is on the table yet, but working group of experts is drafting a joint proposal for future programmes and looking at how they can contribute to reinvigorating the European Research Area.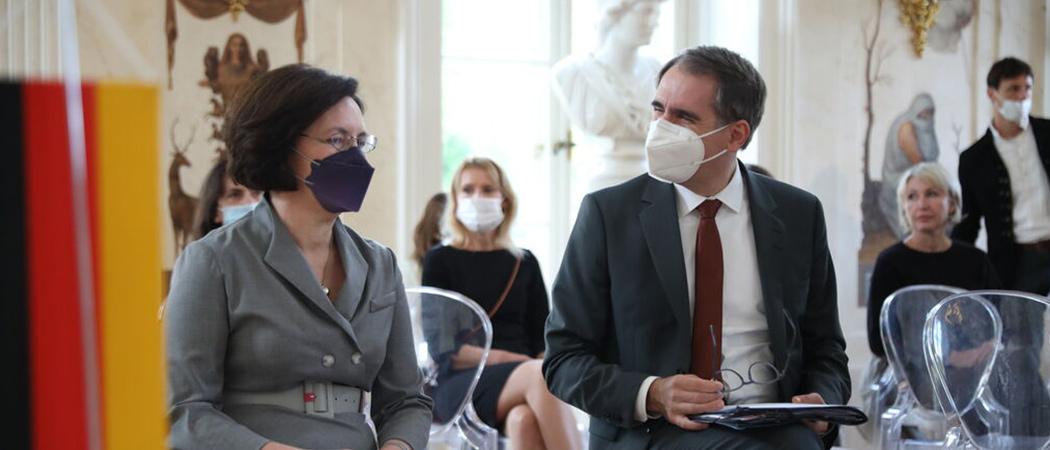 Funding agencies in Germany and Poland are joining forces to develop joint research projects and boost academic exchange, as the two countries seek stronger scientific ties.
Poland's National Agency for Academic Exchange (NAWA) and the German Academic Exchange Centre (DAAD) signed an agreement this week which will allow Polish students and PhD candidates to get scholarships in Germany, while German students would get funding to study and do research in Polish universities.
Wojciech Murdzek, Poland's minister of Education and Science said he hopes the agreement will boost the number of exchange students and joint research projects.
The deal will also enable Polish and German universities to work more closely and provides a basis for new joint programme initiatives in digitalisation of universities.
"We are teaming up to make both countries more attractive to our students," said Kai Sicks, secretary general of DAAD.
After decades of losing their best human capital to countries with better research systems, central and eastern European countries are working to reverse that trend and encourage mobility through international partnerships that deter brain drain and encourage brain circulation.
At the same time, the European Commission is in the middle of pushing through a reform of the European Research Area (ERA), with the aim of incentivising researchers to work in institutions located in less developed EU member states. The strategy also seeks to help member states come up with schemes for funding mobility of researchers and enhancing cross-border cooperation between universities and research funding agencies.
Beyond the new ERA strategy, the EU is to invest 3.3% of its €95.5 billion Horizon Europe budget to encourage research cooperation in central, eastern and southern Europe.
All this is meant to create a more level playing field across EU member states and help boost investments and reform national research systems.
While no concrete funding schemes have been put on the table yet, a working group of experts from DAAD and NAWA is drafting a joint proposal for future programmes. "Let us sit down and think jointly how scientific and academic communities can have something from this joint [initiative] and what could that be," Martin Krispin, the head of the Warsaw DAAD office told Science|Business.
According to Krispin, the working group will keep in mind the broader EU context and the Commission's agenda for ERA. "One task will be to formulate how the NAWA and DAAD collaboration can contribute to the European Research Area," he said.
DAAD, established in 1925, lays claim to being the world's greatest scholarship organisation, while NAWA was set up in 2017 as a fund dedicated to convincing expat scientists to come and work in research institutes in their home country. In addition to attractive salaries, returning scientists are offered money to cover the cost of resettlement, preparing their labs and setting up research groups.
Intensifying cooperation
Funding agencies, universities and research institutes in central and eastern Europe have recently increased their efforts and are now working on projects to attract back young, talented scientists working abroad through collaborative funding programmes.
NAWA also has programmes that offers universities and other scientific institutions long-term financial support to cover the stay of a foreign scientist coming to carry out fundamental research in Poland.
In addition, NAWA has a joint research exchange programme with Portugal's national funding agency for science, research and technology.
Alliance4Life, an association of biomedical research institutes in central and eastern Europe is running an EU-funded project aiming to improve the culture, strategic management and overall conditions for scientific excellence in the region.
In the Czech Republic, the national technology agency (TACR) has an ongoing partnership with eleven funding agencies outside the EU which helps Czech scientists team up with colleagues abroad to work on applied research and experimental development.
The Austrian Science Fund, the Czech Science Foundation, Poland's National Science Centre and the Slovenian Research Agency have also formed a partnership to boost cooperation in the region through joint funding and evaluation of cross-border research projects.
Last but not least, new research is pointing to growing interest and participation in EU research mobility schemes in the Western Balkans as well.
These initiatives point to greater commitment to goals the EU is now setting up to improve ERA. But all these initiatives require stable funding sources, at a time when many national R&D budgets in eastern Europe and the Western Balkans are under strain. The EU wants to convince member states to spend 3% of their GDP on R&D but the goal is not legally binding and stakeholders warn the carrots will not work without a stick. 
Until that target is achieved, the Commission is planning on establishing so-called ERA hubs, organisations which will see local and regional stakeholders taking a bigger role in boosting R&D collaboration. The Commission hopes regions and countries will coordinate their policies and allow researchers to move across borders and gain access to the best infrastructures without being burdened with red tape.