Vote marks the end of almost three years of negotiations on the content and budget, but MEPs are still angling for more money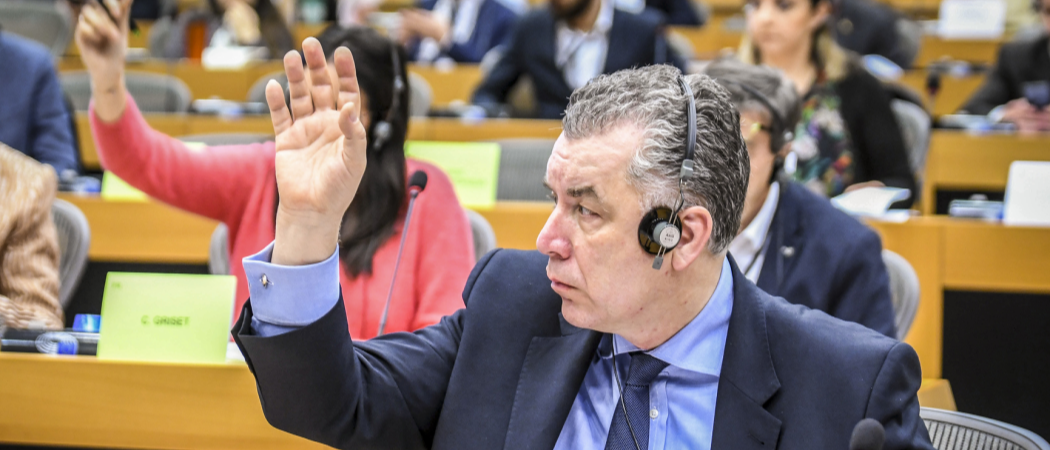 The European Parliament gave its final stamp of approval to the Horizon Europe legislation today, but MEPs are already casting for ways to increase the budget, with many still bitter over the failure to secure €120 billion for the seven year research and innovation programme.
The vote draws a line under nearly three year of negotiations on the content and budget of the €95.5 billion programme, after the Parliament's research and industry committee ITRE gave its approval earlier this month.
But MEPs are still bitter they failed to convince member states to allocate €120 billion for Horizon Europe. Last year, member states agreed on a slimmed-down budget after months of political wrangling over the EU's multiannual budget and a new fund dedicated for post-pandemic recovery.
Speaking in a plenary session on Monday evening, Horizon Europe co-rapporteur Christian Ehler said the launch of the world's biggest civilian research programme is a European success, but admitted he wanted to see it better funded. "The glass is half full and half empty," he said, calling on his colleagues to find new ways to add money to the programme. "During this legislative term, we have to see how we're going to find more funds and more ambition," said Ehler.
Ehler's Horizon Europe co-rapporteur, Romanian MEP Dan Nica, did not attend the plenary, but he put out a statement noting that even though it falls short of the €120 million proposed by the Parliament, the research programme is still the largest in the world.
(Horizon Europe is the largest general, non-military R&D programme, not the largest civilian science programme. The National Institutes of Health (NIH) in the US has a yearly budget of $41.7 billion.)
In September, research ministers put through cuts agreed by EU leaders and the €94.4 billion (at 2018 prices) proposed for Horizon Europe over the next seven years by the Commission was reduced to €80.9 billion. In some last-minute wrangling, the Parliament managed to top-up the budget and which now stands at €84.9 billion (€95.5 billion in current prices).
By comparison, the previous programme, Horizon 2020, had a budget of €76.26 billion in 2018 prices. The Commission takes into account the UK's departure from the bloc and estimates that the Horizon 2020 budget would have been €67.06 billion. By comparing this figure to the final Horizon Europe budget, the Commission claims the net allocation for the new research and innovation programme over seven years has increased by 30% per cent compared Horizon 2020.
Mariya Gabriel, the EU commissioner for research and innovation, thanked MEPs and the research community for their efforts to secure additional funding for Horizon Europe, and admitted more work needs to be done to make sure member states allocate money from anti-trust fines and budget leftovers year-by-year in the annual budget negotiations.
"Did we get the most that was possible in these extremely difficult circumstances?" Gabriel said in a speech on Monday. "To that I would also answer yes." But, Gabriel is aware the work is not completely done. "I'm not complacent," she said.
Battling for top-ups
No matter what spin is put on the numbers, MEPs are still looking for new sources to top up the Horizon Europe budget. They have already tried to raise additional funds for research and innovation from new levies on financial transactions and plastics, with limited success. One MEP even resorted to a radical strategy and went on hunger strike but member states did not budge on his demand to raise €50 billion per year from a new tax on financial transactions.
The EU's new multiannual budget allows for money that is raised from anti-trust fines and unused funds to be re-allocated to flagship EU programmes, including Horizon Europe. "Until now, the member states had always opposed using this flexibility in the budget to raise funding where necessary," Ehler told Science|Business. "The member states will need to reconsider their opposition to using these flexibilities in the budget and the Parliament should push for that."
According to the formal agreement between the EU Council and parliament that was reached last December, anti-trust fines and channelling money from underspent budgets will contribute to the modest €4.5 billion budget top ups.
"It will be crucial that those are indeed allocated on an annual basis in the annual budget procedures," said Thomas Estermann, policy director at the European University Association (EUA). "If the Parliament would be able to generate more transfers on that basis this would of course be very positive, but I think it might be rather difficult to achieve that."
Estermann said Parliament should also try and convince member states to use the new pandemic recovery fund to finance research and innovation that helps the EU digitise its economy and create and implement new technologies for climate change. "It is in general important that the implementation of both the agreed top-ups on an annual basis as well as the implementation of national recovery plans will be closely monitored," he said.
What's new on the Horizon
Compared to its predecessor, Horizon Europe is designed to address societal challenges through six different funding clusters, from health to democracy. The new regulation also streamlines the European public private R&D partnerships and introduces the research missions, which are intended to advance breakthrough discoveries and innovations in strategic sectors.
The Horizon Europe law also regulates international cooperation between the EU and third countries in research and innovation, subject to individual deals being struck with each country wishing to participate in the programme. Negotiations with the UK, Switzerland and Israel are ongoing. Other countries, such as Canada, Japan or Australia might also join.
MEPs will also vote today on the EU-UK trade and cooperation agreement, which will seal the Brexit divorce. The UK wants to be an associate country participating in Horizon Europe, but the terms for scientific collaboration are still unclear. At the same time, trade talks with Switzerland are also stuck and could impact the country's status in the research programme. "[The Commission is] carrying out exploratory discussions with potential future partners," said Gabriel.
The new legislation also establishes the EU's own start-up fund, the European Innovation Council (EIC), which will award grants and make equity investments to help small and medium-sized companies scale up new technologies.
Also, with the help of Horizon funding, Gabriel is attempting to revive plans to establish a single market for research in the EU and help all member states commit to a common investment target. But so far member states have largely failed to invest 3% of their GDP in research and innovation. By comparison, EU's main global competitors invest far more than 3%, which is continues to be a moving target. "We are not going to reach it with this [Horizon Europe] programme," Ehler said.
Ehler also noted that the EU has an enormous need for innovation if it is to cut carbon emissions in half by 2030. "In 10 years, we have to develop technology does not yet exist, we have to bring it to maturity, and we have to introduce it in the European single market," he said.
With the parliament vote now finally in the bag, the Commission can go ahead and implement the programme, which was initially slated to kick off in January. Some calls have been already launched by the European Research Council and the EIC, taking advantage of a retroactivity clause that allows researchers who applied for funding in calls launched before the Parliament vote to be funded from the €95.5 billion budget. 
For the other parts of the programme, the Commission is still finalising detailed roadmaps for all calls for applications scheduled for the next two years. "The final work is being done and will be published in the coming weeks," said Gabriel.