Manfred Weber says he favours reliance on new technology over bans and punishments for carbon emitters, as he and lead candidates from five other pan-EU party groups make final pitch to voters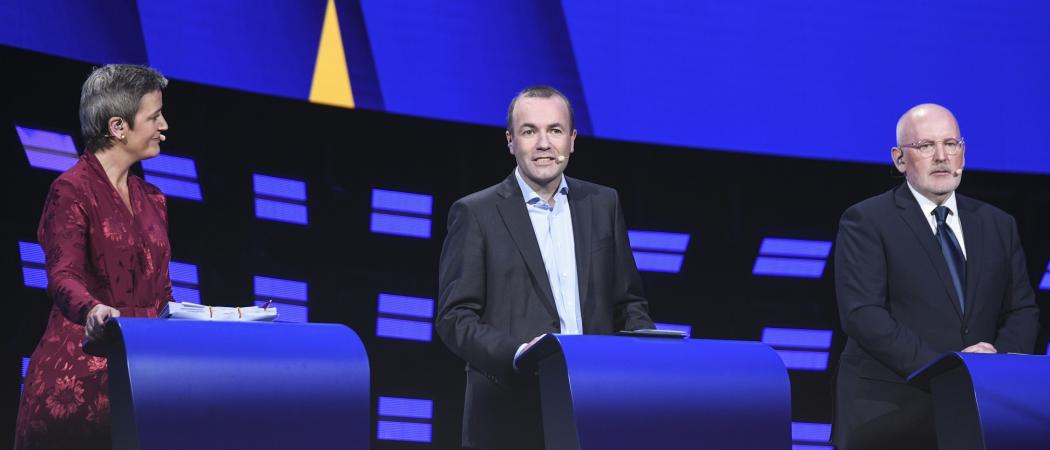 Manfred Weber, the pacesetter in the race to become the next European Commission president, says the best EU strategy against climate change is a bigger focus on investing in new technologies under the Horizon Europe research programme, rather than on policies that penalise emitters and threaten jobs.
"I believe in innovation, not in punishment, not in bans, not in regulatory frameworks, for climate change, which is why establishing a Horizon programme which invests in technology capable of solving problems – [is] what we need to do," Weber said during the final EU election debate before voting next week.
Wednesday's "presidential debate" featured the six Spitzenkandidat (lead candidates) from pan-EU party groups vying to succeed Jean-Claude Juncker as president of the executive European Commission. With member states having reserved the right to nominate their own candidate, there is no guarantee any of them will land the job, however. 
Polls show the centre right European Peoples' Party is likely to remain the biggest group in the European Parliament after the elections, and its lead candidate, Germany's Weber, is out to convince national leaders that this would leave him with the best claim to replace Juncker. Weber has the support of Germany's chancellor, Angela Merkel, but other EU leaders may take a different view. 
Weber took the opportunity of the televised debate to push for a greater reliance on technology advances to fight climate change, but had to fend off accusations that he and his centre-right colleagues had voted against ambitious climate measures during the last parliamentary term.
Denmark's Margrethe Vestager, the EU's competition commissioner and one of several candidates representing the European Parliament's liberals grouping, said, "We don't need to wait for new technology against climate change, we have enough already." 
The Greens and Social Democrats also called for a stronger commitment to tackle carbon emissions. "I'm tired of the excuses," said centre left candidate and Juncker's deputy, Frans Timmermans, calling for a tax on aviation and a carbon dioxide tax for all companies.
Jan Zahradil, a Czech from the eurosceptic Alliance of Conservatives and Reformists in Europe, repeated his call for much less European oversight. Europe, he said, was "no state" and must be "scaled back" and decentralised. He called for "a new balance between the national level and the European level."
Other signature proposals in the debate included a minimum rate of corporation tax for giant technology companies. Amazon should be challenged over relatively low tax rates that it pays in Europe, Timmermans said. 
"We should ask Alexa: When will Amazon pay taxes?", he quipped. 
The tax floor should be set at 18 per cent on annual revenues, Timmermans said. The power to collect taxes is the reserve of member states, and a push to go to common business rates across the EU has floundered, with opposition in low tax capitals like Dublin and Luxembourg. 
Timmermans also called for an expansion of the popular Erasmus exchange programme for all EU citizens, "whether they're in school or not, whether they have a job or not."
He lamented the UK's decision to leave the EU. "That's our fault," said Timmermans. "We need compelling propositions for the EU. Apparently we didn't convince [voters] in the UK, " he said.