Dag-Inge Ulstein, Norway's minister for international development, says there will be more support for renewable projects, as he urges other donors not to reduce overseas aid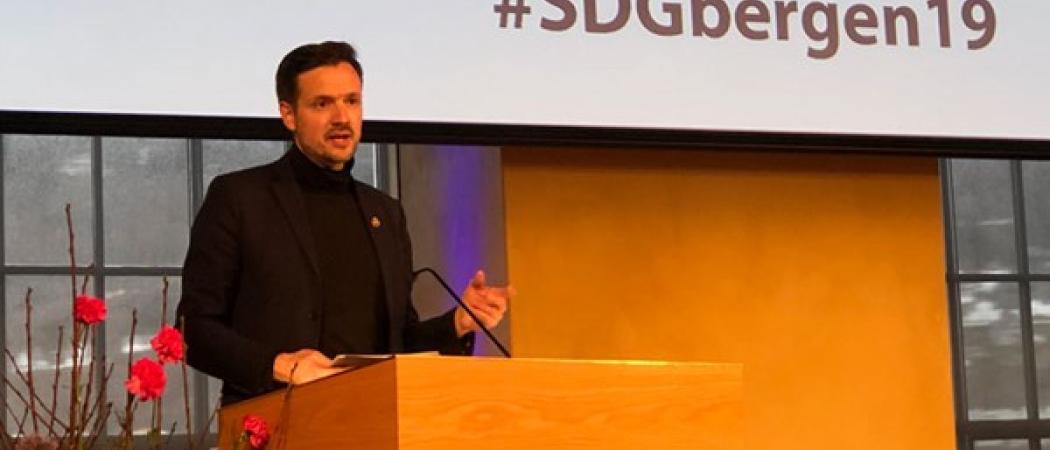 Norway's minister for international development, Dag-Inge Ulstein, says climate change will be put at the centre of the country's foreign aid strategy and funding this year.
"We know that the climate change crisis is upon us, and that it's a destroyer for development," Ulstein said. Climate change is ruining harvests, upending lives and adding to the surge of families leaving their homes. According to the World Bank, approximately 150 people died and more than 300,000 people were displaced from their homes by floods in Kenya alone, last year.
"We are a green country but we need to do more," Ulstein told Science|Business in an interview during the Big Challenge science festival in Trondheim this week. "By 2030, more than 100 million people could be pushed into extreme poverty because of climate change. I think you will see a massive change in political programmes. Young people are challenging governments and companies to do more."
Norway is one of the world's biggest donors of foreign aid, with a target of giving one per cent of gross national income each year.
The government says it will spend almost €4 billion on overseas aid in 2019. The majority will go to help deal with humanitarian crises in countries including Syria and South Sudan, but money will also be earmarked for renewable projects and initiatives to tackle ocean litter. It is also promising a new action plan for climate adaptation and preparedness.
Currently, the Norwegian International Climate and Forest Initiative is Norway's largest climate programme. In 2018, this received a total of NOK 2.9 billion (€300 million). Over the course of ten years, Norway has paid a total of NOK 25 billion to combat deforestation in tropical forest countries through this initiative. The largest recipients in 2018 were Brazil and Indonesia.
Overall, Norway's climate finance contributions for emissions reduction and climate adaptation in developing countries in 2018 was NOK 6.5 billion (€672 million). This was up from NOK 4.8 billion in 2017, mainly due to increased investment in renewable energy.
However, alongside all this, Norwegian aid also continues to support fossil fuel projects in developing nations through its Oil for Development programme, which aims to reduce poverty by promoting economically, environmentally and socially responsible management of petroleum resources in countries including Ghana and Kenya.
Oil for Development works with 14 countries in Africa and central America to ensure environmental considerations are factored in when opening oil fields. This includes environmental impact assessments, handling of licences, environmental mapping and compliance monitoring, and establishing sufficient preparedness to handle accidents and oil spills.
Reducing dependence on oil and gas will not happen overnight, but Norway is leading by example. Ulstein pointed to a recent decision by the country's sovereign wealth fund, which manages nearly $1 trillion of Norway's assets, to sell off investments in firms that explore for oil and gas. The fund will still hold stakes in companies such as BP and Shell that have renewable energy divisions.
With OECD data showing global foreign aid fell last year, Ulstein said Norway has to "step up more" and lead on overseas aid.
US president Donald Trump has said he will cut off foreign aid to countries in Central America because of what he calls their failure to curb the flow of migrants. "The total amount of aid is going down around the world," Ulstein said. "So we need to be there more."
The country is making good on this commitment. In 2018, Norway gave NOK 34.6 billion (€3.58 billion) in development aid. This was an increase of half a billion from 2017.
But as it happens, in 2018, Norway did not meet its target of devoting one per cent of gross national income to aid. The reason: the Norwegian economy performed better than expected and gross national income was therefore far above the estimated value in the state budget.