China-EU summit tackles mutual access to funding, research ethics and transparency, but comes up with few specific actions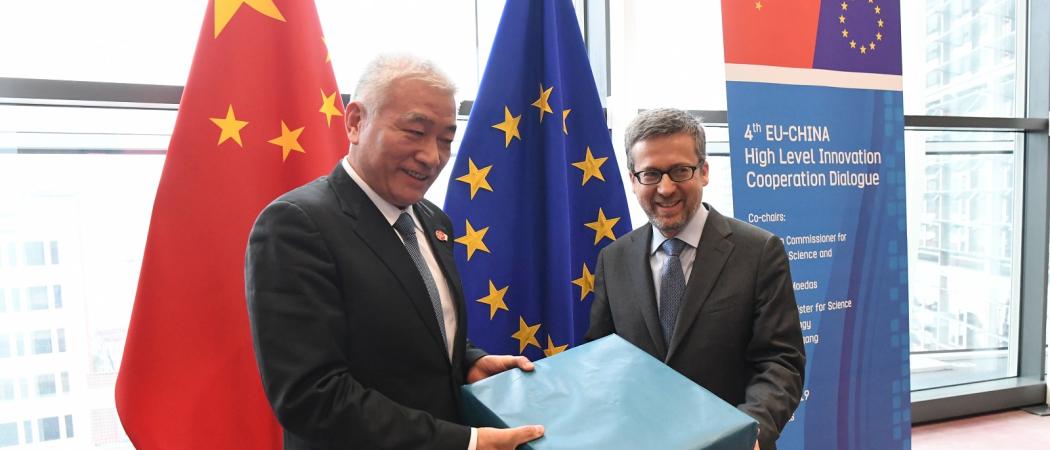 Europe is claiming progress, rather than a breakthrough, in efforts to promote more openness and transparency in its scientific relations with China.
Following an EU-China summit on Tuesday in Brussels, a cautiously-drafted joint statement talked of a bigger effort to facilitate access for European researchers to take part in Chinese research programmes, but offered few specific actions.
The communique, signed after a meeting between EU Research Commissioner Carlos Moedas and Chinese Minister of Science and Technology Wang Zhigang, promises both sides will design research programmes "in the spirit of mutual openness".
China will be offered a bigger say in setting priorities for future EU science programmes than before, officials say. In practical terms, this means more meetings and consultations between both sides to set overall strategy. 
According to the joint communique, the EU and China will also jointly develop a new "roadmap" on science cooperation. Previously the EU has been the main drafter of these documents, but now the promise is that China will be an equal partner in the process.
The barriers to European involvement in Chinese science are frustrating officials in Brussels. In a policy paper on China published last month, the EU called for greater cooperation in fields such as climate change, but also demanded greater reciprocity, such as access for EU firms to Chinese public tenders.
Currently, European researchers can access certain Chinese R&D programmes without needing to bring their own funding. On the face of it, that is generous, given Brussels no longer offers the same terms to Chinese scientists in its R&D programme.
But the arrangement doesn't always run smoothly. On the European side, the complaint is that there is often a lack of transparency. There are erratic notice periods about projects for which Europeans are eligible to apply, and application deadlines can pop up without much advance warning.
"China functions very differently from Europe. Europe is used to very clear rules and sticking to these. China is more flexible," said Jessie Zhang, project manager and China expert with EUrelations Zurich, a Swiss research and innovation management agency.
EU officials contrast the lack of clarity about Chinese research projects with the amount of information they make available to foreign scientists who want to participate in the EU's Horizon 2020 research programme.
According to one official, it's not enough for the Chinese to say their projects are open for foreign participation. There has to be a greater overall effort to explain the terms of this access to European scientists and businesses.
Another source of tension is the lack of information on European participants in Chinese projects. The European Commission says its can pinpoint all the Chinese participants in its science programmes, but can't always identify European scientists working on Chinese projects. To plug this information gap, Brussels often has to turn to the European Chamber of Commerce in Beijing.
Associate status
On the Chinese side, there is no obvious desire to shake up existing arrangements with Brussels for joint science projects. China has not been eligible for EU grants since 2014 and any Chinese participants in EU-funded projects are required to bring their own funding.
The arrangement works well up to a point, but Chinese researchers in EU consortia can sometimes feel caught between two masters, said Zhang. The problem boils down to differing systems and the resulting confusion this generates among researchers.
"The requirements on both sides are often not exactly the same. For example, there may be different reporting schedules," Zhang said. "The dilemma from the Chinese researcher's perspective is - if the deadline for submitting a report to Brussels comes before the Chinese deadline - can I submit data, which might be sensitive, to the EU before I show it to my own ministry?"
The EU's next research programme, the €94.1 billion Horizon Europe, starting in 2021, opens up the possibility for more countries to gain "associate membership", a legal status that allows countries to participate in EU research under the same preferential conditions as member states.
As things stand, China is unlikely to prioritise this deeper access to EU science, because it would want to be involved in key decision making for the programme, which association status currently does not permit.
In any case, China is likely to fall short of fulfilling membership criteria requiring associated countries to demonstrate, "fair and equitable dealing with intellectual property rights, backed by democratic institutions".
Partner and rival
In its rush to global scientific prominence, China now produces more academic articles than any other nation except the US, and has more laboratory scientists than any other country, and outspends the entire EU on research and development.
Deeper research cooperation with China, then, could be a broad gain for Europe. EU-funded projects that include international partners are of a higher quality overall, leading to more journal citations and patent filings.
In fundamental science, there are few doubts for both sides about the benefits of cooperating, but for projects closer to the market, things can get complicated fast. Increasingly, fights over technology transfer, closed markets and industrial espionage overshadow the relationship.
The EU's March 12 policy paper described China as a "cooperation partner" in some areas and a "systemic rival" in others.
Data security is a new concern, with the US warning allies away from Huawei, the Chinese telecommunications company.
"The EU always has a cautious approach with China. You cannot remove science from the big political context. The European Commission has a certain fear that if it cooperates more in innovation, that in the end its data will not belong to Europe anymore," said Zhang.
The EU wants Chinese words on ethics and integrity in fields like artificial intelligence translated into actions. According to an EU official, "When they say ethics and we say ethics it's not always the same thing we're talking about." The best the EU can do is make China "sensitive to certain issues," the official said.