"It takes two to tango," says EU commissioner as he warns Switzerland will have to make progress on "real issues that count" before it can become fully associated to the €95.5B research and innovation programme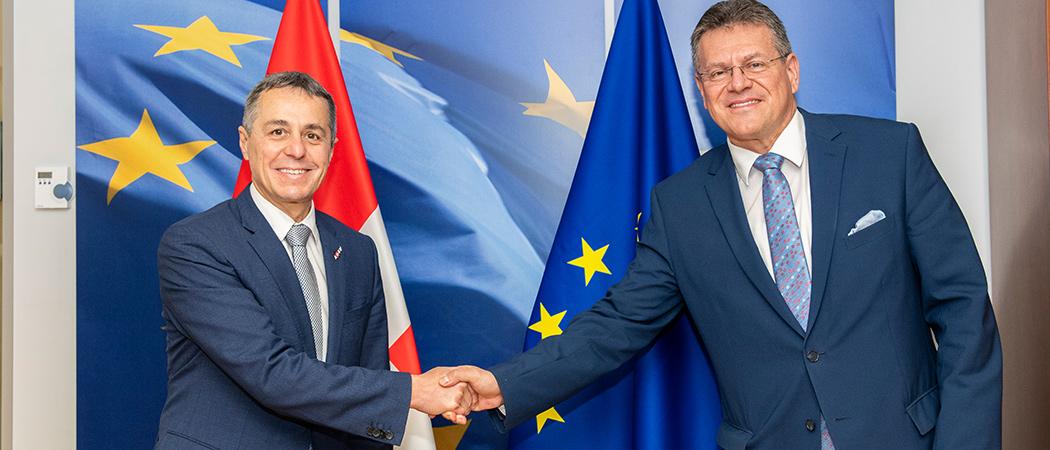 Switzerland should agree to a timeline for ironing out broader political disagreements with the EU, the European Commission announced on Monday, signaling a long road ahead for Swiss association to Horizon Europe, and no hope of further progress this year.
The edict followed the first meeting between Brussels and Bern since relations went sour earlier this year.
The EU and Switzerland will next review progress on bilateral relations and the prospect of future association to the EU's €95.5 billion research and innovation programme at the World Economic Forum in January, said EU Commission vice president Maroš Šefčovič.
Šefčovič said a resolution of the Horizon Europe association would have to be preceded by lengthier talks on broader outstanding issues, such as a "level playing field" between Switzerland and the EU, including better alignment with EU law, a functioning dispute settlement mechanism and Switzerland's future financial contribution to the EU cohesion policy.
"In the absence of real engagement from Switzerland, on real issues that count, it will be difficult to advance on [Horizon Europe]," Šefčovič said in a press conference on Monday after meeting Switzerland's minister for foreign affairs Ignazio Cassis.
Šefčovič and Cassis were scheduled to appear together at the press conference on Monday before noon, but after the event was postponed by nearly two hours, Cassis did not attend.
The meeting on Monday was the first official contact since the Swiss government ended talks intended to draw up a new overarching treaty covering relations between Switzerland and the EU, with one particular sticking point being overdue payments from Switzerland to EU cohesion programmes. The upshot is that EU-Swiss scientific cooperation is in dire straits, with the Commission barring Swiss researchers from applying for Horizon Europe grants and association talks suspended.
It's not the first time Switzerland has been shut out of the EU research programme. In 2014, the Commission suspended Swiss researchers from Horizon 2020, with full association reinstated only in 2017.
In September, the Swiss parliament took one step forward to mend relations with the EU, voting to pay overdue contribution to the EU cohesion budget. But Šefčovič said further steps are needed to reassure the EU that Switzerland will make future payments on time. "The Swiss parliament's decision is positive, but it covers the past, and now we need to focus on and cover the future," he said.
Swiss government officials said the outcome of Monday's meeting wasn't too positive, but did not close any further doors either.
The EU informed the Swiss on the areas for negotiation and an indicative timeline for an agreement that would settle issues, which are seen by the Commission as a prerequisite for Horizon association.
"It takes two to tango," said Šefčovič. "What we now need from Switzerland is the unambiguous political will to engage with us on the real issues that count and a credible timetable."
A Christmas miracle
Olivier Küttel, head of international affairs at the Swiss Federal Institute of Technology Lausanne (EPFL) said the chances of tangible diplomatic progress until the Davos conference in January are slim. "I'm rather sceptical but let's hope for a Christmas miracle," Küttel told Science|Business.
A miracle would be required indeed, as it is unlikely that the Swiss government can make any commitments on broader issues before elections in 2023, when Switzerland is to elect members of both houses of the Federal Assembly. It is unlikely that any political party would want to muddy the electoral debate agenda with the status of bilateral relations with the EU. "They fear to burn their fingers," said Küttel.
However, Swiss universities and research institutes "want an association to Horizon Europe much earlier [than 2023]," Küttel said.
The Commission's stance in tying Horizon association to the broader political talks with Switzerland has been criticised by research lobbies. Switzerland was slated to sail through Horizon association talks but the Commission changed course after Bern pulled out of a seven-year long negotiations on a EU-Swiss framework agreement.
"Šefčovič was very much standing firm on an unnecessarily harsh political decision to tie these two things which are not formally tied," Thomas Jorgensen, senior policy coordinator at the European University Association (EUA) told Science|Business.
Jorgensen says the Commission should be more consistent in how it applies its own principles on a global approach to research and innovation, which call for international research cooperation with like-minded partners. If the Commission wants open scientific cooperation, it should not use that openness for political leverage. "The Commission should be true to itself," said Jorgensen. 
Political atmosphere
Until a political agreement is reached on the broader issues and a Horizon association deal is possible, Šefčovič said Swiss institutions can participate in Horizon projects, but no EU taxpayers' money can be routed to Swiss researchers.
"Until we find the political atmosphere for starting the negotiations of such [an] agreement, and until we finalise the agreement, the scientists and researchers and the institutes in Switzerland can participate in our programmes, but we are not going to use our taxpayers' money to fund it," Šefčovič.
Küttel said this is misleading because regardless of Switzerland's association status in Horizon Europe, no EU taxpayer money will flow to Switzerland anyway.
Jorgensen agreed, saying, "It's purely a rhetorical trick."
The Swiss government has already allocated the funds needed to cover the cost of Horizon participation, and depending on how association talks go, that budget will be spent either through Horizon Europe or through direct funding by the government to ensure researchers from Switzerland can still join EU-funded consortia.
A back up system for funding researchers who want to join Horizon Europe research teams as associated partners is already up and running for 2021 calls. The Swiss government last week approved a continuation of the scheme for 2022 calls.
However, without an association agreement in place, researchers in Switzerland will not have access to EU programmes such as the European Research Council (ERC) and Marie Skłodowska Curie Actions (MSCA), which award grants to individual researchers. Until association is cleared, Swiss researchers cannot apply for some ERC and MSCA grants.
Proposals submitted by Swiss researchers for the first two ERC calls in 2021 are being evaluated and Switzerland will directly fund the successful candidates. However, Swiss submissions to the third ERC call this year are not eligible.