Research ministers sign Marseille declaration on fundamental values for international scientific cooperation, but these fall far short of addressing how the EU's foreign science policy should respond to Russia's invasion of Ukraine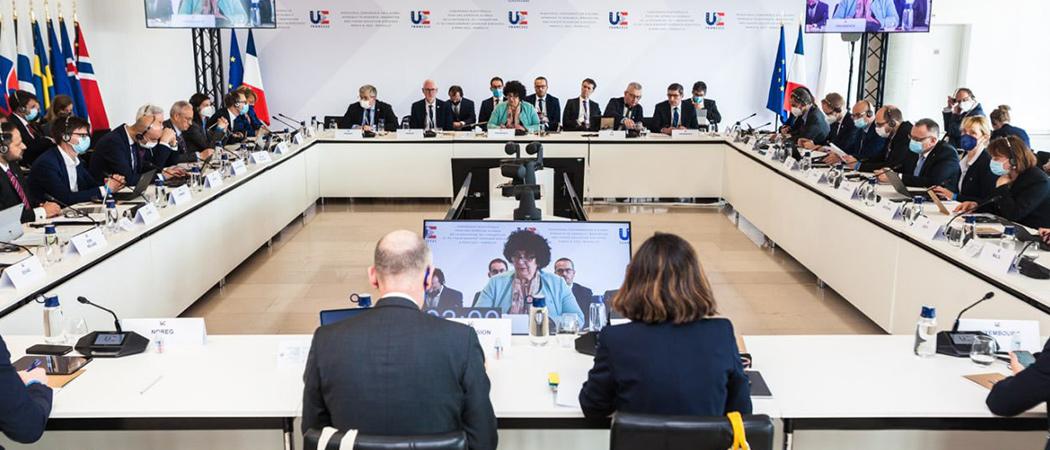 EU research ministers signed a declaration laying out common principles and values for international cooperation in research and innovation in Marseille on Monday, but these rules arrive as the rapid pace of geopolitical change threatens to render them useless in selecting scientific collaborators from outside the EU.
The declaration is a culmination of years of debates among EU member states on a common strategy for international cooperation in research and innovation. It basically tells science organisations across the world what are the principles they must uphold if they want to work with EU counterparts.
The declaration says the EU promotes and protects freedom of scientific research and academic freedom, it cherishes research integrity and gender equality, promotes free circulation of researchers and knowledge, and is equally committed to open science and to the protection of intellectual property.
There are also references to measures the EU and its member states should take to mitigate the risks inherent to international cooperation.
Ministers at the meeting in Marseille condemned Russia's invasion of Ukraine, calling it an attack on fundamental democratic values underpinning academic and scientific cooperation, but did not say how the atrocious war would shape the EU's foreign science policy.
EU research commissioner Mariya Gabriel said Russia's invasion of Ukraine threaten opens research. "European research and innovation programmes have a tradition of openness, but geopolitical changes put this at risk," she said.
Last week Gabriel announced Russia and Belarus will be banned from EU-funded research projects. A majority of member states have also severed science and academic ties with Russia and Belarus, ending a decades-long philosophy that science should be kept outside of politics. "Where there is no agreement on values and principles, it is necessary to draw the consequences and modulate our cooperation," said Gabriel after the Marseille meeting.
The declaration was drafted before the Ukraine war and critics see it as a catch-all compromise text that will not lead to immediate policy actions.
"I am not holding my breath to see what comes out of this paper," said Thomas Jørgensen, senior policy coordinator at the European University Association (EUA). "It's very loose on what are the next steps and the actual implementation."
Rethinking international cooperation
Russia's invasion has upended the general thinking that scientists could work together with colleagues from virtually any country, regardless of international politics. Soon after the war started many academics explicitly called for Russian scientists to be expelled from international projects. Others had more moderate reactions and favoured maintaining ties with scientists who oppose Vladimir Putin's regime.
Jørgensen said the declaration fails to deal with the real political issues that Europe is facing at the moment. The strong wave of academics asking to shut the door on Russian cooperation signalled a paradigm shift in international science, as European academics chose to put more emphasis on values than on access to excellent science in Russia. "That is a paradigm shift," said Jørgensen, but the declaration "does not address that, it still refers to excellence and values in the same way we did before the war."
Jan Palmowski, the secretary general of the Guild of European research-intensive universities said the declaration was prepared a long time in advance and could not address the question of whether the war in Ukraine affects how Europe thinks about international collaboration. But that conversation needs to happen sooner or later. "I understand you can't have these declarations affected by immediate events, but one could argue that the war in Ukraine is so transformative that we will have to have a debate about how it affects our relations," Palmowski said.
Governments were quick to include science and technology in their bag of economic sanctions on Russia. But despite the overwhelming consensus behind these decisions, some academics have warned governments are actually limiting the institutional autonomy of universities and research institutes. The question is whether that is justified during a war.
While governments introduced blanked bans on research cooperation with Russia, some decisions are still under the remit of individual institutions. Each university and research institute will need a bit of time to reflect on the implications. "Working through the details of this is something really complex," said Palmowski.
Kurt Deketelaere, the secretary general of the League of European Research Universities (LERU) noted the EU itself cannot entirely abide by some of the principles in the declaration, especially the chapter on academic freedom. Deketelaere is of the opinion that EU governments strong-armed rectors to freeze cooperation with Russia which he says is, "questionable from an academic freedom and institutional autonomy perspective."
The EU does not have a legal basis to protect universities against governments which violate the basic rules on academic freedom and institutional autonomy. The European Court of Justice had to use the General Agreement on Trade in Services of the World Trade Organisation to act against Hungary because it had no other mechanism in place to punish the Hungarian government for forcing the Central European University to move from Budapest to Vienna. "Let's clean up the situation in the EU first before preaching to the rest of the world," said Deketelaere.
Other red flags
The declaration does not address other pressing questions. It is increasingly likely that the EU will invest more money research on energy, defence and security, but it is unclear whether the criteria laid out in the declaration are sufficient to be able to identify like-minded and trustworthy partners for such sensitive projects.
Deketelaere said the Marseille declaration cannot be taken seriously until the Commission allows Switzerland and the UK to join Horizon Europe as associated countries. At the moment, the two countries are blocked from the €95.5 billion programme over political disagreements. The UK has asked for parts of the post-Brexit trade agreement to be amended, while Switzerland pulled out of a long-term political negotiation with the EU on a bilateral treaty.
"The political case for not including Switzerland and UK is not nearly as strong as the science case for including them," said Palmowski. "That balance is a very different one with a country that declared war on a European country."
If it seeks cooperation with like-minded countries who abide by the principles laid out in the declaration, the Commission could perhaps "detach research from politics," said Jørgensen. "But I don't see that happening anytime soon."